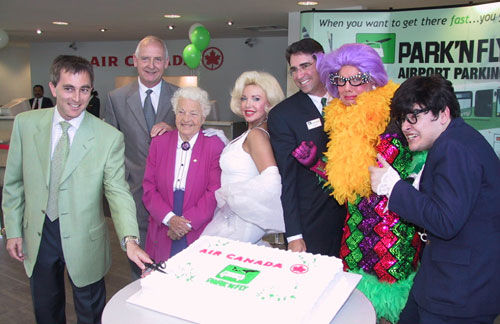 Pearson International Airport

Mississauga Mayor hails improved Airport Parking Services

Joined by "celebrities" Marilyn Monroe, Dame Edna, and Austin Powers, Mississauga Mayor Hazel McCallion joins (L-R) Ron Bresler, President and CEO of Park 'N Fly, Doug Port, Senior Vice President, Air Canada, and Todd Faver, Vice President, Park 'N Fly, in cutting the ceremonial cake to mark the Grand Opening of Park 'N Fly's new, state-of-the-art valet terminal at Toronto's Pearson International Airport. Mississauga, Ontario: Travelling from Toronto's Lester Pearson International Airport is a whole lot easier, thanks to Park'N Fly's new valet parking terminal. This state-of-the-art facility offers travelers convenient, hassle-free airport parking that also features full Air Canada check-in services. Industry VIP's, dignitaries, including Mississauga Mayor Hazel McCallion, and media joined in the celebration at a ribbon cutting ceremony for the Grand Opening, which officially opened terminal doors for business.
The terminal, located at 5815 Airport Road, is a brand new 10,900 square foot facility. Along with Air Canada full check-in services, it also features car care services, increased ground and vehicle safety, 24-hour bus transportation to and from the airport, expanded computerized check in/out, and guaranteed parking availability. It also houses flight monitors, men's and women's baby changing stations, free newspapers, and a rest lounge. Customers using the Air Canada check-in services also receive 250 Aeroplan miles per stay.
Ron Bresler, President and CEO of Park'N Fly, and Doug Port, Senior VP of Customer Service at Air Canada, were the ribbon cutters at the event. "We designed this facility to optimize customer satisfaction, and provide expanded services to make travelling as convenient as possible," said Mr. Bresler. "Once someone pulls into the valet terminal, everything is looked after, from the flight check-in to fast and reliable transportation to the airport doors. This facility is a reminder of why Park'N Fly truly is the leader in the area of airport parking services."
A Canadian owned and operated company, Park'N Fly has earned a deserved reputation for providing leisure and business travelers with a convenient and cost effective service through its three levels of operations: Valet, Self Park, and Economy. Park'N Fly operates in Toronto, Ottawa, Calgary, Edmonton, and Vancouver with plans to open operations in Halifax and Montreal currently underway. Park'N Fly has been operating airport parking services for over 35 years.
For more information, contact:
Marnie Palmer, National Sales Manager, Park'N Fly
Phone: (905) 678-4134
Katrina Scott, Account Director
Primary Counsel Group Inc.
Phone: (416) 488-6181, Fax: (416) 488-5059