January 20,2013

AIRLINES FOR BEST IN-FLIGHT FOOD REVEALED
Top 5 long-haul airline food
1.
KLM
2.
Aeroflot
3.
SAS
4.
Air France
5.
British Airways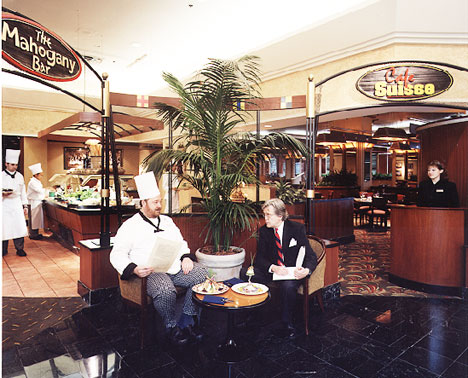 The Flying Gourmet in Toronto
Travellers to Toronto get comfortable at renovated airport hotel restaurants
Chef Peter Poulson and Commercial Interior Designer Peter C. Cotton enjoy a rate quiet moment near the entrance to the recently renovated Cafe Suisse and Mahogany Bar at the Sheraton Gateway hotel. The hotel is linked by a skywalk to Toronto's Lester B. Pearson International Airport. Photo: Tracey Clare Photography
The Sheraton Gateway hotel located at Lester B. Pearson International Airport sports a fresh new look and feel on its main lobby floor with the completed renovation of The Mahogany Bar and Café Suisse. Travellers looking for comfortable dining on the run will find The Mahogany Bar and Café Suisse well suited to their needs. The fully licensed Café Suisse seats 250 and caters to business travellers and vacationers as well as neighbouring Malton and north Mississauga area residents. Commercial interior designer Peter C. Cotton and the Sunburst Design Team completed the renovations in just six weeks. The airport location sets the international motif of the restaurant whose décor is characterized by geometric flags set into the smooth wood ceiling beams. The outdoor garden feel of the original Café Suisse was changed to bring in heightened comfort and cosiness and to encourage relaxation. The bright lighting was subdued. Amber lighting sconces mounted over mirrors now add warmth to the highly polished café style while continuing the look and feel from the lobby. Rich red-brown woods and burgundy tones add contrast to the lobby and even more warmth to the restaurant and bar areas. New, upholstered seating in wood booths makes for cosy dining and individual wooden café chairs are refined in their burgundy silk upholstery fabrics. Eye-catching accent pieces in the table settings include napkins and triangular-shaped side plates in colourful oranges, yellows and blues chosen by the hotel staff.
The menu is planned for full dining and many of the featured items are designed with travelling clientele in mind. Several "on the go" light choices reflect a cuisine drawn from many countries around the world, like Shanghai salad with noodles and marinated flank steak, cold Asian-style appetizers with ginger and sesame oil, thin crusted pesto pizza with artichokes, chicken pot pies and several steaks, including a 10oz. rib eye.
A well designed hot and cold buffet area offers lots of variety and is served daily at lunch and dinner. It features a large number of salads, and seafoods, including bountiful shellfish appetizers and several different hot main dishes with innovative trimmings. A different featured soup and salad are prepared daily. There are also fresh breads and croissants and a dessert bar featuring fruits, cheese platter, and French pastries. Travellers seeking the comfort foods of home might find it in Chef Peter Poulson's special warm bread pudding, made with sundried cranberries and other fruits that change seasonally.
Chef Poulson and sous-chef Steven Taran like the fast paced, changing environment of the international airport location. A switch in flight schedules means that the kitchen may have only 30 minutes notice to prepare meals for 250 people.
The Café Suisse is open to serve three meals daily, plus Sunday brunch, from 6:00 a.m. to 11:00 p.m. The Mahogany Bar extends those hours until 1:30 a.m. and features an abbreviated menu selection for late night arrivals. The bar and restaurant are complemented by the Sheraton Gateway's fine dining room, The Mahog
The Sheraton Gateway Hotel is owned by Starwood Hotels and Resorts. It is classified by AAA / CAA as a four diamond hotel.
Peter C. Cotton, Sunburst Design Team
128 Queen Street West
Toronto, Ontario M6J 1J3
Tel.: 416-863-6743, Fax: 416-863-6041
E-mail: ellie@sunburstdesign.com.