Stories from Air Highways and BC Scene Magazine Archives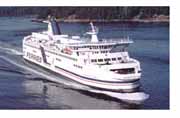 Mini Cruise by Ferry to Discovery Coast: Port Hardy to Bella Coola. While most ferry trips are considered a point (A) to (B) affair ; an extension of the regular highway; this route is truly a pocket cruise! After a relaxing stay at Donna Gault's Port Hardy Airport Inn, we took the limo to BC Ferries Terminal for a much anticipated trip to the "Discovery Coast." Continued
How can you get involved? Find out about the Council of Tourism Associations whose timely COTA News Bulletins we are pleased to provide to our readers.

Blooming Communities and Green Airports
For several years now at the Union of BC Municipalities Annual Trade Show, I have aplauded the efforts of "Communities in Bloom. " This non-profit group combines environmental awareness with municipal beautification. One of my favourite areas, Dundarave in West Vancouver was one of the first winners. The Green Airport I speak of is at Nanaimo, which not only renamed its terminal after RCAF War hero Raymond Collishaw, but boasts an 18-hole golf course right next to the fairway.
Underground Adventures: On the Sea-to-Sky Highway from Vancouver to Whistler-Blackcomb, North America's top ski destination resort, there are many unique tourist attractions. One that stands out in my mind, is the museum at Britannia Beach- a salute to British Columbia's Mining industry and those who made their living underground. (Continued)

Rail is the answer for rapid airport connections: In Vancouver's case, I feel saddened each time we drive along the boulevard in Kerrisdale and see that former interurban rail corridor going to waste, when in my high school days (seems like yesterday), BC Electric's fleet of bright red trams whisked passengers from downtown Vancouver to Richmond's Steveston Village. How efficient such a service would be as way to make Vancouver International Airport a true 'agora'. (Continued).
A Shopping Mall 15 miles long: Remember the grand old department stores of yesteryear - where a pert, petite, uniformed elevator operator sang out the stops as you rose at a stomach- churning rate? So, it was only Woodwards Department Store, but in your 12 year old mind it felt like you were zooming to the top floor of the Empire State Building. "Third floor - lingerie - perfumes - toiletries ..." Now for contrast, imagine a shopping area with 19 stops, offering a world of choice ... (Continued)..
Adventure Roads: Heading westward, you approach the Continental Divide and Mount Robson Provincial Park, home of the tallest peak in the Canadian Rockies. Near Tete Jaune Cache and Valley of a Thousand Falls, the Yellowhead develops a split personality; one branch swings south along the North Thompson and Skeena; the other ambles westward to the Fraser-Nechako junction. The first BC. community on our great Yellowhead drive is McBride, in the beautiful Robson Valley. (continued)
Explore the Gold rush Trail: In the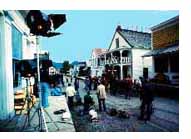 1850s, BC's Gold Rush drew prospectors from around the world, most of whom made their way by various forms of conveyance, up the Mighty Fraser, from its mouth near Sea Island (Richmond) to the head of navigation at Yale. North of Hope, the is a rugged stretch or road and trail that hugs the shoulders of the Fraser Canyon, as down below, the foamy white rapids churn and roar. Places to visit along the way include Hope, Hell's Gate with its famous Air Tram, Spuzzum, Boston Bar, Lytton, Lillooet (original Mile 0 of the Cariboo Trail) and a string of frontier towns. (Continued) Many more stories on this site. See column on the left - also
speakers section. Return to 20 more BC stories.