---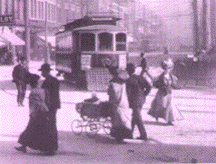 History on Rails:
Streetcars and Street Scenes
"Just then, the four o' clock interurban &emdash; brick red, bound for glory and the fertile fields of Chilliwack, rounded Venables, lurching onto Commercial Drive like a drunken sailor. Noisy, menacing and top heavy, the interurban trams were the ugly ducklings of BC Electric's vast fleet. They were also its workhorses, linking a network of towns and villages with Vancouver's central core. The squeal of metal on metal drowned out the doctor's reply . Continued

Vancouver Museum: Japanese Cherry Blossom viewing
See Vancouver Museum news release.

Canadian Canoe Museum
Peterborough, On. The World's largest collection of canoes and kayaks. Much more to come on this web site. http://www.canoemuseum.net/old/
The Canadian Museum of Flight
by Jerry W. Bird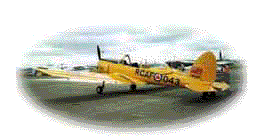 There she stands, the sleek, silver-coated Avro CF-100, pride of the Royal Canadian Air Force; sassy as ever, her metallic body gleaming in the sunshine of another spring. At RCAF Base Trenton, north of Toronto, where I first saw her 'dance the skies,' this lady was Canada's debutante, a grand new star in the theater of the air.

By her side sits a more humble, homelier craft, once common as geese on Canada's wind-swept prairies (or so it seemed); the rugged, reliable Harvard Mark IV. This black and yellow 'bumble bee' was the backbone of Canada's large training fleet, and the first solo experience for many NATO pilots. Saluting these stalwarts of my air force days, including the Beechcraft Expeditor perched nearby, certainly stirred the emotions. But here at the Canadian Museum of Flight my opening question was this. "How did these aircraft, and over 70 other treasures of the aviation world end up here at Langley, BC?
Looking back: It's a true life adventure story; one of dedication, recovery and restoration, plus the initiative that created a force of several hundred volunteers. A local action to prevent the export of historic aircraft, grew into a crusade, ranking this BC attraction among Canada's leading air museums. Each aircraft in this elite group has its peculiar story to tell. Few arrived intact; many are true reincarnations --fished from rivers, lakes, swamps and fjords, painfully restored from piles of debris, rescued from the jaws of 'cannibals' , junk dealers and scavengers. You'll see craft from every chapter of the aviation history book; early bush planes, gliders and home-builts, amphibians, spy planes, transports, fighters, bombers and several generations of jets, plus the denizens of what they called "helicopter hill" at the museum's first location near Surrey's Crescent Beach.
Who wouldn't be impressed by such vintage warriors as the Sopwith Camel, Westland Lysander, Republic Seabee, Lockheed Silverstar, Avro Arrow, and names like Aeronca, Bell, Bellanca, Blackburn, Boeing, Bristol, Curtis, deHavilland, Fairchild, Fleet Finch, Frankfort, Handley-Page, Hawker, Piper, Pissecki, Sikorsky, Stinson, and Waco. Each invokes its special claim to the field of memories.
We first viewed the Museum of Flight unescorted, with cameras in hand, letting our imaginations soar, and capturing some priceless shots for the family archives. The next time, however, I donned the headphones for an "audio- dramatization"... a narrated journey through these fascinating displays. The realistic sounds and professional voices on the audio track recreate history, providing detail, drama, life and motion to the experience.
You'll witness first hand, the cramped, fully exposed gun-turrets and better understand the hazards faced by attack allied crews that hovered anxiously over occupied Europe. Rare birds, unusual relics and one-of-a-kind wonders abound; a Hampden bomber, raised from the deep after 44 years; an airborne banana; a flying anvil; a flying panhandle; a flying ice cream cone ... and more. You'll hear their dramatic stories through the medium of audio tape. Some units such as the Westland Lysander, too fragile for outside display await hanger space at a future date.
Wings, wheels- and wonders!
The Canadian Museum of Flight and Transportation is a grand show anytime. The gift shop contains every kind of aviation curio, plus models, flags, banners, posters, rare photos, cards, books and souvenirs. There are more memories in the museum' s Aviation Library , which has an extensive photo collection. Admission: Adults $5, Seniors and students $4, Under 6 free, Family $12.
Open daily year round: 10 am to 4 pm.
Hangar #3, Langley Airport, 5333 - 216th Street
(216th at Fraser Highway), Langley,
Tel. (604) 532-0035.
Britannia Beach, BC: Underground Adventure
on the Sea to Sky Highway
By Jerry Bird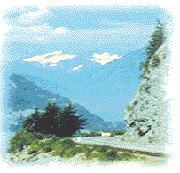 On the Sea-to-Sky Highway from Vancouver to Whistler-Blackcomb, North America's top ski destination resort, there are many unique tourist attractions. One that stands out in my mind, is the museum at Britannia Beach- a salute to British Columbia's Mining industry and those who made their living underground. Leaving Vancouver's North Shore via the "Upper Levels" you round the bend at Horseshoe Bay, where the BC ferry fleet departs for Nanaimo, the Adventure Islands and Sunshine Coast, then weave northward along the aptly-named Sea-to-Sky highway, to Whistler and points beyond.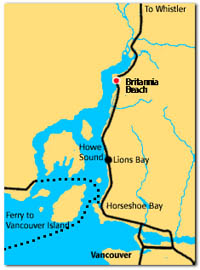 Leaving Vancouver's North Shore via the "Upper Levels" you round the bend at Horseshoe Bay, where the BC ferry fleet departs for Nanaimo, the Adventure Islands and Sunshine Coast, then weave northward along the aptly-named Sea-to-Sky highway, to Whistler and points beyond. Those who marvel at history and man's ingenuity will discover a real treasure at Britannia Beach, a few scenic miles along the cliff-hugging route. Here on the shores of Howe Sound, British Columbia's mining heritage is preserved intact at the Britannia Copper Mine, which served world markets from 1888 to the 1970s.
Survivor of fire, flood and avalanche, this hardy community harbors a national treasure, and has become a favorite location for major motion pictures. In a word - awesome! Little wonder most motorists make an abrupt stop for a close encounter, many staying for several hours of fun and exploration. For history buffs like me, the BC. Museum of Mining and adjacent area is a destination all by itself. In the boom days of the 1920s and '30s, Britannia was the largest producer of copper ore in the British Empire- a jewel in her imperial crown. Today, it's a National Historic Site destined to become a world-class venue for mining, geology and social history, thanks to a recent restoration program.'
Looming like a centurion at the entrance is a mammoth 235-ton Wabco "Super Truck" - part of a fleet which revolutionized low-grade mining worldwide. Guided tours begin with "The Britannia Story," featured in rock displays, ore samples, realistic models, maps, drawings, documents and artifacts. Along with the dramatic portrayal of hard-rock mining and other methods used in the province, you get a feeling for the human side of the industry, reflected in the life and times of workers and families. Displays on two other levels present an overview of British Columbia's rich mining heritage, plus a showcase on Craigmont, a copper mine in central BC. near Smithers.
While the dominant physical feature at Britannia Beach is the mine's enormous concentrator building, which sprawls for eight levels up the cliff side, the true highlight is your journey underground . The mine train (which once toted its own privy) takes your group into the mountainside where you'll witness the "tried and true," as well as more current methods of drilling, blasting, mucking, sluicing and rock stabilization.
Emerging from the mine, you'll have a close-up look inside the immense gravity-fed concentrator - a spectacular sight, and a regional landmark for more than 75 years. During peak operations, this monstrous complex processed more than 7,000 tons of ore daily, and is the only facility of its kind in North America still accessible to the public.
At the "Mining House", where all tours begin and end, you'll be treated to a "magic lantern" show - a slide presentation which traces Britannia's colorful history, recapping your experience inside the heart of Mt. Sheer.
A walking tour includes the Assay Office, containing a variety of rock creations donated for auction this fall. Across the way stands the "Ritz Hotel" and assorted mine buildings under restoration. As a token of your visit, the museum offers complimentary drill core samples, many of which date prior to the first world war. Later you can try gold panning.
The BC Museum of Mining is open from 10 a.m. to 5 p.m. , Wednesdays through Sundays and legal holidays - from May until October. Britannia Beach is 45 minutes from Vancouver, and is served by Maverick Coach Lines (5 times daily) and by BC Rail.
During tourist season, there's a likely chance you'll
spot BC's most famous locomotive - The Royal Hudson,
an elegant steam train, which connects with the tour ship Britannia for an exciting day trip from Vancouver to nearby Squamish.
Another reminder of an earlier era at Britannia's dockside was the SS Prince George, once a proud member of Canadian National's Alaska fleet. Part of the "Britannia Opportunity" plan, is a pocket cruise dock, public pier and marina, along with an integrated transportation depot. The community features craft shops, an impressive live-action display of native Indian stone sculpture and several dining spots. We enjoyed a grand home-cooked meal recently, topped by a miner's sized slab of lemon meringue pie at the Tea Shop, a cozy corner of Canadiana.
BC. Museum of Mining, Box 188, Britannia Beach, BC VON 1JO. phone(604) 688-8735., fax (604) 892-9152
Oregon's Tillamook Naval Air Station Museum
Home of the World War II Blimps. The remaining of the two original hangars is the largest free-span wooden structure in the world. The museum covers the history of the Naval Air Station and lighter-than-air technology, and features the Northwest's biggest collection of World War II fighter planes. Gift shop, restrooms, telephones and free parking are available. Hours: May-Oct, 9 to 6 daily. Nov-Apr, 10 to 5 daily. Closed Christmas, and Thanksgiving. Admission $7 adults, seniors $6, youth (13 -17) $4, $2.50 kids 7-12 and under 7 is free. Located off Highway 101, south of town. 4000 Blimp Blvd, Tillamook OR 97141, Voice Phone 503-842-1130
Air Station a new Warplane Museum
at Arlington, Washington
Arlington Experimental Aircraft Association (EAA) Fly-in. Display your wares to the many aviation enthusiasts at this popular 5-day event near Everett, Wa. Air Highways Magazine has covered the Arlington eventand we're amazed at the display of experimental and sports aircraft on display, not to mention the unique museum pieces and awesome aerial acrobatics. For details, contact Barbara Lawrence: 360.435.5857 (http://www.nweaa.org).
Canadian Craft Museum at Vancouver's Cathedral Place
When the wrecking ball signaled the demise of the Georgia Medical Dental Building, few Vancouverites expected anything startling to arise from the dust and debris of a familiar landmark. After visiting Cathedral Place and The Canadian Craft Museum, I was totally impressed with the entire concept, linking a grand new tower, with a grass courtyard, the familiar Christ Church Cathedral, and Canada's only national museum west of the Rockies. A unique showcase for the province, the nation and the world, it is the only publicly supported museum in Canada devoted exclusively to craft in all media. Balance of item to come.

..Attention Musuem Operators and Members.
..Link your museum to our Travel Tourism site
Our editorial board is preparing its schedule for the next 12 month period. In our immediate plans is a series on Museums and Historic Sites that will be keyed to our new Supermap of transportation routes. This feature will have a strong visual content, using existing photos in addition to those we will take on site.
Send us information on your museum or historic site and a link.