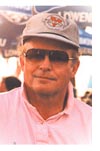 Alberta- BC Section

Yes Virginia, there is a Lloydminster, Sask, and a Lloydminster, Alberta living peacefully, side by side. That causes a kaffuffle when daylight saving time rolls around. The town's Antique Museum honors England's Barr Colonists, and when later on, you see an onion-shaped dome or giant Easter egg on the horizon, you know you're in Little Ukraine. Vegreville is home of the Ukrainian Pysanka Festival, with its fly-in breakfast and 3 solid days of food and fun.
At Elk Island National Park, a thatched-roof dacha houses the Ukrainian Folk Museum. There's a fenced preserve, where over 400 buffalo roam, sharing the rolling hills and meadows with moose, mule deer and elk. Poplar, spruce, aspen and birch line a network of hiking trails, and the lakes and sloughs teem with waterfowl. Sandy Beach recreation area has a 9-hole golf course. Alberta's emblem came from the wild roses, which grew in this area along the old Victoria Trail. Poetry: Little Mocassins by Robert W. Service
Edmonton: City of Big Shoulders: How can one help but love a city that jump-started his career. For me it all began at the Edmonton Journal, one of Canada's great newspapers. No place I know has such energy, or capacity to seize the moment. Edmontonians have always been a cocky lot, from their sports dynasties and oil czars, to politics. Even the location is cocky -- perched regally on the North Saskatchewan cliffs; its Upper Level bridge reaching from Alberta's Legislature to the University area. And who else has the audacity to build a shopping Mecca that rates seven mentions in the Guinness Book of World Records? Speaking of highs and lows, Edmonton's river valley, from Old Fort Edmonton to the Conservatory and beyond, is a tourist destination all by itself; golf courses and picnic spots.
Get out and stretch your legs; this is the largest greenbelt of any major Canadian city. Edmonton as a boomtown? -- its archives tell of fur traders, riverboats, a Klondike boom, a railway boom, a land rush, and black gold that blew things sky high in '47. Legendary bush pilots, who opened up the North live again at Canada's Aviation Hall of Fame.
By the way, if you love to shop, or hanker for genuine Alberta Prime Rib -- there's no provincial tax. And if I recall the jingle, "Your credit is fine with Irving Kline." Beyond the outskirts is Lake Wabamun (try saying that with your mouth full), a popular camping spot. Edson and Hinton are major stops en route to Jasper National Park.
Rocky Mountain House National Historic Park (side trip)
Talk about thriving on competition; the first Rocky Mountain House was raised in 1799. Weeks later, a distant relative, James Bird, helped HBC erect a rival fort. Explorer David Thompson trekked to the Columbia River from here in 1807, and for generations Rocky was the Northwest's richest fur-producing area. The series of forts that stood on these hallowed grounds are remembered by two stone chimneys. Other exhibits include a York boat, Red River cart and fur press.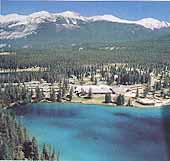 Jasper National Park
I first experienced this Rocky Mountain playground by train, sprinting off for souvenirs during a station stop. Ever since it's always been on wheels. By car you can seize the moment, cooling off under a waterfall, standing bug-eyed at a viewpoint, or catching every photo op. Allow at least an extra day for this Rocky Mountain high. Why? --Jasper Park Lodge, the Whistlers , Punchbowl Falls, Pyramid Lake, Henry House, Jasper Lake, Skyline Trail and Pocahontas for starters. My choices are Miette Hot Springs -- hottest water in the Canadian Rockies, and Maligne Lake, a portrait of serenity.
Our first lodging was a war surplus tent; the most recent was at Jasper Park Lodge, where the waiter brought dinner by bicycle. Near the mouth of Rocky River, a cairn marks Jasper House National Historic Site, where a supply post was built by the Northwest Company in 1813. The park is a wildlife sanctuary, where deer and antelope play, bighorn guard the peaks, and bears are everywhere. Allow at least an extra day in the Jasper area , and enjoy a Rocky Mountain high you'll never forget.
British Columbia
---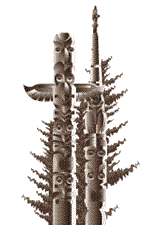 Heading westward, you approach the Continental Divide and Mount Robson Provincial Park, home of the tallest peak in the Canadian Rockies. Near Tete Jaune Cache and Valley of a Thousand Falls, the Yellowhead develops a split personality; one branch swings south along the North Thompson and Skeena; the other ambles westward to the Fraser-Nechako junction. The first BC. community on our great Yellowhead drive is McBride, in the beautiful Robson Valley.
Prince George is a gateway to paradise for wilderness adventurers. Former Mayor John Backhouse beamed with pride when I mentioned The University of Northern BC., the city's newest newest prize. While tourism is booming, PG's economy is forest industry-based. Centrally located, it's a key junction for BC Rail's Cariboo Line and Via's Skeena Run.
At Vanderhoof, a side trip leads to Fort St. James, founded by Simon Fraser, the explorer in 1806. At Fort St. James National Historic Site, B.C.'s oldest inhabited community salutes its fur trading past. History lives on at this authentic Hudson's Bay Trading Post, with furs, trade goods, and staff in 1890s attire. One of the west's oldest fur warehouses, a clerk's residence and a fish cache remain.
From Vanderhoof to beyond Smithers, it's lake country -- Fraser, Burns , Babine, Rose, Bulkley, Kathlyn and Tyhee Lake to name a few. Smithers, in the heart of the fertile Bulkley Valley has taken on an Alpine theme, and Hazelton on the Upper Skeena is "Totem Pole Capital of the World." At K'san Village, tribal houses feature paintings, screens and carved interior poles, and dancers perform Indian rituals. Historic sites dot this heartland of the Tsmishian, Kitsumkalum and Gitskan, where Emily Carr made many of her sketches. Beyond Terrace, the Skeena, called River of Mists by the Gitskan, widens into a broad lake, meeting the Pacific at Port Edwards, site of the 1889 North Pacific Cannery
I first saw Prince Rupert from the deck of The Princess Louise, a CPR ship that plied the Inside Passage to Alaska, just 64 km upcoast. The harbor was alive with canneries, fishing fleets, coastal ferries, deep-sea ships, and a huge grain elevator. Today, you can take the world's second steepest gondola ride, enjoy an archeological boat tour, or board BC Ferries' Queen of the North for a 15-hour cruise to Port Hardy on Vancouver Island. The Museum of Northern BC has totem pole carving on site, and 10,000 year old works of art. Outdoor activity abounds in some of the wildest country on the continent.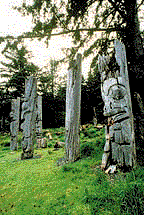 Canada's Galapagos: So you think you've conquered the Yellowhead, right? ..Wrong!--- there's still a short trip by sea to the Haida Gwa'ii, our
Western Mile "0." From ..Prince Rupert your voyage to the "Misty Islands" is a salty experience. These fog-..shrouded waters of the Haida Gwa'ii or Queen Charlotte Archipelago teem with finny ..fare -- salmon, herring, halibut, rockfish, mussels, crab, starfish, sea urchin, octopus. Armadas of Gray, Humpback and Killer Whales skip along the surface.
Seabirds abound, and near Cape St. James, sea lions romp and play. Isolation from the mainland has given rise to a unique subspecies of wildlife. Gwa'ii Haanas National Park Preserve is also called South Moresby. Since the park has no roads or facilities, visitors must be self sufficient. Anthony Island's abandoned village, Ninstints, is a UN World Heritage site. There are over 500 archeological and historical Haida sites.
Now you've earned bragging rights: We hope your pictures turn out great, especially the wildlife scenes (nudge, nudge). As the sun sets on the Haida Gwa'ii, and your kayak rocks gently on the tide, we'll turn off today's movie and bid good-bye. If you take the trip, send us a postcard. We're sure you'll savor every moment -- and are likely to plan many happy returns!
Check our Air Highway Supermap: Why not consider a ferry trip to Port Hardy on Vancouver Island and back to the mainland via Victoria or Nanaimo? Contact Yellowhead Highway Association, Edmonton: 403 426 5078, or the Canoe Network (705)-647-207
Click to continue: Yellowhead Highway: Manitoba- Saskatchewan Section
Visit the Yellowhead Trans Canada Highway Web Site: http://www.transcanadayellowhead.com/main.htm