NEW EURAIL REGIONAL PASSES EXPAND OPTIONS FOR DISCOVERING EUROPE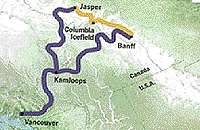 Czech Republic-Germany and Germany-Poland Passes available from April 1
Utrecht, Netherlands, April 2, 2007 - Eurail Group has introduced two new Regional Passes that widen the options for discovering Europe.
Valid for travel in two bordering European countries, Eurail Regional Passes were developed to offer time-starved travelers the opportunity to explore two countries in depth. The two new combinations are Czech Republic-Germany and Germany-Poland, bringing the total number of Eurail Regional Passes up to 20 - and offering travelers more freedom and choice in planning rail travel.
The Eurail Czech Republic-Germany Pass allows travelers to explore Germany and the Czech Republic, its eastern neighbor, with just one pass. The options in these two jewels include the vibrant capitals of Berlin and Prague, and two great European Rivers, the romantic Rhine and the lovely Moldau. A train ride away lie beautiful and impressive landscapes like the Black Forest and Bohemian Woods, and pearls of Middle European architecture in the magnificent cities of Prague, Plzen, Nuremberg, Regensburg, Magdeburg.
With this pass, travelers can enjoy breakfast in a stylish Berlin coffee shop, have lunch on the scenic banks of the Elbe in Dresden, and a romantic dinner under the Hradcany Castle in Prague. These are also the beer capitals of Europe, with an immense variety from world-known brands to the hidden gems of small-town private breweries.
Fast, efficient, high quality train service links both countries several times a day. The EuroCity (EC) day trains, for example, run between Berlin, Dresden and Prague at two-hour intervals and the DB Nachtzug (night train) offers comfort and style from Munich and Frankfurt to Prague.
Poland has been moving up the radar screens of savvy travelers lately, and the new Eurail Germany-Poland Pass makes it easier than ever to get around this fascinating country. The exciting capitals of Berlin and Warsaw are under six hours apart by train. Beautiful landscapes like the Rhine valley in Germany and the Baltic seashores of Poland are much more impressive from the window of a train than a plane. Enchanting, historic city centres of Krakow, Wroclaw and Görlitz were made for strolling, and off the beaten path, the unequalled and genuine nature of Rügen Island in Germany and the Masuren lake district of Poland beckon more adventuresome travelers.
Superior quality day and night trains link both countries several times a day. EC day trains run between Berlin, Poznan and Warsaw (Berlin-Warszawa-Express) and night trains connect Frankfurt to Warsaw and Berlin to Krakow.
The EURAIL Group comprises 27 railways and shipping lines, as well as several bonus partners. For more information about Eurail and to purchase, go to www.Eurail.com or one of Eurail's authorized North American sales agents: ACP Rail International (eurail-acprail.com); Flight Centre (flightcentre.com) and Rail Europe (www.raileurope.com).
Editor's Note: Country combinations available in the Eurail Regional Pass offer are: Austria-Croatia/Slovenia, Austria-Czech Republic, Austria-Germany, Austria-Hungary, Austria-Switzerland, Benelux-France, Benelux-Germany, Croatia/Slovenia-Hungary, Czech Republic-Germany, Denmark-Germany, France-Germany, France-Italy, France-Spain, France-Switzerland, Germany-Poland Germany-Switzerland, Greece-Italy, Hungary-Romania, Italy-Spain, Portugal-Spain.
Note: Czech Republic and Poland do not participate in the Eurail Global or Eurail Select Pass program.
Images: High resolution photographs of European trains may be downloaded from Eurail's media library at http://eurail.informationstore.net/
Contact: Mrs Ana Dias e Seixas
Marketing Manager
Eurail Group G.I.E.
Tel.: +31 (0)30 850 0125