VIA RAIL CANADA MAKING IT SIMPLER AND CHEAPER TO TRAVE THIS SUMMER

June 20, 2013
VIA Rail Canada announced today the launch of a new, simplified pricing structure which combines flexibility and an enhanced shopping experience. VIA Rail is pursuing its strategy of offering a range of fare and class options to suit any budget, in order to continue to attract new clients and stimulate train travel.
"Simplifying our fare plan to five price points is just one part of our strategy to facilitate the ticket-buying process and make choosing the most suitable fare easier for our customers. Customers have responded positively to the promotional strategies we have implemented over the past year, with a resulting increased traffic and improvement to our bottom line. We intend to continue on this track", said Sylvie Bourget, Chief Marketing and Sales Officer at VIA Rail Canada. "Our Summer Celebration seat sale is on right now, offering very attractive prices for family summer holidays across all regions of Canada for as little as $22 in Economy class and $55 in Business class across the Québec City-Windsor corridor. It's a fantastic opportunity to park your cars and discover relaxing travels on VIA Rail!"
From now on, preferential rates will be available right up to the day of departure and the respective features of Economy Class and Business Class will be clearly presented, facilitating the choice of between the five rate classes available: ESCAPE, ECONOMY, ECONOMY PLUS, BUSINESS, and BUSINESS PLUS. Fares vary based on the exchange and refund conditions, the privileges offered pre-boarding and the services offered on-board, including meal and beverage services, access to Business Class lounges, access to priority boarding and a priority ticketing line.
Available on the web, through the telephone sales office or at VIA Rail's stations, the best fares are available to all travellers, now more easily than ever before. For more information, please visit VIA Rail's website at
viarail.ca
.
VIA Rail Receives Honorary Award from Heritage BC for its Newly Renovated Vancouver Station
2012-10-26
VIA Rail Canada received a prestigious honorary award from Heritage BC for the restoration of its Pacific Central station in Vancouver. The award was in recognition of the high standards of quality and the commitment to the preservation of heritage shown in the building's renovation, which was completed in December 2011. VIA Rail received this honour alongside the projects' architect and consulting firms, Thibodeau Architecture + Design and Donald Luxton and Associates Inc., at Heritage BC's 2012 awards ceremony on Friday, October 19th at the Shadbolt Centre for the Arts in Burnaby, British Columbia.

"We are thrilled to receive this award," declared John Ring, Regional General Manager, Western Canada. "And we'd like to acknowledge those without whom the work would not have been possible; the support of the Government of Canada and the amazing companies that contributed to the project. This restoration will benefit not only passengers lucky enough to be travelling through Vancouver, but also the City's heritage legacy for many years to come. We are also proud to have helped support Canada's economy, by creating new jobs."

The station was restored following strict rules to preserve the heritage features of the building, erected in 1919. In addition to making it even more beautiful, the work helped improve the station's energy efficiency and safety.

The 90-year-old building was refurbished from top to bottom. The building's exterior masonry was repointed and cleaned up, the roof was redone, the windows and exterior doors were restored or replaced, the emblematic "Pacific Central" sign on the roof was stabilized and many safety enhancements were made. Along the departure and arrival tracks the platform canopies and lighting were improved, and the station's columns were repaired.

Source: VIA Rail
Skyscanner partners with VIA Rail Canada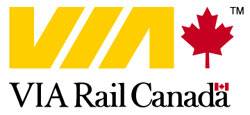 Travellers in Canada can now compare trains and flights in a single online search, with the launch of a rail travel information service by leading global travel search site Skyscanner. Through a partnership with VIA Rail Canada, national passenger rail service in Canada, Skyscanner has integrated major inter-city rail search into its existing flight search capability. For increasing numbers of travellers, rail is viewed as a favourable alternative to air, particularly in short to medium travel routes between cities and other key hubs.
Travellers searching for flights on the Skyscanner site between Toronto and Montreal, for example, will see the air and rail travel alternatives in the search results. When choosing the rail option, the customer can click through to the VIA Rail Canada site to make the booking. For passengers who are flexible on their dates of travel, Skyscanner will show the cheapest price to travel, making it easy and stress-free to plan travel around the country.
The integration of rail into the Skyscanner booking system is powered by SilverRail, an innovative rail search and booking platform that removes the complexities of rail booking around the world.
Gareth Williams, CEO and Co-founder of Skyscanner says:
"Finding the best price for travel can be complex and frustrating. By including rail and air options in a single search, travellers can make an informed choice on the cheapest, most convenient and even greenest options for any given journey across Canada. Rail is a priority for Skyscanner and part of our ultimate goal to become the first website in the world to show the cheapest way to travel from A to B - wherever you are and wherever you want to go."
Steve Del Bosco, Chief Marketing and Sales Officer of VIA Rail, says:

"We are excited to partner with Skyscanner to enable our rail services to be displayed along with the flights for major Canadian destinations. While offering a superior on-board service and a comfortable trip, VIA Rail allows its passengers to make productive use of their travel time because of its robust on board Wi-Fi service. This new partnership will entice people to select the train as the most cost-effective and environmentally sustainable mode of transport and to realize how, with VIA Rail, their trip is hassle-free as they arrive at their destination ready to go."
Aaron Gowell, CEO of SilverRail, says:
"We're thrilled to see our technology provide customers more choice by making it easy to compare rail with air in one place. SilverRail simplifies the process for rail carriers like VIA Rail Canada to sell their products in channels where customers want to buy them."
The Canadian
Taking passengers from the Pacific shores, through the Canadian Rockies and across the plains of Northern Ontario, VIA's Canadian train and its premier Silver & Blue Class service provides cozy, comfortable sleeping compartments with duvet bedding, delicious regional cuisine in the tastefully decorated dining car, and exclusive access to the car with a scenic dome and relaxing lounges. Until May 31, 2007, off-peak fares in Silver & Blue Class offer travellers substantial savings. Following are sample off-peak prices for two of the most popular journeys on the Canadian in Silver & Blue Class:
- A double bedroom for the entire, three-night journey in either
direction between Vancouver and Toronto - with one permitted multi-
night stopover (i.e. Jasper) -- is available for CAD $1,234, per
person plus tax, when purchased at least five days in advance. The
price includes all meals during the rail journey.
- A double bedroom for the overnight journey in either direction
between Vancouver and the breathtaking resort town of Jasper is
available for CAD $552, per person plus tax, when purchased at least
five days in advance. The price includes all meals during the trip.
The Ocean
Ushering passengers between Montreal and Halifax, the Ocean winds through
the provinces of Quebec, New Brunswick and Nova Scotia, showcasing the beauty
of Canada's Maritimes en route. In Comfort Sleeper Class, passengers enjoy
private sleeping accommodations with duvet bedding and private washrooms,
regional Maritime cuisine such as fresh salmon in the classic dining cars, and
exclusive access to a relaxing lounge. Now through June 12, 2007, a deluxe
double bedroom for the overnight journey between Montreal and Halifax, in
either direction, is available for CAD $230, per person plus tax, when
purchased at least five days in advance.
Booking
Customers can visit VIA's secure Web site at viarail.ca to book a trip
anywhere in the VIA system or to book a complete trip with one-stop shopping
for trains, cars, hotels and activities. Passengers also can book their
tickets by calling 1888 VIA-RAIL (1 888 842-7254), TTY 1 800 268-9503 (hearing
impaired), or through their travel agent.
About VIA Rail Canada
---------------------
As Canada's national passenger rail service, VIA Rail Canada's mandate is
to provide efficient, environmentally responsible and cost effective passenger
transportation services, both in Canada's business corridor and in remote and
rural regions of the country. VIA serves more than 450 communities with a
network of inter-city, transcontinental and regional trains. Demand continues
to grow as more Canadians turn to train travel as a safe and convenient travel
choice.
For further information: VIA contacts: Catherine Kaloutsky, Toronto, (416)
956-7683; Seychelle Harding, Montréal, (514) 871-6119
This information is being distributed to you by CNW Group Ltd.
To discontinue this service, click here.
Ces renseignements vous ont été distribués par le Groupe CNW Ltée.
Pour mettre fin à ce service, cliquez ici.