Star Gazing in Alberta / Think Big in Alberta
Come this summer
Explore your own world in Alberta
Follow, follow the sun
We've got many worlds in one
In Alberta. In Alberta.
by Jerry W. Bird

Ever been accused of having stars in your eyes? It happens in Alberta all the time - and this time we're not talking about our Northern Lights! Turn star-gazing into a story and discover what only insiders know - Alberta is a hot commodity in Hollywood these days.
The Alberta Film Commission recently reported that 1999 was their biggest year ever in its 70-year history. The result was the generation of more than $238-million in film production activity, with some 60 to 70 per cent of that figure remaining in Alberta. Its latest venture is being shot at Fortress Mountain ski area, from February through the end of April, 2000. Under the working title of Kingdom Come you'll find a dozen structures including a brothel, saloon, homes and a bridge. Its cast includes Sarah Polley, Milla Jovovich, Natasha Kinski and Ed Bentley.
One of the earliest films ever shot in Alberta was The River of No Return with Marilyn Munroe. Other blockbusters include Little Big Man with Dustin Hoffman, Super Man I and III with Christopher Reeve, Legends of the Fall with Brad Pitt , Betrayed with Debra Winger, Unforgiven with Clint Eastwoodand The Edge with Anthony Hopkins.
While Hollywood tends to favour Calgary and southern Alberta for their movies (Shanghai Noon with Jackie Chan is another recent one), indigenous and Canadian film producers gravitate to Edmonton and the north. The impact movies have on restaurants such as Memories Inn in Longview, The Chop House in Calgary and The Hardware Grill in Edmonton is huge, leaving the proprietors full of interesting anecdotes and delicious gossip. There are also auction houses and antique alleys that obviously benefit when a film crew comes to town.
Let us put you on a movie map linking you to not only stunning geographical locations but to local prop, set and costume designers. Who knows who you'll spy with stars in your eyes!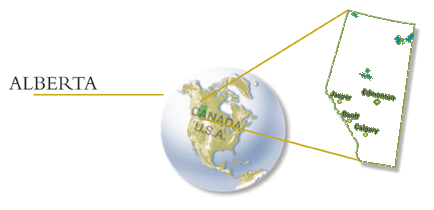 ALBERTA - THINK BIG
BIG is too little a word to describe the number of weird and wacky symbols, statues and icons scattered around Alberta. They're everywhere - from remote little outposts, to towns that believe in other galaxies --like Vulcan with its replica of the Starship Enterprise or St. Paul, home of the world's biggest UFO landing pad. The stories behind these odd symbols and quirky structures are often as entertaining as the actual result. Cover Alberta (or uncover) like never before - come see it through weird, but wonderful, eyes. Here's what you might find. True story!
Foodies should not bypass a trip to Glendon to drool over the world's biggest potato dumpling (pyrogy in Ukrainian). At 2,722 kilograms, this eight-metre tall steel and fibreglass structure, if real, could feed some 12,000 hungry people (based on half-a-pound of pyrogies apiece). Or, take a nosh on the big mushroom in Vilna, ogle the world's largest computer-designed pysanka - a highly decorated Eastern egg (over seven metres long and five-and-a-half metres high) in Vegreville, or drool over the big potatoes in Vauxhall.
Then of course there's Pinto McBean, Bow Island's man about town. With a belly full of beans and sporting a cowboy hat, Pinto is five metres tall and was erected near Bow Island's main bean processing plant, which exports 97 per cent of its beans internationally.
In Fahler, the honey capital of Alberta, is a $25,000 steel honey bee, the size of a small car, which is said to look uncannily real at night when floodlights beam through its near-transparent wings.
But enough about food. In Bonnyville, meet Angus Shaw, a seven-metre high fur-trading hunk, or, in Elk Point, meet 12-foot Davis (a former Peace River gold prospector). Coleman brags the world's largest piggybank; Hanna has a mega Canada Goose; Grand Prairie's claim to fame is a Trumpeter Swan; Andrew's is a duck; Wainright a buffalo; a two-metre high rooster resides in Canmore while a life-size T-Rex looms over Drumheller. But in the animal category, it's Beiseker that leaves tourists running for cover. With a skunk for a town mascot - what do you expect?
The list of BIG things is too big to rattle off here. This year don't squander your story ideas on another vacation cliche. Be Inventive. Be Bold. As we say here in Alberta, go where no province has boldly gone before.
Travel Alberta provides information, maps, travel guides to reservation services. Call 1-800-661-8888 toll-free Monday to Friday, 9:00 a.m - 4:30 p.m. Mountain time zone or write Travel Alberta , Box 2500, Edmonton, Alberta, T5J 2Z4 , Fax: (780) 427-0867 http://www.gov.ab.ca/edt/tourinfo.htm
1-800-661-8888 in North America
1-780-427-4321 outside North America
Box 2500 Edmonton, AB Canada T5J 2Z1
Fax: (780) 427-0867
travelinfo@travelalberta.com
Travel Alberta Head Office
500, 999 - 8th Street SW
Calgary, Alberta Canada T2R 1J5
Phone: 1-403-297-2700
Fax: 1-403-297-5068
info@travelalberta.com
Airport Profiles to come: Calgary International, Springbank, Airdrie, High River, Lethbridge, Medicine Hat and Okotoks airports. Edmonton International and Municipal, Cooking Lake, Ponoka, Red Deer, St. Albert, Villeneuve and Wetaskiwin airports. Lethbridge, Red Deeer, Medicine Hat and Grande Prairie Airports. [Top of page]