---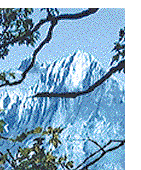 There where the mighty mountains bare
Their fangs unto the moon.
There where the sullen sundogs glare
in the snow bright bitter noon.
And the glacier-glutted streams sweep down
at the clarion call of June."
Robert W. Service
"
We plan to introduce a different National, State or Provincial Park to the viewers of this web site each month, and as our volunteer staff expands in numbers, we expect three or four park profiles to appear in a single month. Some parks will be featured within existing stories, while others will demand special pages of their own. The National Parks of Canada, the USA National Park Service and Mexico's National Parks will soon become a dominant part of our web site, magazines and books. Our Editor's first editorial thrust in this growing area of importance, was in 1955, when Parks Canada sponsored a special printing of 400,000 copies in English and French of "Roads to Canada's Great Drives."

With that prestige assignment, we had the privilege of researching and writing profiles on two of North America's most famous arteries, the Alaska Highway, built in 1942 and the Yellowhead Highway, which links Canada from Lake Manitoba to the Haida Gwai'i Archipelago. Named after Jasper Hawes (for his yellow hair), it passes through a variety of national and provincial parks, native battlegrounds, buffalo pounds and historic sites.
A decade earlier, we delved into the application of 'alternative fuels' for the traditional gas guzzling automobile, and in the process invented a cartoon spokesman we called Mister Wonderfuel. He became the spokesman for the Propane Gas Industry and was adopted throughout North America.
Worth Knowing
Arctic National Parks for Canada: Interested in organizing Millennium Adventure Tours to these remote areas? Call Air Highway's fax 604.681-6595 or e-mail today. From Parks Canada - Three new national parks to sit "on the top of the world. "The federal government has signed a deal with the new northern territory of Nunavut to add 80,000 sq. km to the park system.
Importance of Nature to Canadians
Statistics Canada conducted a survey of 87,000 Canadians aged 15 years and over and covering activities in the 1996 calendar year. The report shows that twenty million Canadians participated in one or more nature-related activities in 1996. Canada's natural wealth in outdoor adventure opportunities also attracted more than 1 million visitors from the U.S. In total, participants spent $11.7 billion dollars enjoying these pursuits and helped sustain 215,000 jobs in the process. In fact, nature-related activities contributed $12.1 billion towards the Gross Domestic Product (GDP) and generated $5.4 billion in tax revenues. The survey reports are available at Environment Canada's web site at www.ec.gc.ca/nature/survey.htm.

Yes it's the age of EcoTourism. Please send items on your visits to National Parks and Historic Sites to our address: airhwy@ dowco.com