10 Ways to Beat Ageism

How large is North
America's +50s Market?

How influential is the +50s Market?

How have Plus 50 travel patterns changed?
(give us your comments)
About SATH
CARP Web site
http://www.50plus.
com/
A-Z index
Adventures
Advertising
Air Route Map
Artists
Associations Attractions
Aviation
Business
Causes
Cruises
Cultural
Destinations
Ecotourism
E-mail
Events
Food
Highways
History
Hotels
Hot news
Museums
National Parks
Newsmakers
Outdoors
Peace
Plane Talk
Railways
Seaplanes
Seniors
Stories
Subscribe
Supermap
Technology

---
BC Business
BC Tourism
Show 2001
---
The 50 Plus Market for Travel Leisure
by Jerry W. Bird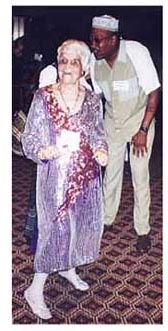 During my media career, I've written for several 'Seniors' Newspapers, and magazines. The gratification I received during this period came via the mailbox from individuals and couples all over the USA and Canada who asked for advice and provided anecdotes from their own life's journey. Living for six wonderful years in Point Roberts, Wa, a laid back border community 3 hours north of Seattle, my mailbox was often overflowing with cards and letters. This volume was especially noticeable after I had written an article about rail travel or some exotic destination.
Proof Positive: There's no better example in my mind of the "ageless attitude" than our own Elyse White, an ATA member and travel agent from New York City. We call her "Mama Safari" (for good reason) and had the pleasure of being her house guest on several occasions. At 91, Elyse was recently confirmed as a Queen of the Ashanti in Ghana, and has attended every ATA congress in Africa for the past 25 years. See you in South Africa this May, Elyse.
Every few minutes a member of the coveted baby boomer generation turns 50, which means that today's folks over-60 will soon be the most influential of all age groups. Nowhere is this more evident than in the world of travel and tourism. The Seniors (age 55+) we target are upscale, educated, active, financially secure, and open to new ideas about travel and travel destinations.
That's exciting news. North America's Seniors represent one of the most powerful market segments for travel marketers. As a group, they have awesome buying power, plenty of free time and more disposable income. Many own their own homes and most love to travel, which opens the door to the latest phenomena -- the home exchange program which we applaud. Seniors give consistently to charities and have many hobbies and interests. Many are becoming computer-savvy, which is borne out by the mail we receive on this website. Keep it up!
Our report on the Seniors Market our magazines and partner publications will appear on this web site in installments starting immediately.
Watch for it. Demographics to come