Choo Choo to Calgary's Heritage Park Historical Village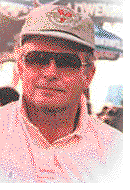 by Jerry W. Bird

Having lived in Calgary at the time of Heritage Park's opening, and sharing its pleasures with my children, guests and clients on countless occasions, the park was a 'must see' on this summer's return trip. My company used Heritage Park as the location for a series of video features, posters and commercials, produced for Burns Foods, one of the city's oldest and largest companies. Pat Burns, an Irish immigrant, was one of the 'Big Four' who put Calgary on the map by launching the first Stampede. Another Big 4 member was A.E. Cross, founderof the the Calgary Brewing and Malting Company, another client of mine. It was famous for its 'horseshoe and buffalo label.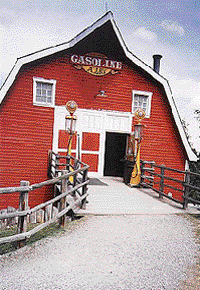 The park proved to be the ideal setting, with its old fashioned farm kitchens, cast iron stoves, ornate ovens and large wooden chopping blocks. The mountain backdrop which frames the park's western vista added a dramatic flavour to the outdoor scenes.
This unique slice of Canadiana overlooks Glenmore Lake (reservoir), and is easy to access via the C-Train from downtown, plus a 5-minute shuttle bus ride. Like in most Canadian prairie towns of an earlier era, the railway is the focal point. An historic train circles the entire area, and the replica of a vintage paddle wheeler plies the lake. Horse drawn buggies, wagons and 1920s style delivery trucks scoot about or trudge along its main streets and back alleys. The many restored buildings; city and farm homes, church, schoolhouse, railway stations, barns, stores, Chinese laundry, police depot, bank, post office, bakery, newspaper, grain elevator, Wainwright Hotel, etc. are from various locations in Alberta and Saskatchewan. Photos in animated sequence above by Jerry W. Bird
It's a Gas! One of the exciting changes since my last visit is 'Gasoline Alley,' featuring an unusual collection of gas pumps, which recall popular brands and those once familiar, but now long forgotten. At Heritage Park, the visitor can travel back in time and discover the treasures of Western Canada's past, most of it prior to 1914 . The attraction features over 66 acres of lush park land, over 150 historical exhibits, thousands of artifacts, and lively interpretive activities.
Calgary Profile ....... Holy Cow Calgary!
Calgary's Railway Renaissance
The most important long term benefit to our magazine's readers and viewers of this web site, was a visit to the 'railway exhibit,' where we learned about the restoration of Canadian Pacific Railways passenger service. Thanks to Royal Canadian Pacific Tours, visitors from near and far can travel through the Canadian Rockies and Kicking Horse Pass from Calgary to Golden; then south along the Columbia River to Cranbrook; east through the Crowsnest Pass to Lethbridge and return north through Vulcan and High River. Route Map.

Heritage Park is open daily Saturday from mid May to Labour Day, then weekends only through until October 9th.
http://www.heritagepark.ab.ca/
Question: What about a return to Historic Street Cars as a year-round tourist attraction and revenue generator? See our new series Streetcars & Street Scenes. It makes street sense.