Perfect time to experience what it means to be Canadian
Jan 10, 2017
Canada will celebrate its 150th birthday this year, making it the perfect time to experience what it means to be Canadian.
To mark the occasion, the accommodation experts have compiled a list of seven quintessential Canadian experiences to try in the next 12 months that will take you from the crowded city to the natural wonders that define the nation.
To help you further plan your adventures, the Hotels.com Hotel Price Index (HPI) tracks what travelers have paid for hotel rooms in cities across Canada.
1. See the Northern Lights with your naked eye in the Yukon
In our light-polluted cities, we rarely see much of the night sky, but in Canada's north, not only can you see the stars, but during most clear nights during the winter, you can experience the awe-inspiring spectacle of the aurora borealis. These ghostly, shifting streams of coloured light are caused by charged particles from the sun striking the earth's atmosphere. On rare occasions, aurora are visible in Canada's southern latitudes, but if you truly want to experience them first-hand, you should head somewhere north, like the Yukon. Northern Tales offers several viewing packages that let you see them in style.
HPI average price paid for a 3-star hotel in Whitehorse was $126 in the first half of 2016.
2. Get soaked at the base of the Niagara Falls
Canada has no shortage of natural wonders, but one that remains accessible to a large percentage of the population is Niagara Falls in southern Ontario. This towering cataract never fails to impress visitors, even those who have seen it multiple times. The best way to experience it is to get up close and get wet on one of Hornblower's cruises. Their boats take you to the base of the Horseshoe Falls where you are deafened by the roaring sound and soaked by the spray that is generated by the 600,000 gallons of water that tumbles over the top every minute.
HPI average price paid for a 3-star hotel in Niagara Falls was $132 in the first half of 2016.
3. Look a polar bear in the eye in Manitoba
Few animals are as symbolic of Canada's north as the polar bear. With climate change threatening the existence of these magnificent creatures, the time to observe them in their natural habitat is now.
The epicentre for polar-bear watching in Canada is Churchill, Manitoba and Churchill Wild is one of several outfitters who can get you up close and personal with these animals in an experience that will be seared into your memory forever.
HPI average price paid for a 3-star hotel in Winnipeg was $133 in the first half of 2016.
4. Learn to play hockey in Canmore, Alberta
As much as Canadians love to watch hockey, the number of people actually playing it continues to fall due to rising costs and changing demographics, according to Hockey Canada statistics. If you've never strapped on a pair of skates to slap a puck across a frozen sheet of water, the professionals at Pinnacle Hockey offer the Canadian Hockey Player Experience for everyone curious about what it takes to play the game. As a bonus, Canmore is right on the edge of the Canadian Rockies so when the game is done, you get to explore some of the country's most beautiful scenery.
HPI average price paid for a 3-star hotel in Canmore was $167 in the first half of 2016.
5. Paddle a canoe through some rapids in the Northwest Territories
Long before we could fly or drive across this country, early Canadians crisscrossed the land by canoe, an invention borrowed from the First Nations peoples. Canoes remain a staple at many Canadian cottages, but actually navigating one down a river for days, portaging around rapids and living in the wild is something else entirely. There are numerous guides in every province that can bring you down any one of Canada's magnificent rivers, but Canoe North Adventures has an experience you will remember when they take you down the pristine Keele River in the remote Northwest Territories.
HPI average price paid for a 3-star hotel in Yellowknife was $162 in the first half of 2016.
6. Learn how to fish for lobster in P.E.I.
Lobster is best when it's fresh and there's nothing fresher than the ones that were caught the same day. What better way to be sure a lobster is fresh than to catch it yourself? Travel to Canada's tiniest province, Prince Edward Island, to get on a boat to learn how to haul in a lobster trap and how to harvest these tasty crustaceans with the fourth-generation lobster fishermen that operate Top Notch Lobster Tours.
HPI average price for a 3-star hotel in Charlottetown was $166 in the first half of 2016.
7. Cross the country by train going from Vancouver to Toronto
You don't realize how big Canada is until you try to cross it from one side to the other. VIA Rail's trans-Canada journey aboard The Canadian only goes from Toronto to Vancouver, but the trek takes three days and four nights to complete. From the comfort of your seat, you can watch the window scenery transform from the forests of the Canadian Shield to rolling prairies then to mighty mountains. It's an epic trip that is one of the world's great train journeys.
HPI average price paid for a 3-star hotel in Toronto was $172 in the first half of 2016.
A HUGE SUCCESS FOR THE INTERNATIONAL ABORIGINAL TOURISM CONFERENCE IN QUEBEC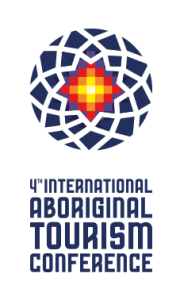 Wendake, March 26, 2015–Nearly 350 aboriginal tourism industry key players and partners, half of whom came from abroad, were gathered in Fairmont Le Château Frontenac for the first International Aboriginal Tourism Conference (IATC) held in Quebec on March 24-25 to discuss the global aboriginal tourism industry and reward the province's aboriginal tourism enterprises.
Under the honorary presidency of AFNQL Chief Ghislain Picard, the two-day conference addressed themes such as commitment, authenticity, preferred destinations, marketing, best practices in tourism and more. Forty top speakers and global leaders from the aboriginal tourism industry took part in this major event. During the grand opening ceremony, Quebec's Minister of Tourism, Dominique Vien congratulated Quebec Aboriginal Tourism (QAT) for the leadership demonstrated in organizing this international conference. QAT President, Steeve Wadohandik Gros-Louis, indicated a lot of satisfaction as regards the wider scope taken by this major event and its impact on the association and on the global aboriginal tourism industry.
"The high level of participation exceeded all our objectives in terms of exchange with our peers from other provinces and countries, and added to our pride in welcoming on our lands these delegates and strategic players from the world over, all gathered for the emergence and development of aboriginal tourism enterprises around the world. Tiawenhk, our thanks to all participants and organizations who accepted our invitation," said Steeve Wadohandik Gros-Louis.
The 2015 Quebec Aboriginal Tourism Awards
Through the Traditions Night held in Wendake, the IATC also showcased the dynamism of Quebec's local aboriginal tourism industry. An Entrepreneurship Recognition Gala for aboriginal tourism in Quebec closed the IATC in pomp and style. Eleven awards were presented to the province's enterprises and outstanding people in recognition of their contribution in delivering an exceptional, high-quality tourism experience. The Gala was held under the honorary co-chairmanship of Hon. Maxime Bernier – Minister of State for Small Business, Tourism and Agriculture, Geoffrey Kelley – Quebec's Minister of Aboriginal Affairs, and AFNQL Chief Ghislain Picard, to celebrate and highlight the success, efforts and dynamism of our rapidly-growing industry.
"Tonight, we are all winners – the organizers of this conference which I was honoured to preside over, key players of the tourism industry from everywhere and recipients of the Recognition Awards. The award winners hail from a diversity of regions and Nations. This strongly underlines the vitality and presence of the First Nations and their contribution to Quebec's tourism industry and economic development. We are proud of this and our culture is more alive than ever," stated Ghislain Picard.
CANADA'S ORIGINAL ABORIGINAL EXPERIENCES
By Tom Neale

March 20, 2014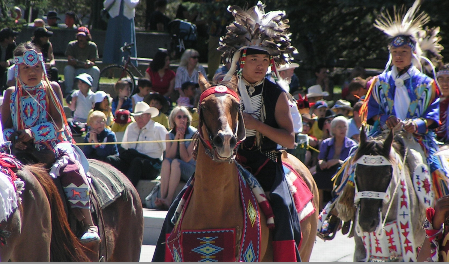 Tourists are increasingly looking to Canada for unique local cultural experiences.
The chief executive officer for the Aboriginal Tourism Association of British Columbia, Keith Henry said that Australia and New Zealand, long considered trendsetters in indigenous cultural experiences, are now looking to Canada for tour ideas.
Henry points out that the amount of people wanting a cultural experience is growing every year, with British Columbia tourism worth CAN $45 million last year and CAN $20 million in 2012.
"We're being brought to the States and into Europe to explain how we're developing aboriginal tourism," Mr Henry said.
"In Australia and New Zealand, the home of Aboriginal and Maori tourism, a lot of that is government owned and government run and the benefits aren't flowing back to the communities."
All aboriginal experiences in Canada are locally owned and run.
AIR CANADA GETS HIGHEST SKYTRAX RANKING
AIR CANADA BECOMES THE ONLY INTERNATIONAL FOUR-STAR AIRLINE IN NORTH AMERICA
Jan 24, 2013
MONTREAL, Canada - Air Canada has become the only international network carrier in North America to receive a Four-Star ranking according to independent U.K. research firm Skytrax. The much-coveted rating is considered an airline industry benchmark and is based on detailed, independently conducted quality analysis by Skytrax across more than 800 different areas of airport and onboard product and service delivery.
"I am very pleased that Air Canada has become the only international network carrier to have achieved this significant industry benchmark," said Calin Rovinescu, President and Chief Executive Officer. "This coveted Four-Star ranking reflects the professionalism and skill of Air Canada's employees in taking care of our customers and delivering an award winning product that continues to set industry standards. This is a proud achievement for Air Canada's airport and onboard product and service delivery teams that we will strive to improve upon as we continue to build one of the world's best airlines."
More information on the Skytrax Airline Star Ranking is available atwww.airlinequality.com.
In 2012, Air Canada was ranked for a third consecutive year "Best International Airline in North America" in a worldwide survey of more than 18 million airline passengers conducted by independent research firm Skytrax. According to the 2012 Canadian Business Travel Survey conducted by Ipsos Reid, Air Canada was the preferred airline for more than 79 percent of frequent business travellers in Canada. In 2012, readers of Global Traveler magazine voted Air Canada "Best Airline in North America," the readers of Business Traveler voted Air Canada "Best North American Airline for International Travel" and "Best In-Flight Services in North America," and the readers of Premier Traveler voted Air Canada "Best North American Airline for Business Class Service," "Best North American Airline for International Travel" and "Best Flight Attendants in North America."
Open Skies and Air Highways to a Great Canadian Vacationland
by Jerry W. Bird

There's a great big, broad land way up yonder,
There are forests where silence has lease
There's a beauty that thrills me with wonder,
There's a stillness that fills me with peace.
Robert W. Service
This summer, we will be loading our Dodge Caravan with magazines, and heading out on the road across Canada to meet the media, develop new travel industry contacts, interview mayors and community leaders. The starting route we have chosen is the Trans Canada Yellowhead Highway from Prince Rupert, BC via Kamloops, Jasper, Edmonton and Saskatoon to Winnipeg. Via Rail Canada travels the same route, and we have over 20 Railway Travel pages on this site alone. We plan to stop at many interesting places in between and will renew old aquaintances.
---
Travel Statistics : Calgary / Edmonton / Hamilton / Ottawa / Montreal / Quebec / Regina / Saskatoon / Thunder Bay / Toronto / Winnipeg / Vancouver / Victoria/ Atlantic
---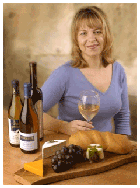 Travel With Taste Tours
Putting the Spirit in the Season
Award-winning Vancouver Island food writer, Elizabeth Levinson, and culinary tourism specialist, Kathy McAree, are putting the spirit in the season with indulgent weekend getaways.
Canada Hosts 2006 Air Cargo Expo
---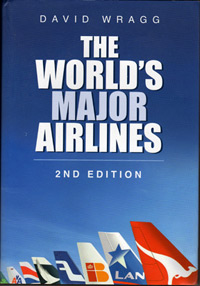 For example, I can't wait to visit my Royal Canadian Air Force base at Macdonald, Manitoba near Portage La Prairie where I served for a year or so. It's really an awesome journey, some 2600 km in length. A few months ago,
I was keynote speaker at the Yellowhead Highways Association's 56th Annual Conference in Sherwood Park, near Edmonton, Alberta, and my timely topic of course, was Tourism. While we are off to Atlantic City, USA, Europe and Africa, my son Ken Bird will be carrying on the tradition. He and his friends will be exploring more of Canada's great river systems, with 30 already to their credit. See Rivers of Canada.
In designing our Air Highways Canada Showcase for the next USA trip, we dig deep into a gold mine of memorable experiences as residents and visitors in many of Canada's cities, rural communities and far flung frontiers. Thanks to the Canadian Tourism Commission, its provincial counterparts and mail from communities near and far, we have a gold mine of information, and plan to bring our readers the creme de la creme..

Canada's Railway Castles
Another natural place to start a tribute to Canada is with the hotel industry. Canada is dotted with famous hotels, castles, inns, lodges and resorts; a few having existed since pioneer days, while others are but faded memories. Many of my favorite haunts remain as attractive as ever, keeping up with the times, yet retaining their unique charm. Across Canada, the palatial Banff Springs and Chateau Lake Louise, Victoria's Empress, Hotel Vancouver, Edmonton's Mac, Saskatoon's Bessborough, Regina's Hotel Saskatchewan and Calgary's Palliser are prime examples.
Further east, there's the Fort Garry, Royal York, Chateau Frontenac and Laurier - the list goes on- and on. Fotomation - Famous travel posters available at Canadian Pacific Stores. http://www.cphotels.ca
And how can I forget our glorious week long stay at the Hotel Newfoundland in St. Johns during the TCAAN Convention. Newfoundlanders know how to throw a party. Last summer, I was pleased to meet with Sandra Kelly, whom Air Highways interviewed in 1993 at an Airports Conference when she was Mayor of Gander. This lady of our times is now the Hon. Sandra Kelly, Provincial Minister of Industry. A well deserved position. I promised to return and write a feature on Newfoundland Tourism, and am eager to return. Speaking of hotels, during the mid 70s, a suite in Edmonton's Macdonald Hotel served as our advertising agency's branch office.

Harrison Hot Springs Resort, near Vancouver also 'springs to mind' as a legend of CPR's glory days, when high rollers, from movie stars to royalty rode the train, staying at hotels and resorts at or near the main line. We launched Air Highways Magazine there at the BC Aviation Council 1996 Conference, where I spoke on my favorite topic - Open Skies. Another great hotel, Vancouver's Sheraton Wall Center was the site of our 1st Air & Marine Tourism Conference, and we plan a return engagement.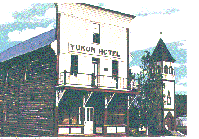 Travel into History: The first hotels in my memory were in my home town, Dawson City of Klondike fame. Most were remaining relics of Gold Rush days. Ornamental pressed tin adorned the inner walls and lined the ceilings, corrugated tin, patched with flattened aviation gas cans was the popular roofing material, and the facade was usually a false front. In the Royal Alexandra Hotel on Front Street, facing the steamboat docks, hung enormous oil paintings of buxom nude ladies. Scattered about lobby were shiny brass spittoons and deep, black leather chairs, where we kids dove for loose change every few days. There was usually a gang of old timers from the creeks and about town, with tall tales to tell. Most of them like Black Mike, Snoose Benson and Little Dave, frequented the snake room and card tables at the back of the hotel. For more see Canada's Hotels and Resorts.

Icons of Aviation:
Our SuperTours from Vancouver via Asia to Africa, were inspired by the early achievements of Edmonton's Grant MacConachie, founder of Canadian Pacific Airlines, who dreamed of an air bridge to the Orient and across the pole. Canada's Airport network, and pilots Wop May, Max Ward and others have played a vital role in opening the North to trade and tourism, just as the great transcontinental railway changed the face of Canada in the 1890s. Stay tuned, there's plenty more to come on the topic of transportation