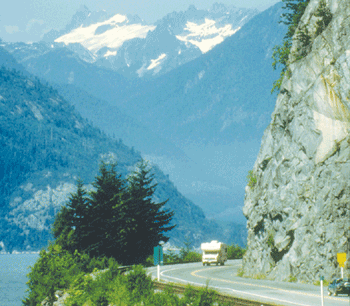 National Survey Indicates RVers and Campers Spend Billions of Dollars in Local Communities
A national survey estimates that more than $3.8 billion was spent by RVers and campers in local communities when they visited the nation's commercial RV parks and campgrounds from May through August of 2004.
The Woodall's/ARVC RV Park and Campground Survey is being conducted by Michigan State University and was rolled-out this spring to the nation's commercial RV parks and campgrounds. The research collects weekly occupancy numbers and economic spending patterns from participating parks and campgrounds. The survey's results are providing the industry, its suppliers, and its consumers with a better understanding of occupancy trends, spending patterns, and the industry's overall economic impact on local communities.
This is the first time a study of this magnitude has been commissioned.RV travel and sales are reaching record levels since September 11, 2001. Today a record 7.2 million RVs are on the roads in the United States. RVs are owned by nearly 7 million U.S. households -- a 7.8 percent increase during 1998-2001, reveals a University of Michigan study. There are as many as 30 million RV enthusiasts, including renters, nationwide, according to Recreation Vehicle Industry Association (RVIA) estimates. Long-term signs point to substantial RV market growth because of favorable demographic trends, according to a 2001 University of Michigan study. The number of RV-owning households is estimated to rise 15 percent during the 2001-2010-time period to nearly 8 million. Linda Profaizer, ARVC President and CEO said, "Woodall's partnered with us to conceive the initiative, develop the protocol, build a model that works for the RV parks and campground community, and fund the study."
Joe Daquino, Affinity Group, Inc.'s Multimedia Division Vice President and
Woodall's Publisher, noted that the study was a good fit for Woodall's, which
publishes a North American Campground Directory along with several regional
publications. Each year, commercial RV parks and campgrounds are personally
inspected by one of Woodall's 30 Representative Teams. Their detailed
inspection reports are the basis for the listing information and ratings found
in Woodall's Campground Directory.
"The Michigan State Research team is managing this project, collecting the
data, and analyzing the findings," Profaizer said. "Their extensive
experience in the outdoor recreation community ensures that they understand
our industry and can provide the type of professional, research-driven
analysis the industry needs to continue its growth and expansion." Profaizer
and Daquino agree that it was important to work with an independent
organization experienced in industry research to ensure the credibility of the
data and research analysis.
The highest overall average occupancy rate throughout the U.S. was
reported for the July 4th weekend -- nearly 80%. Not unexpected, the highest
occupancy rates are Friday and Saturday nights. "This gives us an indication
that Labor Day weekend will reach a very high level of occupancy as well,"
said Profaizer.
At least one region was at near capacity over the 4th. The New England
states were at an 87% occupancy level while the southeast reached 82%. The
western U.S. reached nearly 78% in occupied sites.
The southeastern U.S. topped out at 90% occupancy on June 18 and 19. New
England had the highest weekend occupancy rate during July and was followed by
the west with 75%. Midwest Saturday nights occupancy levels averaged nearly
72%.
Dr. Edward Mahoney of Michigan State University estimates that between May
and August there were 124,865,541 site nights available for occupancy in
commercial RV parks and campgrounds. There are a little over 1 million sites
available in 8,000 commercial RV parks and campgrounds parks throughout the
United States. The average occupancy for the length of the survey has been
47% across all campgrounds participating in the survey. That translates to
58,686,804 occupied site nights and the average spending per party per night
in local communities near the campgrounds not including campsite fees is $65.
The $65 figure is based on the national average from Michigan State University
studies. Dr. Mahoney believes that the estimate of $3.8 billion in local
camper spending for May through August 2004 is conservative because it does
not fully account for spending by campers who are membership campers, own
their campsites or rent campsites of the season. It also does not include the
multiplier effects of the spending.
Americans seem to be traveling as much as they did before September 11th,
but trends indicate that they are traveling more frequently and for shorter
distances. RV travel and camping provides Americans the chance to take the
whole family on a trip more often.
Factory-to-dealer deliveries of recreation vehicles (RV's) are up 20
percent for the first half of 2004 compared to the same period last year-on
pace to set a quarter-century record, according to newly released data RVIA.
Despite record-high gasoline prices nationwide this summer, June's RV
shipments were the highest for any June since 1977. For the first six months
of 2004, shipments totaled 196,200 units compared to 163,500 units during the
first half of 2003.
The strong shipment numbers have been spurred by increasing consumer
demand for RV's. Retail sales of RV's rose 15.2 percent in the first five
months of 2004 compared to the same period last year, according to Statistical
Surveys, Inc. In 2003 the RV industry earned record revenues of over $12
billion (as measured by the retail value of wholesale shipments).
About Woodall's
Woodall Publications Corporation is a multi-media publisher producing
annual campground, tenting and rental directories, regional monthly
periodicals, a variety of specific-interest books and Woodall's website
(http://www.woodalls.com ) each designed to reach different segments of the
RV/camping consumer marketplace. Woodall's also publishes Campground
Management, a monthly trade publication designed exclusively for park
operators.
About ARVC
The National Association of RV Parks and Campgrounds (ARVC) is the
national association representing over 3700 parks and campgrounds throughout
the United States and Canada. The association is headquartered in Falls
Church, VA. More information about the association can be found at
http://www.ARVC.org . Additional information about the association's member
parks, an online directory of parks and other camping services, and general
information for camping consumers can be found at
SOURCE National Association of RV Parks and Campgrounds; Woodall Publications
Corporation; Michigan State University
-0- 08/30/2004
/CONTACT: Julie Calzone, CEO-President of Calzone & Associates, +1-337-
235-2924 ext. 3, or jcalzone@calzone.com , for National Association of RV
Parks and Campgrounds/
/Web site: http://www.ARVC.org
http://www.gocampingamerica.com /
OCTOBER IS SALUTE TO BRITISH COLUMBIA MONTH
Use the 2 top bars and site index for links to other destinations

Kevin Walker, Victoria, BC
Succesful Hotel and Tour Packaging
Flashback - From the 1st Air & Marine Tourism Conference
by Air HIghways and BC Scene Magazine, Vancouver, BC

Air Highways 10th Anniversary Edition
Magazine launch at New York Times Travel Show.
Feb. 24-26 . Over 25,000 expected
.

BC Gateway Airport Communities
New, Convenient Directory Series Online

Vancouver, Home of the 2010 Winter Olympics
Travel and Tourism Update