---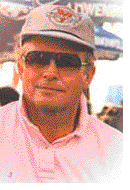 Auto World: From Mr. Wonderfuel and the Scamper, to profiling Canada's highways and airways
by Jerry W. Bird,

I

spent a large part of two exciting decades getting to know the world of automobiles, fuel systems and recreational vehicles, meeting the people who make them go and pull the strings. Allied with this effort was a massive program on alternative fuels and fleeet conversion for the Propane Gas Association of Canada featuring Mr. Wonderfuel (right) in a dozen or more films. As national public relations agent for Canada's RV manufacturers and marketing firms, and originator of several lage scale auto sales and advertising programs myself and staff crossed the country many times. That is another story. One of my biggest kicks was in 1992, producing a video for the Government of Canada, Public Works working with the agency's Vancouver office. The 45-minute video saluted the 50th Anniversary of the Alaska Highway and took me back to my Yukon roots for the very first time since high school. Here is the opening sequence. Dim the lights and imagine yourself a time traveler.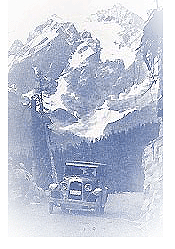 "The year is 1942. The month is February and our whole world is gripped by total war. For the moment, Axis forces hold the initiative, and for weeks following the Pearl Harbor disaster, every ship leaving North America's Pacific ports is threatened. The president's directive is clear: Furnish a supply route to the network of northern airfields - an overland route to supplement our air and sea lanes; one secure from attack." Approval comes swiftly, and the task begins, with end points set up by the military at Dawson Creek, BC. and Big Delta, Alaska. Overnight, the entire North mobilizes, as the rugged Trail of '42 rivals the famous Trail of '98 in worldwide focus. Those of us living in the Yukon at the time felt suddenly in the forefront of the action. What some called North America's greatest construction project since the Panama Canal began as a marvel of mobility at the time. U.S. Authorities combed the entire coast, seeking available water transportation, creating a patchwork flotilla of yachts, cargo vessels, tugs fish boats and barges.
Flying free as a breeze, Why worry oh why?
I can live as I please, Open Road ... Open Sky.
Song by John Charles Thomas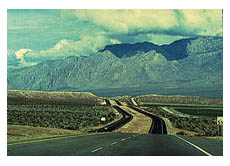 Auto and RV Rental
This is a key part of our business with AVIS Rent A Car playing such a key role in advertising and mass distribution of over 500 Spumes and Budget Rent A Car using our services for their popular coupon books. Now, we're working on an Adventure Roads edition that will compare services and automotive products. Watch for it.

Eco Story: Solar Car Crosses Canada for $ 9.22
Using only as much electricity as it would take to illuminate a 100-watt light bulb for four days, a group of Queen's University students set a new world record for the longest distance traveled in a solar-powered car. The group's 30-day trip, which began in Halifax on Canada day, ended on the weekend when the streamlined, spaceship-like vehicle cruised into downtown Vancouver. "Our entire trip only utilized the equivalent of $ 9. 22 worth of electricity," said Melody Berg, tour manager. "The equipment truck which followed along behind had to guzzle $ 1,370 worth of gasoline just to keep up." Traveling at speeds up to 125 km/h, the solar-powered vehicle - christened the Radiance by its builders - logged 7,044 km far outdistancing the previous world record of 4,058 km set in 1996 by an Australian team."
It was an amazing trip," said Berg. "The car really held up well. There were only a few minor troubles. And to top it all off, we really killed that old record." The flat-topped, five metre-long, one-metre-high vehicle traps sunlight in the solar cells covering its surface, which then produce enough electricity to power an electric motor. Any excess energy is stored in a battery for use on dull or rainy days. "We definitely got a lot of jaw-dropping and double-takes, " said Berg, recalling the surprised looks of other motorists. " It really doesn't look like anything else out there." The group hopes its cross-country tour will help raise the profile of alternative energy sources and the huge environmental and economical benefits.
Photos from top: Lodge at Waterton Lakes National Park, Travel Alberta; Open Road- Jerry Bird; Old car in Coast Mountains, 1940s - Helen Zurkowski.