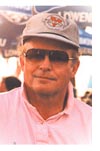 Edson, Alberta's Crossroads
to Adventure
by Jerry W. Bird

Once called "Gateway to the Last Great West,"Edson got its start with the arrival of the Grande Trunk Pacific Railroad, which served the rich Alberta Coal Branch. The Edson Historical Society's Galloway Station Museum is located in a former railway depot. Artifacts from the Grande Trunk Pacific, Canadian Northern and Canadian National railways are on display, plus exhibits saluting the coal mining and lumber industries. Strategically located, Edson became the jumping-off point for homesteaders heading up the Grande Prairie Trail to the Peace River country. The Trans Canada Yellowhead Highway's major upgrading efforts brought a dramatic increase in all types of traffic to the area, and in its wake, a healthy and growing tourist trade. Local amenities include the Red Brick Arts Centre, the 1913 Edson School Building, an Art Gallery, the Hatlen Theatre, School Room Museum and more. As the Slo-pitch Capital of Canada, Edson's annual Kinsmen Slo-pitch Tournament attracts contestants from far and wide. Petroleum, coal mining and forestry continue to fuel the local economy. Nearby communities and attractions include:
Rocky Mountain House National Historic Park
(side trip). Risen from the ashes. Rocky Mountain House original fort was razed in 1799. Weeks later, HBC erected a rival fort. Explorer David Thompson trekked to the Columbia River from here in 1807 and for generations Rocky was the Northwest's richest fur-producing area. Two stone chimneys are the lone reminders of a series of forts that stood on these hallowed grounds. Other exhibits include a York boat, Red River cart and fur press.
Entwhistle
Entwhistle's main street has a selection of historic buildings that have been popular with visitors. Its nearest major attractions are Pembina River Provincial Park and the viewpoint overlooking the Pembina River Canyon.
Yellowhead County
Less than two hours west of Edmonton, Yellowhead Country includes the communities of Evansburg, Wildwood, Marlboro, Peers, Cadomin, Brule and Niton Junction. Vast in area, the county stretches from the Pembina River's West Side to Jasper Provincial Park gates. This is one of central Alberta's key tourist destinations en route to the Rockies. Visitors will enjoy water sports and well-maintained beaches at Bear Lake, Shiningbank Lake, Long Lake, Beta Lake and Millers Lake. All eight County operated campgrounds are family-oriented, and patrolled daily by Park Officers. Fishing is superb throughout the area. Yellowhead County caters to all caliber of hiker with challenging trails, canyons and hoodoos.