Hope, British Columbia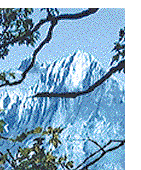 I am the Yellowhead

by Jerry W. Bird
.
From my crossroads high in the Rocky Mountains of eastern British Columbia I reach the Pacific Ocean via two scenic, but separate routes. I was here (as a trail) at the hamlet of Tete Jaune Cache, near Mount Robson, when fur traders, voyageurs and explorers came west, opening new horizons. I was here when surveyors toiled against the clock and oncoming winter, as coolies from faraway China arrived to lay tracks for the railways and stayed to create a Garden of Eden in the Fraser Valley's fertile soil. Heading south from the junction I parallel Wells Gray Provincial Park. Known as "the Waterfall Park," it is a 5,000 sq. km wilderness area with waterfalls, wildflower trails, ski trails and lakes for kayaks and canoeing. Its spectacular Helmcken Falls are the fourth highest in Canada and its five wilderness lakes fulfill your dreams of canoeing in a most beautiful mountain setting. Imagine the scene- just turn on the soft music of ripples on the lake, or Chopin's Waltz of the Flowers.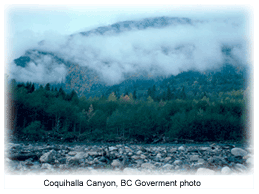 Merritt: Country Music Capital. The Merritt Mountain Music Festival has paid off year after year with a string of successful venues, and putting the town on the map.
Hope
Remember the rugged countryside where Rambo (Sylvester Stallone) led the law on a merry chase up and down the mountain slopes, between crevices and intimidating rock faces. That action movie was filmed in Hope and vicinity. What an ideal setting - the snowcapped Cascade Mountains, the mighty Fraser River flowing by, still bursting with energy from its trip through Fraser Canyon. Close to Hope, are the five Othello or Quintette Tunnels. Now a popular historic site, the railway tunnels were designed to bypass the Coquihalla Canyon. The trestles have been converted to walkways in what is now a provincial park. Hope was once a hub of the Kettle Valley Railroad &endash; whose route has become a favourite trip for hikers and railroad buffs. From Hope, you can visit Bridal Veil Falls - in the other direction is Hell's Gate with its popular Sky Tram.

Speaking of action, one can fish, hike, rent a mountain bike or skis, try their luck at panning gold, enjoy rock climbing, hang gliding, golfing, and white-water rafting. Hope has many attractions including chain-saw wood sculptures, an historic railway station, arts gallery and museum. Except at peak tourism season, there's an abundance of reasonably priced hotels, and motels for an overnight stay or a longer vacation.
From Hope, it's a pleasant drive through the Fraser Valley to Vancouver, Canada's third largest city, and an hour north of the United States border. For those going on to the USA, the border crossing at Sumas, Washington is about 3 hours drive from Seattle.
Hope is the gateway to BC's Gold Rush Trail
In the 1850s, BC's Gold Rush drew prospectors from around the world, most of whom made their way by various forms of conveyance, up the Mighty Fraser, from its mouth near Sea Island (Richmond) to the head of navigation at Yale. North of Hope, the is a rugged stretch or road and trail that hugs the shoulders of the Fraser Canyon, as down below, the foamy white rapids churn and roar. Places to visit along the way include Hope, Hell's Gate with its famous Air Tram, Spuzzum, Boston Bar, Lytton, Lillooet (original Mile 0 of the Cariboo Trail) and a string of frontier towns.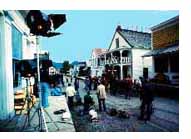 We visited the historic Fraser Canyon again last summer, heading west from Merritt to Spence's Bridge, and took the time to truly appreciate the awesome scenery. You can see how challenging it was for the gold prospectors in their difficult quest. This route between Hope and Cache Creek is a 'great drive' experience you'll never forget, with its sharp turns, railway tunnels, historic sites and exciting view points. So take your time, and don't forget to stop and smell the flowers. They were blooming on every hillside on our last trip.
More details to come, incuding contacts for further information.