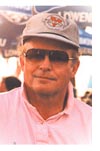 Lloydminster, Saskatchewan and Alberta
by Jerry W. Bird

Seeing Double? Yes Virginia, there is a Lloydminster, Sask., and a Lloydminster, Alberta living peacefully side by side. That used to cause a kaffuffle when daylight saving time rolled around, and begs the question, "How did this prairie community end up in two separate provinces? Sitting astride the 4th Meridian as part of the Old Northwest Territories, the village was split in two when Alberta and Saskatchewan joined Canada in 1905. This phenomena led to duplication of various municipal functions. In 1958, upon receiving its official charter, the City of Lloydminster became the 10th city in both provinces. "Bordering on Greatness" is the catchy theme of a souvenir history book written for this July's Lloydminster's Centennial Jubilee. Lloydminster was established when over 2,000 Barr Colonists arrived from England, led by the Reverend Lloyd. Their journey from the old country to the Canadian prairies of 1903 is a fascinating story all by itself. In old English the word "minster", stand for the "mother church," hence the composite name. Local attractions include the Barr Colony Heritage Cultural Centre, the OTS Heavy Oil Science Centre and Fuchs Wildlife Display of taxidermy. Outdoor amenities abound at Sandy Beach Regional Park. By the way, the Lloydminster Golf and Country club is ranked high in both provinces. Nearby communities on the Trans Canada Yellowhead Highway include:
RM of Paynton
A few minutes west of the historic Battlefords, is the Rural Municipality of Paynton, soon to celebrate its centennial. Following the Northwest Rebellion , a modern settlement took root. Looking back in time, the first mail box in Payton was installed in 1903; the first was opened in 1904, and the railway arrived in 1905, bringing settlers, tradesmen and entrepreneurs from afar, giving birth to what is now an active rural community.
Maidstone
Located in the Rural Municipality of Eldon, the Town of Maidstone was founded after the railroad was constructed, and currently has a population of close to 1,000.