Vegreville, Alberta's Little Ukraine
by Jerry W. Bird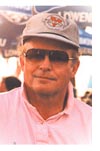 The moment you spot an onion-shaped dome or giant Easter egg on the horizon, you know you're heading for Little Ukraine, the capital of which Vegreville, home of the Ukrainian Pysanka Festival, with its fly-in breakfast and three solid days of food, festivities and fun. Farm families from the steppes of Eastern Europe found the Alberta plains resembled their homeland in many ways. These hardy souls adapted well, combining their knowledge of agriculture with the sweat of the brows and muscle of their backs to create solid, successful communities. Vegreville is rich in cultural heritage, natural resources and modern facilities, such as its indoor Aquatic and Fitness Centre complex. Stop and enjoy the water slide, leisure pool, whirlpool, sauna, fitness room, and racquetball court, or depending on the season, watch a hockey game at indoor ice arena. Located on the main Canadian National Railway line and serviced by a modern airport, Vegreville is a transportation hub for the area. For those who check out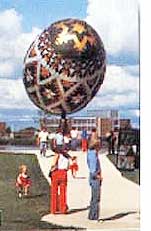 the lifestyle, it's an excellent place to live, with low taxes, reasonable housing prices, first class educational, medical, recreational and cultural facilities, companies, institutions and utilities. While agriculture is the primary industry, Vegreville also has regional offices for a string of prominent companies and agencies.
Communities in the Vegreville area

Mundare
Ukrainian and East European art and artifacts abound at Mundare's town museum and Basilian Fathers Monastery. For example, there's a 12th century gospel handwritten in the Old Slavic language, several 14th century icons, copies of the first printed Latin Bible (1520), and the first printed French Bible (1558). Ornate stained glass windows in the monastery's St. Peter and St. Paul's Church depict the life of Christ as well as the history of Mundare and the Ukrainian people. We're sure the visit will inspire you.
County of Vermilion River
How green is my valley? The County of Vermilion River, which includes the hamlets of McLaughlin, Rivercourse, Blackfoot, Islay, and Clandonald offers a laid back atmosphere. Vermilion Provincial Park and Lea Park provide opportunities for pleasure boating, fishing, and the usual water sports. What's more, visitors can golf with a backdrop of rolling hills, or choose a hiking or horseback riding trail along the verdant Vermilion River valley. Country museums, local festivals and top events like the CRA Lea Park Rodeo and Three Cities Fair keep enthusiastic supporters from near and far coming back in droves.
Vermilion
Main Street, Alberta. For Yellowhead travellers coming from the east, the town of Vermilion is likely their first taste of Alberta - and around here; good taste is always in fashion. A walk-around tour of Vermilion's downtown area includes over 30 historic blocks, all lovingly restored, and each featuring an interesting shop or service. The result could easily pass for a Norman Rockwell original, vintage 1930. Add some antique autos, and you've got the perfect movie set. This tree-lined community offers visitors a the pleasures of heated outdoor swimming pool, a nine hole golf course and in winter -- a km-long snowmobile track. Small wonder that, several of Canada's Olympic athletes come from this area. Fun events are always in season -- including a spring and fall rodeo, a spring music festival, a summer agricultural festival and an autumn trade fair. Places to visit are "FireWorks"- Canadian Fire Museum and Discovery
Centre, the Alberta Fire Training School and Lakeland College.
Innisfree
Yeats poem "The Lake Isle of Innisfree" was the inspiration for the town's romantic name. The incident occurred in 1905, when Sir Byron Walker, President of Canada's Bank of Commerce, agreed to open a new branch if the community's name was changed to "Innisfree". Why? The nearby Birch Lake area reminded the banker of his summer home in Ireland.
County of Minburn
A year-round destination in the Lakeland Tourist Zone, the County of Minburn attracts major sports events and is a magnet for vacation and recreation bound travellers. Activities include everything from hunting and fishing to water sports, camping and other pleasures of the great outdoors. Multicultural activities abound, hosted by churches, light theatre groups, service clubs, agricultural societies, arts and craft guilds. Check the official Yellowhead map for a minute. See how the County of Minburn occupies a vast, park - like area, which straddles the Trans Canada Yellowhead Highway, from a point an hour west of the Saskatchewan border to its outer limits an hour east of Edmonton. There are 37 townships in the county, the main centres of activity being Innisfree, Lavoy, Mannville, Minburn, Ranfurly, Vegreville, and Warwick.
Minburn
Named after Mina Burns, a writer of western magazine articles, Minburn is 34 km west of Vermilion. Activity began in 1905 as a siding and townsite for the Canadian Northern Railway Company.
Lamont County
Get Quacking. The world's largest mallard duck stands tall at Andrew, a hamlet near Whitford Lake Wetland Preserve. His presence is a magnet to nature lovers. Being the heart of a well-travelled waterfowl flyway, hunters and bird watchers flock here to catch the action each spring and fall. Due to its rich cultural mosaic, Lamont County is called the "Church Capital of Canada," many of them crowned with a familiar onion dome signifying their Ukrainian origin. Lamont County offers self-guided driving tours to 47 different churches and shrines in the area. Another popular heritage site is the Old Walker School house in Bruderheim. Other Lamont County communities are Chipman, Lamont, Hilliard, Mundare, St. Michael, Star/Edna and Wostok. At the Andrew Museum, a railway caboose and mini golf keep the kiddies amused, while the bigger kids and grandpa take a journey into history.