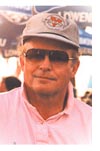 Hinton, Alberta's Gateway to
Jasper National Park
by Jerry W. Bird

Hinton offers you the best of both worlds, as I learned when my son Ron and I visited the late Mortie and Ann Milner who once owned a hotel in the community. Mortie is one of the "angels on my shoulder" I spoke about at the Yellowhead Highway Association's last covention. At Hinton you're a few hours west of Alberta's capital, yet on Jasper National Park's majestic doorstep. From here, a wonderland of crystal clear lakes, aromatic evergreen forests, towering peaks and rushing streams awaits your pleasure. How about a challenging 18-hole golf course? Or some of Alberta's best trout streams, where one can watch every ripple, each darting move, clear to the rocky creek bed? If you've ever fished in the Alberta foothills, you'll know exactly what we mean. Nearby attractions include Athabaska Lookout, Whitehorse Wildland and William Switzer Provincial Parks, Foothills Model Forest and Forestry Museum, Ogre Canyon. Select from walking, hiking and theme tours supervised by local guides. Come snow time, a world class cross-country ski track beckons. For the traveller making a quick stop, Hinton features a recreation complex with an indoor swimming pool and arenas.
Jasper National Park
Many travelers first love affair with Jasper's Rocky Mountain paradise was by train, sprinting off for souvenirs during a brief stop at the town station. Today, most visitors arrive on four wheels. By car you can seize the moment, cooling off under a waterfall, standing bug-eyed at a viewpoint, catching every photo opportunity. Allow at least one extra day for this Rocky Mountain high, which includes Maligne Lake, Jasper Lake, Punchbowl Falls, the Whistlers, Pyramid Lake, Henry House, Skyline Trail and Pocahontas for starters. The hottest water on the entire drive (54°C) is at Miete Hot Springs. Don't worry, it's cooled to a comfortable 39° in the mineral pool. Near the mouth of Rocky River, a cairn marks the Jasper House National Historic Site, where a supply post was built by the Northwest Company in 1813.
Jasper National Park is a wildlife sanctuary, where deer and antelope play, bighorn guard the peaks, elk and bears are everywhere. A friend describes Jasper National Park as follows, "Our first lodging here was a war surplus tent; the most recent visit was years later at luxurious Jasper Park Lodge, where the waiter brought dinner to our cabin by bicycle. We've enjoyed it both ways &endash; Jasper provided two of life's greatest moments."