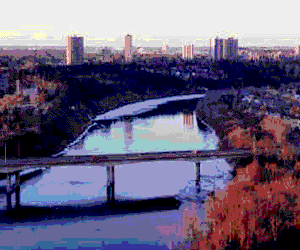 Edmonton's One Thornton Court
Pictured above, along with the famous Chateau Lake Louise and Waterton Lakes Lodge, is a scene of Edmonton's North Saskatchewan River Valley, site of One Thornton Court the first hotel on our list. It is located next to the"Hotel Macdonald," where we once had an office.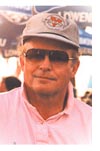 "This spring following our participation at the Yellowhead Trans Canada Highway Association's 56th Annual Convention in Sherwood Park on the heels of a hectic month overseas, we needed some quiet time for rest and relaxation in Edmonton. A friend recommended Thornton Court, and it was love at first sight. The spacious guest room off the main lobby and the wide open layout of dining area and patio won my heart immediately. So did the view (see river valley scene in above photo sequence)The room itself was another wonderful surprise and so was the reasonable price. True value in these days when that principle is not always the norm. We enjoyed the hotel so much, I suggested that we stay an extra two days." Jerry W. Bird, Editor
Here's what the listing says, and every word is true. "An inspired conversion of Edmonton's landmark federal building named in honor of Sir Henry Thornton, president of Canadian National Railway. With commanding views of the river valley, centrally located in downtown Edmonton's arts and entertainment district. Casual Riverside Luxury. Bringing you the most modern of conveniences. Unique in design, unparalleled in service."
Toll Free 1·877·588·9988
Thornton Court Hotel
One Thornton Court
Edmonton, AB, T5J 2E7
Phone: 780 423 9999, Fax: 780 423 9998
http://www.thorntoncourt.com/
Best Western Sherwood Park Hotel
and Conference Centre
Headquarters hotel for the Yellowhead Trans Canada Highway Association's 56th Annual Convention in 2002. The new Best Western Sherwood Park Hotel and Conference Center is spacious and cnvenient to several shopping centres. It is accessed by an underground heated walkway to Millennium Place, one of Canada's finest recreation and sports complexes. Skating and hockey rinks, soccer fields, a 235-meter track, pool, wave pool, sauna, complete fitness center all under one roof. The hotel has conference banquet facilities for up to 1000 guests.
2016 Sherwood Dr
Sherwood Park AB T8A 3X3
Photo Credit: Travel Alberta, Thornton Court