5th International Metropolis Conference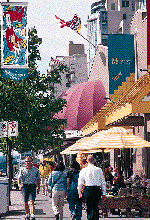 Air Highways Editors covered this week long event at Vancouver Convention Centre, and will be providing reports on various efforts towards cultural integration, a topic that will rank high on our future editorial menu. The coming event will be in Rotterdam, The Netherlands, November 26-30.
The Metropolis Project creates opportunities for government decision-makers, researchers, and non-governmental agents to discuss policies and programs for integrating immigrants and minorities and for effectively managing the impact of immigration and diversity on city life. Metropolis fosters exchanges that go beyond the stating of positions, beyond descriptions, and beyond advocacy. The Project provides unique opportunities for stakeholders who share a vision of improving society through collaboration and partnership to engage each other, to acknowledge problems openly, and to work, unfettered, to solve them.
The Fifth International Metropolis Conference
Vancouver, British Columbia, one of the world's most cosmopolitan cities, which has grown tremendously over the past 100 years owing to immigration from all parts of the globe. Organized by the Ottawa-based Metropolis International Secretariat at Citizenship and Immigration Canada, in conjunction with the members of the Metropolis International Steering Committee, its partners in the government of Canada, the Metropolis Centres of Excellence in Canada, as well as with Tourism Vancouver, the Vancouver Convention and Exhibition Centre, the Pan Pacific Hotel, Air Canada, the City of Vancouver, and the Province of British Columbia.
Building on the lessons of the first four conferences in Milan (1996), Copenhagen (1997), Zichron-Yaacov, Israel (1998), and Washington, D.C. (1999), the Vancouver conference will further intensify discussions amongst senior policy-makers, leading academics, and non-governmental actors through participation in interactive plenary sessions and highly-focused, results-oriented workshops.
The themes of the conference are provocative and focus on the fundamental issues confronting governments and other stakeholders:
• Building Social, Cultural and Economic Capital:

..The Case for Migration

• Creating Opportunity: Growth, Access and Equity

• Managing Gateways and Managing Change

• Investing in the Future: The Changing Face of Youth
Who should attend?
The conference should be attended by researchers, policy-makers, and non-governmental agencies working on immigration and diversity. Graduate students working in these fields are also strongly encouraged to attend as are interested stakeholders in the
private sector and in research foundations. A special fee structure is being offered to make it easier for graduate students and NGOs to participate.
Note: We are covering the conference and will be updating this page with comments from the event.
More Information? Visit the Metropolis International Web Site regularly to get up-to-date information. The Staff of the Conference Secretariat will also be able to answer questions:
1-888-278-6186 ext 255 or ext 256
(613) 233-5179 ext 255 or ext 256