Dubai to Host ASTA's 2013 International Destination Expo
ASTA's global IDE expands agents' destination knowledge

Contact: Kristina Rundquist
pr@asta.org

Alexandria, Va., March 5, 2012—Travel agents interested in expanding their knowledge of the Middle East as a destination for their clients should make plans to attend ASTA's eighth annual International Destination Expo (IDE) in Dubai, April 3-7, 2013. Through its International Destination Expo, ASTA continues its global push to provide certified destination training and provides agents with the vital skills to market their business and increase sales.

Said ASTA CEO Tony Gonchar: "Dubai is an amazing, growing destination that is expected to host more than 15 million international tourists annually by 2015. We want to ensure our global travel agent members are fully equipped to fulfill their customer's expectations on Dubai with hands-on and on-the -ground experience."

At ASTA's 2013 International Destination Expo, attendees will discover why the key to increasing sales to Arabia is "Definitely Dubai." With a destination training program like no other, travel agents not only learn how to sell the destination but make personal connections with local suppliers they won't meet at any other tradeshow. Agents return home with ASTA's industry-recognized Destination Specialist certification, giving them an edge over their competition. As part of the event, attendees will participate in exclusive training seminars that go beyond the ordinary and provide real-life experiences to share with their clients.

In addition to classroom training, attendees can take part in an exciting line-up of pre- and post-tours that include Dubai's most iconic attractions, such as the Dubai Gold/Spice Souk, downtown Burj Khalifa, the Burj Al Arab Hotel--designed to resemble a billowing sail--and Jumeirah Beach. Other tours take in Dubai's premier golfing and shopping opportunities, while history and culture lovers will have the chance to explore the Dubai Museum - Al Fahidi Fort, Dubai Jumeirah Mosque and the traditional courtyard district of Bastakiya.

Thanks to select partnerships, ASTA is able to offer conference delegates special negotiated rates throughout Dubai. Emirates, the official airline of ASTA's International Destination Expo, is making an exclusive offer of 30 percent off published market fares in Business and Economy class to registered attendees.

And when it comes to accommodations, from renowned luxury properties to cheerful hotels for those on a budget, ASTA's IDE offers hotels to meet agents' specific needs. IDE delegates can choose from select properties in such well-known areas as Sheikh Zayed Road, Jumeirah Beach, the Palm, Dubai International Financial Center, Business Bay or Deira. All official functions will take place at the Madinat Jumeirah but delegates may also choose from these specially selected IDE hotels: Jumeirah Group, JW Marriott Marquis, Intercontinental Dubai Festival, Pullman Hotels and Crown Plaza.

Registration includes:
Focused, destination education sessions not found anywhere else;
Personal connections with local suppliers on the exhibition floor and throughout the event;
Admission to three lavish evening networking events;
Complimentary sightseeing and specially priced pre- and post-tour options; and
Reduced airfare on the incomparable Emirates, the Official Airline of IDE Dubai.
ASTA would like to thank the following sponsors for their support: Dubai, Jumeirah Group, InterContinental Hotels Group and Starwood Hotels & Resorts Worldwide, Inc.
ABOUT ASTA
The mission of the American Society of Travel Agents (ASTA) is to facilitate the business of selling travel through effective representation, shared knowledge and the enhancement of professionalism. ASTA seeks a retail travel marketplace that is profitable and growing and a rewarding field in which to work, invest and do business.

ASTA, short for the American Society of Travel Agents, is the world's largest association of travel professionals. Our members include travel agents and the companies whose products they sell such as tours, cruises, hotels, car rentals, etc. We are the leading advocate for travel agents, the travel industry and the traveling public.
ASTA offers many benefits to its members and the traveling public. The majority of ASTA's members are travel agencies. However, travel suppliers, such as airlines, hotels, car rental firms, cruise lines, and tour operators join ASTA. We also have membership categories for students, travel schools, retail travel sellers, and others. ASTA is the organization for anyone related to the travel.
Travel Awards - Recognizing Top Travel Professionals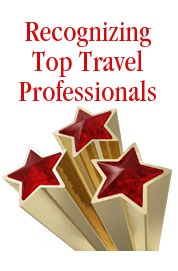 As one of the travel industry's premier organizations, ASTA strives to promote excellence within the trade. To that end, ASTA presents several top-level awards to recognize those professionals who make lasting contributions to the travel industry.
Travel Agent of the Year recognizes an active travel agent member who has made a great contribution to the travel industry and whose outstanding influence and professional activity have advanced the status of travel agents.
The Allied Member Award recognizes a person or company whose contributions to travel have positively impacted the travel agency community.
The Travel Hall of Fame Award recognizes and honors individuals whose careers have made an enduring impact on the development and expansion of the travel and tourism industry.
The Young Professional Award is a brand new award intended to recognize the efforts of an outstanding young travel professional.
The Lifetime Achievement Award presented periodically to honor a travel industry luminary whose creativity, dedication and inspiration have advanced the travel and tourism industry.