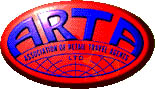 Association of Retail Travel Agents
Founded in 1963, the Association of Retail Travel Agents (ARTA) is the largest nonprofit association in North America that represents travel agents exclusively. Its membership is 100 percent professional travel agents. The Association does not accept travel suppliers or other travel companies as members.
ARTA represents the collective strength of more than 4,600 professional travel agents in the United States and Canada and around the world. A free 30-day trial membership is available via the web site: http://www.artaonline.com/about.cfm

Check the ARTA Web Site for:
ARTA Online University
Featuring online seminars by Bob Stalbaum
Bonus Commisions Coming Soon.
Listings from major suppliers
Today's Travel Headlines
Updated travel headlines from around the globe.
TravelMatch Coming Soon.
Marketplace for selling and seeking travel services
Travel Toolbox
Sample forms, contracts, scripts, etc.
Work-Study
ARTA's training and educational programs
History of ARTA
An informative essay on how we were formed, what we stand for, where we are today, and where we are going.
Our Member Benefits
A listing of our fantastic Member Benefits. Learn about services that will make you a more efficient and profitable agent. Brought to you at affordable prices through ARTA!
Membership Application
Join ARTA online! We have provided you with an easy to use application form so you can become an ARTA member today! Simply fill out all the necessary information and your application is electronically submitted to ARTA Headquarters, its that easy!
Conferences
Find out about upcoming National and International Conferences and events. You can even register online!
Work-Study Programs
Learn about the Industry's Best Work-Study Programs. Here we provide an overview of the different programs offered.
ARTA Headquarters, 501 Darby Creek Rd. Suite 47
Tel: (606) 263-1194
Fax: (606) 264-0368 1-800-969-6069 ARTAHDQ@aol.com