---
In 2013, Luxury Travel Ltd (ww.luxurytravelvietnam.com) expects a 30% growth, as "High-end travelers still have money and time, and they can travel even during the financial crisis," said Pham Ha, Founder and CEO of Luxury Travel Ltd.

VIETNAM - April 29th, 2013 - Each year, more cruise ships dock at Vietnam's major ports and bring high-end travelers to the country.

These luxury cruises are excellent examples of lavish travel, a growing part of the tourism sector in recent years in Vietnam, but still representing but a small a portion of the millions of international tourists coming to the country every year.

According to Pham Ha, chief executive and founder of Luxury Travel Ltd. (Vietnam's first luxury tour and travel operator and most successful luxury travel brand in the country) the company served more than 5,000 of the 10,000 high-end travelers to Indochina in 2012.

The Deputy Prime Minister, French ministers, the Omani royal family and ministers of Oman, as well as ambassadors of many countries were among the VIP guests of the company.

As Pham points out, cost of an average lavish tour ranges from US$2,500 to US$3,500 per person for a seven-day tour. Many of these tours are priced at over US$1,000 per day per visitor.

In 2013, Luxury Travel Ltd (www.luxurytravelvietnam.com) expects a 30% growth, as "High-end travelers still have money and time, and they can travel even during the financial crisis," said Pham.

The services are often linked with MICE tourism which involves the organization of meetings, incentives, conferencing and exhibitions, serving customers who come to Vietnam for business but would like to enlist their time for some exquisite, relaxing travel as well.

As the MICE "tigers" of Southeast Asia, such as Singapore or Malaysia, have maxed out their venue capacity, and Laos and Cambodia still have not quite hit their potential, Vietnam is becoming the MICE hub of Asia for both regional and global MICE visitors.

In late December 2012, Luxury Travel Group Ltd (www.luxurytravelvietnam.com) also announced its top five high-end travel trends in the Vietnam tourism industry for 2013, including multi-generational family travel, wellness and spa trips, active vacations, river cruises and customized travel.

In recent years, Vietnam has begun to catch up in terms of wellness and spa innovation, embracing spa culture with a wide selection of resorts and day spas that are equal to any in the world. Many world class golf courses have also recently opened, making Vietnam a golf destination as well.

According to the Vietnam National Administration of Tourism (VNAT), although experiencing a turbulent year with economic difficulties, the Vietnamese tourism industry still achieved positive results with 6.8 million international arrivals in 2012, an increase of nearly 14% compared to 2011.

In terms of travel purposes, in 2012, 14% more visitors came to Vietnam for tourism and leisure and 16% more visited Vietnam for business, compared to 2011.

Vietnam has received rave reviews for the beauty of many of its destinations, including the UNESCO-recognized cultural and natural heritage sites.

In early December 2012, the travel and tourism professional association, the United States Tour Operators Association, voted Vietnam the 2nd most popular emerging destination in 2013, topped only by Myanmar and followed by India and Peru.

The famous luxury Travel and Leisure Magazine has listed Vietnamese hotels and resorts as among the Top 500 of the World's Best Hotels, including: Sofitel Legend Metropole Hanoi, the Nam Hai in Hoi An and Park Hyatt Saigon.

"The beauty of our Vietnam luxury tours is the first hand knowledge and excellent service of local travel experts. Our trips been carefully designed to capture the crème de la crème and allowing you to really experience the culture, flow smoothly from place to place, and allow time for relaxation. Itineraries can be modified to suit your tastes, time frame, budget, and special interests. You can stay at the world's best hotels," said Pham Ha, founder and CEO of Luxury Travel Ltd.

For 2013, the director of Luxury Travel (www.luxurytravelvietnam.com) projected: "We are seeing interest in the An Lam Ninh Van Bay villas near Nha Trang, Hyatt Regency Da Nang, Intercontinental Da Nang Resort, Fusion Maia Resort Hoi An, Ana Mandara Hue, Emeralda Ninh Binh."

"The next upcoming destination in Vietnam is the archipelago of Con Dao, where Six Senses has developed a resort. It is a 45 minute flight from HCMC and offers the most beautiful islands and settings in Vietnam," said Pham.

Lavish tourism may account for a small market share but is a profitable sector. Nowadays, luxury tourism is all about experiences, privacy, intimacy and uniqueness. High-end travelers expect to "enjoy a program that gets them off the tourist trail and into the real Vietnam."

Many have moved towards a quieter understated luxury and plan their trips with a focus on authenticity and experiential travel, focused on enriching once-in-a-lifetime experiences.

For travel experts, it is essentially about creating a package that is personal as well as authentic and memorable. With so many new experiences on offer, it's the stories travellers can tell afterwards that confer status.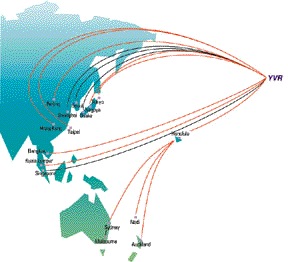 Pioneers Inspired Today's Flights via the Paciric to the Orient .
by Jerry W. Bird . Flights from Vancouver, Seattle and LA to Africa via Asia Pacific recalls the vision of Edmonton's Grant MacConachie, bush pilot and founder of Canadian Pacific Airlines. Grant dreamed of an air bridge to the Orient and across the pole. The Aviator, Howard Hughes was another famous visionary. See our item about his famous Spruce Goose. More

PATA Announces First 'Pacific Asia Media Exchange'
( The first Pacific Asia Media Exchange (PAMEX) will take place June 14 at the Sheraton Gateway Hotel at Los Angeles Airport. The new event was formally announced by Pacific Asia Travel Association (PATA) Regional Director-North America Mr Jim Ferguson today.
Mr Ferguson said: "We're inviting more than 100 writers, editors and broadcasters to meet one-on-one with representatives of our PATA-member destinations, as well as with representatives of emerging regions, leading tour operators, attractions and industry suppliers."
Expanding media coverage of Asia Pacific destinations has been vital to the impressive increase in US visitors to the region over the past five years, Mr Ferguson said. "We're out to accelerate that process and to generate more contacts, stories and broadcasts about Asia Pacific's diverse destinations through PAMEX."
PATA President and CEO Mr Peter de Jong said: "The free-flow of information between media and exhibitors at PATA events is a proven formula to accelerate market growth. Through PAMEX, we hope to actively encourage arrivals growth from the US to the rest of the Asia Pacific region."
PAMEX is designed as a business forum of structured one-on-one appointments. Each exhibitor will be assigned a table and will meet up to 20 journalists in a day-long series of 15-minute interviews. A lunch and networking coffee breaks will also be included.
Interested exhibitors should visit the PAMEX Web site at www.PacificAsiaMediaExchange.com for more information and to apply for registration. The cost of registering one representative to meet invited media will be US$995 for PATA members and US$1,195 for non-members. Registration and media appointments will be managed through the PAMEX Web site. Overseeing PAMEX is PATA member Donald N. Martin&Company.
Who: Some 100 journalists, publishers and broadcasters to meet with about 100 Asia Pacific destinations, attractions and suppliers.
When: Wednesday, June 14, 0800-1930
Where: Sheraton Gateway Hotel (at LAX), 6101 West Century Boulevard, Los Angeles, CA. 90004.
What to do now:
EXHIBITORS should go to www.PacificAsiaMediaExchange.com for more information and apply for registration. Exhibitors may address questions to Donald N. Martin&Company. Tel: (1-212) 922-0400. E-mail: PAMEX@dnmartinco.com.
ABOUT PATA
Founded in 1951, the Pacific Asia Travel Association (PATA) is the recognised authority on Asia Pacific travel and tourism. PATA provides leadership and advocacy to the collective efforts of nearly 100 government, state and city tourism bodies, more than 55 airlines and cruise lines, and hundreds of travel industry companies. In addition, thousands of travel professionals belong to dozens of PATA chapters worldwide.
PATA's mission is to enhance the growth, value and quality of Asia Pacific travel and tourism for the benefit of its membership. PATA is a not-for-profit organisation.
Find out more at www.PATA.org.
JOURNALISTS should register their interest at www.PacificAsiaMediaExchange.com. Invitations will be sent in May. Media questions should be directed to Lois Gerber. Tel: (1-201) 866-7181; Lois.Gerber@dnmartinco.com.
PATA: Airline Passenger Safety and Security The Top Priority
BANGKOK: The Pacific Asia Travel Association has released a paper called Living With Government Travel Advisories: Maximizing Gain, Minimizing Pain. A travel advisory is an official warning issued by a country to its citizens about the dangers, real or perceived, of travel in a specific foreign land. The report's author, Mr. David Beirman, argues that it is vital for national tourism offices to understand how governments formulate advisories.
"In managing the impact of travel advisories it is equally important for tourism authorities, especially when based in a foreign country, to identify and establish an ongoing relationship with those who actually formulate government travel advisories."
The report says that if a cordial relationship is established in peaceful times, this will benefit the destination when it faces a crisis.