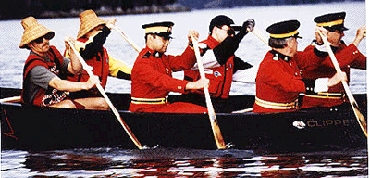 First Nations and Canada's RCMP Vision Quest:
1,000 Mile Coastal Canoe Journey
Skeena River Country to Victoria, BC: Final celebrations, were timed to coincide with the opening of the North American Indigenous Games, and served as a preamble to the RCMP's 125th Anniversary. Funds raised through this 1,000 mile canoe journey were used to support a new program for First Nations people in the Province. This new facility will provide people from all walks of life, the opportunity to face, and hopefully overcome addictions -- alcohol, drugs, sex as well as power and control addictions. By returning healthy, happy people back into society, there will be a positive impact on the cycle of addiction, crime and disfunction inherent in all communities. It is the intention that Vision Quest be holistic in nature and available to persons from any cultural background. Funding is provided through private donations, the financial assistance of caring c\orporations and the promotion of events organized and supported by the RCMP. Air Highways Magazine has a gallery of photos marking the Vision Quest Journey, courtesy of Staff Sergeant Ed Hill of the RCMP. Look for an expanded photo story in our Yearbook Edition.

Vision Quest logo: When asked to produce a symbol for Vision Quest, renowned artist Roy Henry Vickers utilized the traditional West Coast symbol of woman - representing the bearer of life, the adventurer and healer. To further enhance those qualities, West Coast designer Rachel Orr went to work. She began by placing the key symbol, the woman , inside a circle to signify the global concept of community.
To incorporate the concept of "openness to all," the woman's hands open the circle in a gesture of welcome. Behind her is darkness as she is surrounded with light. The letters forming Vision Quest were place quietly below her arms and graphic lines were added above and below symbolizing movement forward in the process of recovery and healing. For more information on the Vision Quest journey, should you be interested in helping sponsor a Millennium trip along the same route, click send mail below.

Grouse Mountain: The Hiwus Feast house on Grouse Mountain is setting a benchmark for authentic Aboriginal tourism. This longhouse, developed by Richard Krentz and Grouse Mountain Resorts Ltd., hopes to be among the first projects to receive accreditation by the Aboriginal Tourism Association of BC (AtBC) a member of COTA, hopes to launch a pilot for the accreditation system later this year. Although the process is not yet in place, some criteria, such as majority Aboriginal ownership or control, are outlined in the draft of a workbook developed by the association. The workbook assists an Aboriginal person setting up a cultural tourism business by identifying operating standards.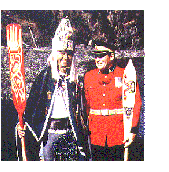 Canadian Canoe Museum
The World's largest collection of canoes and kayaks. Much more to come on this web site relating to the museum and to canoeing as a challenging and rewarding activity.
Bill Byrick, Exec. Director, Peterborough, On. http://www.canoemuseum.net/old/