Business and Environment in a Competitive World<
Vancouver, Canada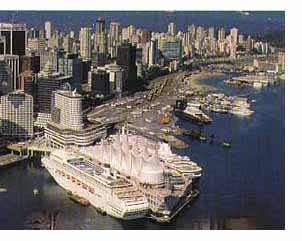 We at Air Highways and BC Scene Magazine are proud to provide news and backgrond on the 7th International Conference and Trade Fair on Business and the Environment at the Vancouver Convention and Exhibition Centre, March 13 to 15, 2002. Having participated in Globe's last five conferences we can hardly wait. See our BC Scene web site for information on Vancouver and British Columbia, including contact numbers, transportation and accommodation.

NEW CONFIRMED SPEAKERS:
John Prescott, Deputy Prime Minister and First Secretary of State, UK
- Claudia Sheinbaum Pardo, Secretaria del Medio Ambiente del Gobierno del Distrito Federal, Ciudad de México, Mexico
Bob Walker, Vice President, Socially Responsible Investing & Policy Research, Ethical Funds Canada, Canada
Daniel Gagnier, Vice President Corporate and Environmental Affairs, Alcan Inc., Canada
David Demers, President & CEO, Westport Innovations, Canada
Dirk Forrister, Managing Director, Strategic Services Unit, Natsource, USA
Franz Tattenbach Capra, National Coordinator, Costa Rican Office on Joint Implementation, Costa Rica
John Wallace, Executive Director, TH!NK Group, Ford Motor Company, USA
Jim Dinning, Executive Vice President, Sustainable Development and External Relations, TransAlta, Canada
Mark Small, Vice President, Environment Health & Safety, Sony, USA
WITH THE SUPPORT OF:
Government of Canada
Industry Canada
Environment Canada
Department of Foreign Affairs and International Trade
National Research Council
Pacific NorthWest
Economic Region (PNWER)
New Sessions in the Conference Program . . .
Track 5
EFFICIENT ENERGY:
Innovative Solutions for Meeting Energy Requirements
The Hydrogen Economy: Building the Infrastructure
With all the major auto manufacturers intensely pouring resources into the fuel cell vehicle race the prototype vehicles will no doubt be competitors to the standard internal combustion engine cars. Distributed generation of energy in the form of stationary fuel cells has already hit the markets worldwide and test results are positive. BC Hydro has taken the initiative to construct the world's first 10,000 psi fuelling station for fuel cell cars in Vancouver. General Hydrogen and General Motors have a 25 year deal to create an infrastructure that will compliment the fossil fuel network. BP's clean fuel division will be a major supplier of hydrogen for DaimlerChrysler's 30 fuel cell buses in a pan-European project set to start in 2002. Listen to these and other experts outline how they are addressing the hydrogen infrastructure issue.
Financing the Hydrogen Economy: A Business Perspective
The energy technology industry is entering a stage of immense growth. Energy technology market capitalization is expected to grow from $27B US to 30 to 40 times that within the next ten years. Legislative changes, technological innovation and climate change concerns are the driving forces behind realizing the growth. Learn from venture capitalists and financial experts the opportunities that will make today's alternative fuel technology companies tomorrow's energy giants.
Tech Session abstracts &emdash;
First Deadline Oct 15!
TECHNICAL CONFERENCE
GLOBE 2002 is pleased to announce the addition of Technical Sessions. A stand-alone module within the GLOBE Conference Program, the GLOBE 2002 Technical Conference offers a unique forum to access dozens of technical presentations from around the world. Topics to be covered at the Technical Conference fall under three main program themes:
Urban Environmental Management
Energy Efficiency
Water Management
---
Track Three CLIMATE CHANGE
Global Strategies for Mitigation and Adaptation Track Four

Keynote Speaker: Klaus Topfer, Executive Director
United Nations Environment Program


INTERNATIONAL BUSINESS OPPORTUNITIES

Track 7: Trends and Transformations II

Session 5

The 2008 Olympics: A Clean, Green China

China winning the bid to host the 2008 Olympic Games has resulted in an unprecedented focus on the environment as a governmental and fiscal priority. The victory for the "New Beijing-Great Olympics" has since signaled plans for a massive restructuring of China's world-renowned city, in which a clean environment will play a central role. The conversion of bus fleets and taxis to natural gas amid promises to build fourteen new wastewater treatment plants and five new subway lines are a small number of the initiatives in the works to create a newer and cleaner Beijing. This session will focus on the burgeoning business opportunities in Beijing, and offer an insider's view on what it will take to tap into the new environmental market.

Session 7

The Clean Development Mechanism (CDM):

A Mutually Beneficial Path to Reaching Kyoto Targets

Established under the Kyoto Protocol, The Clean Development Mechanism was designed to help countries meet their GHG emission reduction targets. Although negotiations on the international rules and procedures to govern CDM projects are not finalized, the mechanism has been recognized as a way to help developing countries improve their energy efficiency, reduce their energy costs, and gain access to innovative climate-friendly technologies. CDM can also help businesses and governments gain emission reduction credits, gain access to new markets and investment opportunities, and showcase their environmental leadership capabilities. This session will explore these benefits by discussing the potential impacts of CDM and JI, and provide information about the basic tools needed to initiate a successful CDM project.

New Confirmed Speakers Include:

Dianne Dillon-Ridgley, Former Member, US President's Council on Sustainable Development ; National Co-Chair, Citizens Network on Sustainable Development; Director, Interface Inc.

Suzanne Gallagher, Director of Program Development, NADBank, Texas, US

Thierry Larrivee, Regional Director Special Projects, Global Responsibilty, Monaco

John Boesel, President, WestStart, California, US

Ian Johnson, VP Environmentally and Socially Sustainable Development, World Bank

Michael Cleland, Senior VP Gov't Affairs, Canadian Electricity Association

Jim Lamb, Former Group Head of Environment, Severn Trent UK

Michael Ellis, Head of Advanced Vehicle Division, TH!NK Group, Ford Motor Company, USA

New Exhibitors Confirmed:

Bio-Microbics, Inc., Shawnee, KS, USA <http://www.biomicrobics.com>www.biomicrobics.com

BNA, Washington, DC, USA <http://www.bna.com>www.bna.com

Canadian General Standards Board, Hull, QC, Canada http://www.pwgsc.gc.ca/cgsb/>www.pwgsc.gc.ca/cgsb/

Ecology & Environment Inc., Lancaster, NY, USA
http://www.ecolen.com

Hong Kong Trade Development Council, Vancouver, BC, Canada
http://www.tdctrade.com

Process Research Associates, Vancouver, BC, Canada
http://www.pralab.com

Suncor Energy Inc., Calgary, AB, Canada
http://www.suncor.com
---
CONTINENTAL ENERGY
Balancing Business Opportunity & Environmental Risk
Supply Side Solutions to Automotive GHG Emissions
Rising fuel prices coupled with strict auto emission rules have led auto manufacturers to innovate and produce new environmentally responsible vehicles. To add further incentive the Bush / Cheney Energy Plan calls for tax cuts for Hybrid and Fuel cell purchases. This session will introduce the strategies as well as the technologies to meet the climate change challenge. Look for major auto producers to share knowledge on innovations and spin off opportunities in multiple sectors. Dealing with Climate Change: Progress Report on the International
Political Scene
Beleaguered by a host of crucial issues with uncertain yet significant consequences, international climate change negotiations have reached impasse in the eyes of businesses around the world. Headway has been made, however, the progress is often difficult to discern in the fine details. This session will offer specialized knowledge on climate change negotiations and will provide a realistic picture of what has been achieved and what lies in the pipeline.
Energy Conservation Realities
Energy efficiency and conservation offer numerous advantages to industry, society and the environment in North America. Drivers such as legislation, and cost saving measures have been combined with demand side management programs and consumer education. By combining efficiency research, consumer preference data and industry knowledge, the panel of experts will make the case that energy efficiency and conservation creates a win-win solution to continental energy needs. \
New Confirmed Speakers Include:
Michael Phelps, Chairman & CEO, Westcoast Energy, Canada
Claude Fussler, Director of Stakeholder Relations, WBCSD, Switzerland
Jan Olaf Willums, Senior VP, Environmental Policy & Investments,
Storebrand, Norway
Magnus Enell, Environmental Manager ITT, Flygt, Sweden
Jim Oatridge, Services Director, Severn Trent, UK
Corinne Boone, VP Environmental Brokerage Services, CO2e, Canada
Dr. Ferdinand Panik, Sr. Vice President and Head of the Fuel Cell Project, DaimlerChrysler, President, XCELLSIS Germany, & Chairman, California Fuel Cell Project
Allan Grant, Program Manager, Hydrogen Initiative, BC Hydro, Canada
THE GLOBE 2002 TRADE FAIR . . .
A World Marketplace for Environmental Solutions

New Exhibitors Confirmed:
Process Research Associates, Vancouver, BC, Canada: http://www.pralab.com
Office of International Business Development, Pennsylvania Department of Environmental Protection, Harrisburg, PA, USA : http://www.dep.state.pa.us
Der Grüne Punkt-Gesellschaft für Systemtechnolgie mbH, Köln, Germany
www.gruener-punkt.de
Wavemill Energy Corp, Belleville, ON, Canada
Bio-Microbics, Inc., Shawnee, KS, USA http://www.biomicrobics.com
Suncor Energy Inc., Calgary, AB, Canada http://www.suncor.com/bins/index.asp
Background Information:
From March 13-15, 2002, international leaders in the business of the environment will convene to discuss how major developments in energy policy and sustainable development can be translated into technology solutions and business opportunities. Recognizing globalization as a leading force in the business of the 21s century, GLOBE 2002 offers the strategic intelligence needed to conquer the challenge of balancing strategic business, energy and environment agendas. Strategically positioned to take place prior to the Earth Summit in Johannesburg, GLOBE 2002 is a platform for government and business to come together and interact on the key business and environment issues that comprise the agenda of the 21st Century. In addition, GLOBE 2002 will a detailed look at the energy-environment linkages that will define the emerging continental energy strategy in North America.
CORPORATE SUSTAINABILITY
Positioning for Maximum Benefit
ENVIRONMENT AND ENERGY
- Continental Energy: Balancing Business
Opportunity & Environmental Risk
- Climate Change: Global Strategies for Adaptation & Mitigation