Nanaimo Airport: Where the Air Highway meets the Island Highway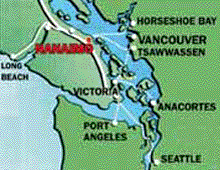 What other Canadian or US Airport can boast a major North- South traffic artery at its doorstep, bringing millions of potential customers right past the terminal building each year? "What a superb location for my potential airport business," you say. Several Nanaimo Airport tenants have realized this powerful edge, namely the Arbutus RV Centre and the Parallel Flying School, which seeks to attract a wide range of students. Seeing a fleet of small aircraft doing their aerial antics is terrific point of sale advertising. What's more, British Columbia's new Island Highway gives first-time visitors a panoramic view of the city from a higher elevation. Another recent development is a new "seawalk" from downtown to the Departure Bay ferry terminal. We're pleased to see that truck traffic has been re-routed to the new Duke Point terminal, which helps avoid congestion.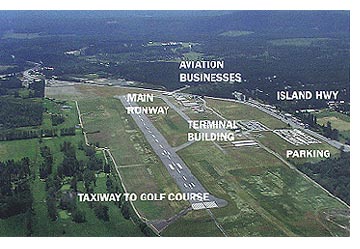 T

Nanaimo Airport traffic soaring
At the airport itself, traffic continues to soar like an eagle, with 150,000 passengers expected in the year 2000. Located at Cassidy, 18 km south of downtown, Nanaimo Airport is the primary air gateway for Central Vancouver Island. Its terminal building, built in 1991, is a modern air passenger facility that supports a broad range of services and amenities, five scheduled and charter airlines, Budget, National Tilden and Avis auto rental agencies, three ground transportation services, and Connections Restaurant. The air terminal complex also includes short-term and long-term parking. Over 20 flights are scheduled daily to lower mainland and island destinations: Vancouver, Victoria, Abbotsford, Pitt Meadows, Comox and Boundary Bay.

Aircraft currently servicing the Nanaimo market range from the 30 passenger Shorts 360 to the 8 passenger Piper Navajo Chieftain. Nanaimo ranks as the 5th busiest air passenger terminal in BC, and management has its eye on several US direct flight and charter options. Air Cargo traffic is also on the rise. Peering into the future, we can expect to witness a continued growth in airport traffic, as the demand for air transportation and travel grows in lock-step with the surrounding communities.
Talk about being overdue, we're told that the Nanaimo Airport runway hasn't looked this good since the Second World War. For the record, the 1940's was the last time the entire runway surface was completely repaved. The 5,000 by 200 feet, runway was re-surfaced last summer, with Transport Canada contributing 90% of the cost, or $1,641,000. The Nanaimo Airport Commission paid the remaining $182,000. Other projects on the go at Nanaimo Airport include a fresh look, with the addition of new entrance, directory and terminal building signage, plans for a new FBO/Pilot lounge at the airport's fueling facility, and a new apron on the northeast side of the airport to facilitate general aviation traffic at the new 18-hole Cottonwood Golf Course.
Delegates from 14 States, Provinces & Territories
Nanaimo hosted BC Aviation Council's 61st Convention
From Sept 23-2, 1999 there was excitement in the air at the Coast Bastion Hotel and throughout the Nanaimo area. It was the first chance for many industry stalwarts to see the remarkable changes that have taken place on Nanaimo's Waterfront. It is truly a class location and a great place to shop. The hotel, which is part of Nanaimo's new waterfront development, is located within minutes of championship golf courses, windsurfing and sailing. Its 179 guest rooms, include luxurious one bedroom and Jacuzzi suites. For dining there's Cutter's Bistro, Offshore Lounge, and Sgt. O'Flaherty's Pub. Delegates will also enjoy a fully equipped fitness center with gym, whirlpool and sauna. We will give you the full schedule soon. Ffor next year's conference, contact Jerry Lloyd at 604.278.9330.
Chinese delegation sees Nanaimo Airport as a role model
For years, Nanaimo Airport was always the exception, now it's a model for other regional airports, not just in BC, but in all of Canada. A recent example was the visit of a delegation from Zhoushan Airport, southeast of Shanghai, China. The group, hosted by Nanaimo Airport manager Mark Lawson, included Economist Wang Qingguo, Vice General Manager Zhang Huafeng and Deputy chief Ru Zhibo, who acted as interpreter. The Nanaimo area environment is very similar to their home area, however their main source of traffic is fly-ins to a famous Buddhist shrine. Behind the scenes was Samuel L. Kincaid, former Base Commander at RCAF Summerside, PEI, who met Mark Lawson at the Sudbury Airport Managers Conference in 1997. Mr. Kincaid was Manager of the Hamilton Ontario Airport at the time. Currently an Airport Management Consultant at Nepean, near Ottawa, he specializes in arranging such exchanges. The Chinese visitors were suitably impressed, not just with the airport operations, but with the YCD web site, which one member stated was the best he had ever seen. According to Mr. Lawson, the Nanaimo Airport can expect many similar visits in the years ahead. Contact Sam Kincaid at (613) 226-6050, e-mail kincaids@primeline.net.
Nanaimo Airport: Gateway to Vancouver Island

Nanaimo Golf Get-away
If you fly and golf, this deal from Nanaimo Airport seems almost too good to be true. The package offers you and a partner a total of 36 holes of golf (18 holes at each of two different courses), one nights lodging for two people, and a two-day car rental. The complete package will cost you only $169 per person, based on two sharing. The topper for pilots is that one of the golf courses involved is right next door to the Nanaimo Airport runway. Park your plane, walk through the gate to the clubhouse and you can be on the tee in minutes. You'll be staying at one of the waterfront community's best hotels, within walking distance of a new downtown casino. If you prefer culture to cards, there is Nanaimo's new 800-seat performing arts theatre. If you're just dropping in for an afternoon of golf, there is no parking fee. It will cost you $5, however, to tie down overnight.

Coming soon! A Golf Supermap and direct links to all Vancouver Island Golf Courses.
Nanaimo Airport On line - http://www.island.net/~ycd
If you would like to have your web site added to our airport's
Hot link Directory, simply e-mail us at ycd@mail.island.net and
provide your URL. All we ask is that you return the favor and provide a
reciprocal link from your site to ours. We're currently linked to:
A&A Contract Customs Brokers/ Air Canada / Air Highways Magazine /
Airlines.com Airport Search Engine Airports International / American
Association of Airport Executives/ Aquasun Investments / AvCanada /
Aviation Home Page / Aviation Industry Resource / Aviation Search Engine
Avis Car Rental / British Columbia Aviation Council / Budget Car Rental /
Bungy Zone / Canadian Airlines International / Canadian Museum of Flight/
Central Mountain Air, Chemainus Murals/ City of Nanaimo, /Destination
Vancouver Island / Dwarf Courier/ Dynamex Courier / Environment Canada
Weather Office/ Experimental Aircraft Association/ Grayline of Victoria/
Hotel Guide/Island Cargo International Overland Freight/ Island Internet/
ISL Customs Brokers/ Just Planes Video Latta Aviation Consultants/
Loomis Courier/ Nanaimo Flight Service Station Nanaimo Flying Club/
National Tilden Car Rental/ Nigro Associates/ Pacific Coastal Airlines/
Pelorus Navigation/ Priority Post Courier / Canada Post Purolator Courier/
Regina Airport/ Timberline Air/ Tourism in France/ Tourism Nanaimo/
Travel 2 Destinations/ Vancouver International Airport Authority/
Vancouver Island Public Golf Courses/ Victoria Flying School/
Westholme Graphics/ WestJet Airlines/ West-Wind Aviation/
Yahoo! Airport Directory.

Coming soon! Airport services map and
Airport area transportation map.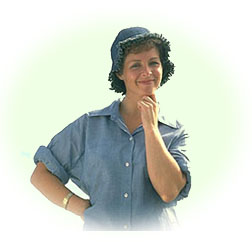 Learn to fly? Who... me?
Most certainly! At Nanaimo Airport there are two flying Schools where you can learn to fly a variety of aircraft for leisure, a career change, or to fill the huge need for trained pilots on the horizon. Watch for our item on Tom Drybrough and his company Parallel Aviation on this page.
Escape border blues... thanks to new CANPASS Private Aircraft extending border services.
Escape the doldrums. There's no lack of places to go and things to do inside Nanaimo city limits. The extended Sea walk, beach combing, parks, historic sights, museums, unique shops and cafes are part of the action... or how about snorkeling with the seals, exploring old mines and caves, or a moonlight kayak trip by Newcastle Island? For a Free Visitors Package. Fax 250-245-4308.
Travel tips for airport customers
Management recommends that departing travelers arrive at the airport at least 45 minutes prior to their scheduled departure to provide sufficient time to purchase parking, obtain boarding cards and proceed through security screening.
Parking: Long term and short term vehicle parking is available directly adjacent to the Nanaimo Air Terminal. The current long-term parking rates are $5 per day, $25 per week and $70 per month. Long-term parking may be purchased at the parking lot kiosk by cash or credit card or, if you prefer the human touch, at Connections Cafe by cash, credit card or debit card. If your travel plans keep you away longer than expected, contact Airport Security at (250) 245-7093 to arrange for a parking extension.
Security: As required by federal law, your carry-on baggage will be searched at security screening for weapons and explosives. Avoid carrying wrapped gifts or other sealed packages, as these items may be opened and inspected by security screening personnel.
Weather: If you are concerned that your flight may be delayed or cancelled due to poor weather or other circumstances, contact the airline to discuss contingency arrangements. If you are booked on a charter flight from Vancouver, we recommend at least a 3.5 hour "cushion" between your Nanaimo and Vancouver departure times.
US pilots and owners: Escape border blues, with CANPASS Private Aircraft extending border services.
For more details contact
Airport Manager, Nanaimo Airport,
P.O.E. Box 149, 3350 Spitfire Road,
Cassidy BC, V0R 1H.
E-mail: ycd@island.net
Tel: (250) 245-2157 Fax: (250) 245-4308
http://www.island.net/~ycd