..

..

..

Heritage Park,Calgary, Alberta
Canada's largest living historical village
by Jerry W. Bird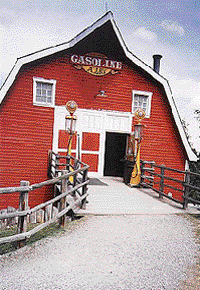 Having lived in Calgary at the time of Heritage Park's opening, and sharing its pleasures with my family, guests and clients for decades, the park was a 'must see' on this summer's return trip. My advertising agency used Heritage Park as the location for a series of video shoots for Burns Foods, and other well known firms. Pat Burns, an Irish immigrant, was one of the 'Big Four' who put Calgary on the map by launching the first Stampede. Another Big 4 member was A.E. Cross of the Calgary Brewery, another client of mine, famous for its 'horseshoe and buffalo label.' The park proved to be the ideal setting, with its old fashioned farm kitchens, cast iron stoves, ornate ovens and large wooden chopping blocks. The mountain backdrop which frames the park's western vista added a dramatic flavour to the outdoor scenes.

Check the following:
Yellowhead Highway - Manitoba to Pacific
From a Heritage Canada feature I wrote in Latitudes Magazine of Montreal, 1994.
Museums and Historical Sites on this Web Site
National Parks in Canada and the USA - on this Web Site

Attractions Canada
http://www.attractionscanada.com/english/mainang.htm



Aboriginal Attractions in Canada
Canadian Museum of Civilization, Hull-Ottawa
www.civilization.calcmc/cmceng/welceng.html

Glenbow Museum, Art Gallery and Library, Calgary, Alberta
www/glenbow.org

Head Smashed-In buffalo JUmp, Fort Macleod, Alberta
www/head-smashed-in.com

Prince of Wales Northern Heritage Centre, Yellowknife, NWT
www/pwnhc.learnnet.nt.ca
Royal British Columbia Museum, Victoria, BC
http://rbcm1.rbcm.gov.bc.ca
The Native Trail
www/nativetrail.com/nativetrail/index.htm

UBC Museum of Anthropology, Vancouver, BC
www.moa.ubc.ca

Wanuskewin Heritage Park, Saskatoon, Sask.
www/wanuskewin.com