,Short Lines, Dinner Trains, Wine Trains and Interurbans
by Jerry W. Bird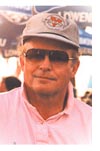 Each time we visit Calgary's Heritage Park and take the train, or recall how we used to wave to Northbound passengers as the "Royal Hudson" steamed by our favorite seaside side retreat of Dundarave in West Vancouver, the nostalgia returns. As we are pleased to report, elegant "Dinner Trains" are gaining popularity in British Columbia, as they have in Seattle and Napa Valley. The Pacific Starlight Dinner Train operated by BC Rail offered us a delightful evening that capped off a special day that started with a morning excursion to the community of Squamish on Howe Sound, and a visit to the West Coast Railway Museum.
VIA launches Icewine Train excursions
TORONTO - The Niagara Icewine Train is the newest themed train to be offered by VIA Rail Canada. Every weekend until the end of February, 2004, customers can take an "Ice-Break" during the Niagara region's most breathtaking season. Complete rail, hotel and tour packages are available from Montreal, and hotel/tour only packages are available for those in closer proximity to the region.
Montreal - Niagara Falls train/hotel/winery tour packages
The Ice-Break packages are available for purchase through CAA-Quebec. This package is being offered for seven weekends - from January 16th until February 20th, 2004. Included in this winter getaway is hotel accommodation, breakfast, transfers to/from the hotel and a winery tour featuring Inniskillin, Jackson-Triggs, Vineland Estates and Château des Charmes. Customers can choose from a variety of hotels that suit their budget needs. Packages from Montreal also include round trip transportation to Toronto in VIA 1 Class, VIA's premier service between the two cities, an overnight stay in Toronto and round trip travel between Toronto and Niagara Falls. Transfers from the station in Niagara Falls to the hotel are also included in the package price. The entire package from Montreal is priced from CAN $850 per person, inclusive of tax and based on double occupancy.
For further information on the packages available or to make reservations, please contact CAA-Quebec at 1-877-904-1696.
Other options (Toronto and Southwestern Ontario)
Customers wishing to create their own itinerary for the Icewine festival can choose from a number of daily departures. VIA offers a variety of fares and discounts to travellers. For example, the ten-day advance purchase, round trip, adult fare from Toronto* to Niagara Falls is CAN $40.66 (based on availability). And with the cold winter temperatures upon us, and highways covered with snow, VIA's got the warmest seat in the house to get you to the Niagara Icewine Festival (http://www.grapeandwine.com) in Niagara Falls. So sit back and leave the driving to VIA, they'll get you there safely and in comfort. Passengers can prebook winery tours (pickup and transportation included from the station or your hotel) by calling Niagara Airbus at 1-800-268-8111. Train tickets can be booked at 1-888-VIA-Rail (1-888-842-7245), at kiosks in major Corridor stations, at www.viarail.ca or through a travel agent.
10-day advance purchase adult round-trip fares to Niagara Falls from other cities (CAN$):
* London - $85.60
* Windsor (Detroit) - $115.56
* Kingston - $130-54
* Ottawa - $173.34
Catherine Kaloutsky, Public Affairs
VIA Rail Canada (416) 956-7683
Okanagan Valley Wine Train has Grape Expectations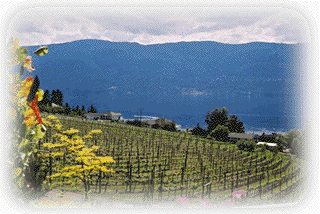 Like a cruise ship on rails! From Mothers Day ( May 9) through to Halloween (Oct. 31), Fun Trains Canada's new Okanagan Wine Train will offer visitors a scenic trip through the heart of Wine Country, from Kelowna to Vernon and return. Tour operators Pat and Bob Nagel, who own the new line, will provide on board tastings served by their winery partners Calona, Summerhill, Sumac Ridge ad Gray Monk. The company has acquired 22 cars from the old Super Continental, which ran across Canada for two decades ending in the 60s. The six-hour excursion will include dinner and a stage show. More information and prices to come.
Via Rail Canada's new Silver and Blue Trains' food service menu also reflects a definite return to elegance in dining as we discovered last year when the railway hosted us at the famous Pacific Station (formerly CN) in Vancouver. We were pleased to hear about the 139 new coaches being added to the fleet, including state of the art dining and kitchen cars.

Down Memory Lane: The dining was a much different experience on the old White Pass & Yukon Railway. It's cavernous dining hall at Lake Bennett served some 350 rail passengers at a single sitting, according to my mother, who worked there during her summer holidays. The food was served in heaping bowls on long camp tables, resembling a legendary Viking feast. On arrival, one had to step lively to avoid being trampled by the ravenous horde of passengers who swarmed the wooden landing, with my 6-year old self taking the lead.
Wine and 'Spirit' in Seattle: Another leaf from Bird's book of great Seattle memories is the "Spirit of Washington", a superb dinner train that rattles and rolls from suburban Renton, across a large trestle bridge, then along Lake Washington to the winery at Woodinville. Every dining coach is a classic, conversation piece and no two are even the least bit identical. Ask the Seattle CVB folks for more details at 206-431-4444. I honed my writing skills in Seattle, working with Neil Strother on his newspaper Seattle Northwest Prime Times, which has since been sold. Neil is now a top editor in the Internet Media field; we will link you to some of his articles first chance we get.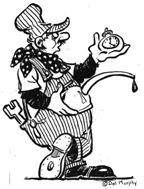 Stop at Railroad Park, California: Well, what do you know Railfair in Sacramento, Ca has come and gone. But there's still plenty of reason to visit the California Railroad Museum in the old town village. Send E-MAIL for details.
Railroad Park is a motel complex that features an acre or more of antique railway cabooses, gathered from across the USA. Returning from a "Railfair" meeting in Sacramento, we were stranded at Dunsmuir (near Mount Shasta) in the midst of a raging snowstorm. As serendipity would have it, that brief overnight interlude became a treasured experience. The scenery was awesome, especially next morning, when the blizzard was gone, and sun rays lit the towering peaks. If you drive to Railfair, you'll go right by her door.
Box Car Willie - who appeared in our last edition, courtesy of Delberta Murphy, is our fond souvenir of Railroad Park, one of the most unique hostelries in all of America. Located at the town of Dunsmuir in the shadow of Mount Shasta, California, it became our "shelter from the stormy blast" -- landing there in the eye of a blizzard, not knowing whether we'd be stranded on the highway or stuck with no accommodation. Well, it turned into one of the most enjoyable episodes in my career, complete with home cooked dinner, karaoke, camaraderie and the most snug night's sleep ever. Talk about stress relief -- each individual unit in Railroad Park, is an authentic boxcar rescued from one of America's railways, great and small. The interior finish is in knotty pine, and as cozy as you would ever imagine. Delberta and family proved to be gracious hosts--- and we yearn to return. (Editor) For booking details contact Air Highways Travel Club (604) 681-0718 , E-Mail: airhwy@dowco.com
A touch of San Francisco?
Return to the interurban and street cars. Comeback includes Vancouver, Richmond and other BC Centres restore famous street cars. Watch for the story.
Railway Castles
In my book of fondest memories, a Christmas - New Years fortnight at the Banff Springs Hotel, and a week at Chateau Lake Louise rank high. Here in the Canadian Rockies this pair of European style castles reek of elegance from the grand old days, when the world's rich and famous arrived by train, making these grand resorts their private playground. Much of that magnificent aura still remains, and both resorts are included in our Rocky Mountain high.

Other railway landmarks, such as Quebec's Chateau Frontenac, Ottawa's Chateau Laurier and Toronto's Royal York are also on the agenda. As a focus of our "Adventure Rails" is a Grand Tour by Rail. Originating from Vancouver and Seattle, it will include Amtrak, Rocky Mountaineer, Vancouver Island's Esquimalt-Nanaimo route, BC Rail's Cariboo Express, Via Rail from Prince Rupert to Jasper and Edmonton, Alberta Prairie Steam Train, Ontario Northern's Polar Bear Express. After visiting Niagara Falls, we'll travel Via Rail's corridor route, from Toronto's Union Station to Montreal, Quebec City and the heart of French Canada.
See Canada's Castles- Railway Hotels

Greater Vancouver, BC: For a great view of four cities,
get elevated with SkyTrain
Remember the grand department stores of yesteryear, where a petite, uniformed elevator operator sang out the stops as you rose at a stomach- churning rate? "Third floor - lingerie - perfumes - toiletries ..."
Now imagine a shopping area with 19 stops, offering a world of choice; snacking or fine dining, sightseeing or business, sports events, education or worship, photo opportunities or people -watching, movies, live theater and shopping for everything, from a cardigan to a Corvette. One of our features on the return of Interurban Trains as a 'pollution solution' in our cities. Continued
Vancouver is Riding a Railway Renaissance
Vancouver, Canada's "Cosmopolis" of the Pacific is blessed with great connections. Home port for Alaska-bound cruise ships, gateway to four continents by air, and the top-of-the-world by highway, Vancouver is again a hub of passenger rail activity. With British Columbia's tourism industry topping 5.5 million, this rail travel revival provides a double-whammy for enterprising tour operators. The Canadian National Railway station, a landmark on Main Street near Chinatown, holds many memories. From this grand dowager of terminals, I took leave for Montreal to begin a new life in the Royal Canadian Air Force. Earlier as a 10-year old bound for Saskatchewan, I boarded the train -- suitcase under one arm, goldfish bowl cradled in the other. Minutes later, the train lurched suddenly, spilling the bowl's entire contents into the aisle. By some miracle my finny friends survived. Today's terminal, renamed Pacific Central Station, is an inter-modal facility, serving The Rocky Mountaineer, Via Rail's Blue & Gold service to the Atlantic Coast, and major motor coach lines. An eagerly awaited Amtrak link to Seattle will open new avenues for rail-cruisers. Outside the terminal, you can board an elevated SkyTrain to historic New Westminster, and Surrey.