r e..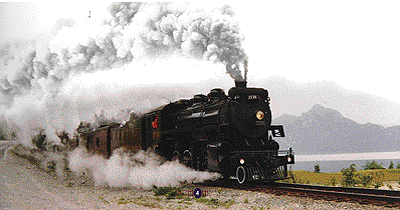 ..

In British Columbia, Rail Travelis 'On A Roll
From Transport Canada

Rail travel in BC has gone through an extensive change over the last decade. Some services have been curtailed completely; others have been revived, restructured or privatized, and some are struggling to maintain their position in the market. There has been a marked shift in where people are traveling and the nature of their travel. Increasingly, operators are concentrating their efforts on the rail tour and rail excursion markets rather than the transportation market. The new direction in rail travel is apparent from changes that have been introduced in the last ten years.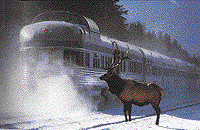 In 1999, Rocky Mountaineer Railtours carried 70,000 passengers on its scenic rail tours from Vancouver to Jasper, Banff and Calgary. That's an increase of almost 30 per cent over the 534,000 passengers they carried in 1998. This year, they expect a 15 percent jump. Amtrak Pacific Northwest ridership has more than doubled in the past five years.
The Pacific Northwest Rail Corridor extends 750 km from Eugene, Ore. To Vancouver, BC. Amtrak estimates the service diverts more than 31 million miles of traffic from regional highways and prevents more than 700 tons of air pollution in the Pacific Northwest. The Seattle to Vancouver service carried 85,000 passengers in 1999.
Information on this page from Transport Canada Newsletter and report. Fotomation features the Royal Canadian Pacific Excursion Train, from Calgary, Alberta through the Kicking Horse Pass to Golden, south to Cranbrook and return via the Crowsnest Pass and Lethbridge.
Track Trends. Short lines and mergers are the two latest trends in the railway business. As for short lines, BC. now has four rail companies hauling freight on short runs - the Kelowna Pacific Railway, the Okanagan Valley Railway, Rail America/E&N Railway and the Southern Railway of BC. On the passenger side, four excursion railways (short run) now operate in BC - The Okanagan Valley Wine Train, the White Pass and Yukon Route, the Royal Hudson Steam Train and the Pacific Wilderness Railway. YVR Rapid Transit Link. Transport Canada's recently completed study on Rail Access to Vancouver Airport recommends all levels of government work to promote separate right-of-way rail transit service in the Richmond - Vancouver corridor, with a connection to the Vancouver Airport. The study found if commuter and airport transit co-operation with the Vancouver International Airport Authority to determine the requirements for a rapid transit link between downtown Vancouver and the airport. For more information contact: George Tyszewics, Senior Policy Advisor, (604) 666-0480.
Amtrak brought back its Mount Baker Service, which runs daily across the border between Vancouver and Seattle. White Pass and Yukon Rail serves cruise ships with a 3-hour land excursion out of Skagway into the Yukon. BC Rail introduced a successful dinner train service, as well as a service to Whistler in conjunction with a motor coach trip, opening up new markets in these areas.
Changes in British Columbia's Rail Passenger System
• BC Rail Introduced a dinner train.
• Added a train from Whistler, mainly for motor coach tour passengers.
• Experienced no growth on its long-standing services. Pacific Starlight • Whistler Explorer
• Cariboo Prospector & Royal Hudson
• VIA Rail Cut its transcontinental services from 14/week to 3/week.
• Privatized the Rocky Mountaineer.
• Converted its northern service to a daylight train.
• Maintained basic service on Vancouver Island.

The Canadian - The Skeena- The Malahat
• The Great Canadian Railtour Co. built a Rocky Mountain rail excursion market. The Rocky Mountaineer
• Amtrak reinstated Vancouver-Seattle service. The Mount Baker International
• White Pass reinstated passenger service to cater to Alaska cruise ship passengers. White Pass & Yukon excursions. There has been modest overall growth over the last ten years as total rail passenger trips increased by about 10 percent. However, this is the net result of extensive restructuring in services rather than growth in existing services. In 1989, VIA Rail carried 335,000 passengers on the BC portion of its transcontinental routes. Volumes dropped sharply as a result of system restructuring, to the point where VIA carried about 67,000 passengers on the BC section of its transcontinental service in 1996, 20 percent of the 1989 volume.
Traffic volume on other VIA Rail services and BC Rail's long-standing services remained essentially unchanged over the last ten years. The White Pass and Yukon accounted for most of the growth that has occurred. Without their contribution, volume fell by 25 percent over the last decade. More railway features straight ahead. on another track. Click to continue.
Question: What about a return to Historic Street Cars as a year-round tourist attraction and revenue generator? See our new series Streetcars & Street Scenes. It makes street sense.