Air Highways
BC Scene
Asia Pacific Skies
A-Z index
Air Route Map
Air Supermap
Apec Contacts
Apec Tourism
Associations
BC Tourism
China Tourism
COTA - Council
Indonesia
Malaysia
PATA- Pacific Asia
WTO- World Tourism
usa

---
World Trade and Travel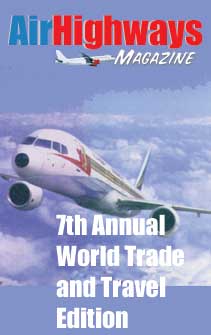 Fly the Air Highways to your Heart's Desire. Turn right for Texas. Turn left for Timbuktu.
When we launched Air Highways in 1996, it was followed by a second magazine that focused on Africa Trade and Travel in partnership with the Africa Travel Association, based in New York. At Apec '97 in Vancouver, BC, Canada, our first Asia Pacific Edition was born, and in 2001 we not only featured the Caribbean, we had the pleasure of working with Prime Minister Jennifer Smith of Bermuda and her Tourism Minister, David Allen at a congress in South Africa. That's why Air Highways' 2002 World Trade and Travel Edition will be a winner, with the best of 6 Africa Editions, an Asia Pacific Update, new items on the US Scene, and other exotic destinations. See our feature pages on the Kingdom of Nepal. it's a brief sample of what's to c ome. We've been big on rail travel since 1989, ingredients all together and you've got one grand edition. Advertising closes May 10, 2002. Stay tuned for an update.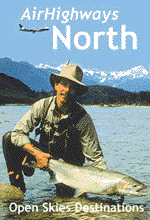 History: Click on this tiny map icon. It's your portal to 40 Gateway Airports, whose managers helped us launch Air Highways Magazine, just as the US- Canada Open Skies Agreement was about to be signed in the mid 90s. The airport authorities and Transport Canada handled the distribution of our magazines and Supermaps to thousands of passengers at airport lounges, airline ticket counters and in-flight.

Things were buzzing at YVR, Vancouver International Airport, as our publishing group prepared to announce the results of its vast physical expansion program to the world. This was a once in a lifetime opportunity for us and excitement was in the air. Now with a new millennium, we're ready with a plan to complete that dream by launching a Media/ Product Combination, with Road Shows across North American plus Super Tours and Fam trips to the Caribbean, Asia Pacific and exotic Africa. We will tell you more about it on this site in the coming weeks. Please bookmark and keep tuned.
Editor
Air Highways family of magazines targets travel agents, business, government and upscale vacationers. Distribution via airlines, airports and retail. Bonus circulation of editorial and ad features via media partners. See Editorial Menu
.