Adventure Rails
by Jerry W. Bird

Index Page
Africa - Rails
Airport-Rail
Alaska - Rails
Alberta - Rails
American Spirit
Amtrak USA
Asia - Rails
BC - Rails
BC - Rails Map
Box Car Willie
Canadian Pacific
Europe - Rails
Fun Trains
Heritage Park
Mexico - Rails
Rocky Mountaineer
Rapid Transit
Royal CP Map
Sky Train
Streetcars
West Coast Exp.
Whistler North
White Pass &YR
Wine Trains
---
Rails to the Great White North and Hudson's Bay
by Jerry W. Bird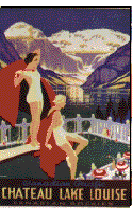 From Lake Ontario to James Bay on the Arctic Coast, Ontario Northland Railway, The Little Bear and Polar Bear Express, offer a uniquely Canadian experience. This popular "Northern Rails" tour begins at Toronto's famous Union Station, next to the Royal York Hotel, with connections to North Bay, Temagami, Cobalt and points north. From Cochrane, a day long excursion crosses the Abitibi and Moose Rivers to Moosonee, where visitors board a native freighter canoe to historic Moose Factory. On this remote island, the first permanent English speaking settlement was founded in 1673 by the Hudson's Bay Company. While the route is a trip back in history, passenger coaches offer modern comforts, and there's dinner in the diner, with a top chef presiding. Those who yearn for the call of the wild, will experience seemingly endless miles of rugged, virtually untouched terrain. Others who appreciate early Canadiana, native culture, wildlife and historical relics will thank us for the suggestion. Contact: Ontario Northland, 555 Oak St. E., North Bay, ON P1B 8L3 (705) 472-4555.
Canada's railways were instrumental in establishing a chain of great hotels. Across Western Canada, the palatial Banff Springs and Chateau Lake Louise, Victoria's elegant Empress, Hotel Vancouver, Edmonton's Mac, Saskatoon's Bessborough, Regina's Hotel Saskatchewan and Calgary's Palliser are all prime examples. Further east there's the Fort Garry, Royal York, Chateau Frontenac and Laurier - the list goes on.
Fotomation- series of souvenir posters available at Canadian Pacific Stores Catalogue available: http://www.cphotels.ca


Ontario's Algoma Central Railway
Sault Ste Marie, Ontario, where three Great Lakes converge, is takeoff point for the Algoma Central Railway, a 300 mile line to the French Canadian community of Hearst. From June through October, you can board the Agawa Canyon Train Tour for one of North America's most spectacular excursions. You'll rock and roll through the same unspoiled wilderness along Lake Superior and the Canadian Shield that inspired the Group of Seven to create some of Canada's most famous landscape art. Algoma Central Country shows another side of its beauty from January through March, as ACR's Snow Train excursion snakes through a Winter Wonderland -- dropping 500 feet to the floor of Agawa Canyon. You'll travel the route of Ogibways, fur traders, lumberjacks and prospectors. The complete trip, through the canyon, lake country and flat lands of the Great Clay Belt region, to the northern terminal at Hearst, takes two days -- and will surely be an unforgettable experience.
Contact: Algoma Central, P.O. Box 130, 129 Bay St., Sault Ste. Marie, On, P6A 6Y2, Tel. (705) 946-7300 or 1-800-242-9287, Fax (705) 541-2989
Via Rail Canada adds Ottawa-Montreal trains with AirConnect service
That's right, straight to Dorval Airport. Five eastbound and five westbound trains daily starting at 6.45 am. This is great news that we're pleased to send your way.
Our editors have many great stories to bring you about rail travel in Ontario and Quebec. Our experiences on the Toronto- Montreal corridor and the Quebec City line for starters. What a super way to see the countryside and appreciate Canada 's beauty and bounty in all seasons.