Abbotsford Airport Land Use Plan Overview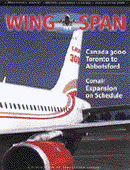 Abbotsford Airport is now the second largest transportation hub in BC's Lower Mainland. It's the key gateway to the Fraser Valley, a densely populated area, stretching for 100 miles, from Hope in the east to Pitt Meadows in the west. The Abbotsford Airport (YXX), located on the Trans Canada Highway, just south on Mt. Lehman exit, is a flurry of activity these days, with 3 scheduled airlines, plus corporate flight operations, combining for 136,000 aircraft movements and close to 200,000 airline passengers this year. The airport is also a diversified general aviation and business complex, providing aerospace maintenance and manufacturing, several helicopter operations, plus pilot training and a regional government inspection facility.
The airport's modern era began in 1997, when thanks to an enlightened National Airports policy, the City of Abbotsford took command of the entire facility and lands, from Transport Canada. The Abbotsford Airport Authority was formed, and to chart its progress a 10 Year Land Use Plan was created as a rational, comprehensive framework for development of the 519 hectare ( 1283 acre) property and the new terminal building built in 1997.
Core Airport Land Uuses: (1) Runway/Taxiway System. (2) Airport Operations. (3) Aerospace/ Air Cargo (4) Corporate/Commercial Aviation (5) Air Terminal/Groundside (6) Agricultural Reserve. (7 Environmental Reserve. The Land use Plan adopted in 1997 is subject to a comprehensive review in 2006 and every 5 years thereafter.
Background: The federal government (DOT and later Transport Canada) had managed the operation since the second world war. Originally it was a Royal Canadian Airforce base, one of a very few in BC with runways capable of handling the larger military and commercial aircraft. It later rose to fame, with the Abbotsford International Airshow becoming a North American leader. For years, Abbotsford Airport was a backup to Vancouver International in the event of fog or certain other natural or man mad problems. Today it challenges Vancouver as a viable alternative for scheduled and chartered airline flights.
Hank Snow Staff Profile
Hank Snow doesn't share the recognition of his famous namesake, Canada's 'singing ranger,' but around Abbotsford Airport he's a well known figure. According to Mike Pastro, Operations Manager at YXX, "Hank has worked at the airport longer than any other staff person and is involved in every imaginable type of activity. I've been here for 14 years, and Hank was already going strong when I arrived. "During the major terminal construction and later with a whole range of improvements and upgrades, Hank's abilities were greatly appreciated. His daily tasks can run the gamut from snow clearing on the runways to emergency standby situations. He can operate every piece of equipment on the airport property and performs a myriad of maintenance duties. Recently, with parking lot expansion and the new federally funded safety lighting project underway, Hank Snow is busier than ever. And that's just the way he lies it.
A Day at YXX
by Ross Brown

Taking care of operations behind the check-in counter at the Abbotsford Terminal is the Canwest Flight Services crew. When airline guests check in their luggage, it becomes the responsibility of the Canwest team to ensure it is counted placed on the correct aircraft, and handled with care.
According to Canwest Manager David Dunstan-Adams, unloading guest baggage from aircraft, grooming aircraft (cleaning the cabin), and inspecting the apron (tarmac) for debris before and after aircraft arrivals and departures are additional responsibilities of the team. Canwest handles flight service operations for Westjet and Canada 3000 Airlines in Abbotsford and has operations at Victoria Airport.
Ensuring the safety of airline travellers at Abbotsford are the British Columbia Corps of Comissionaires (BCCC). The BCCC perform screening of WestJet and Canada 3000 passengers, including airport security at Abbotsford.
Made up of former military and RCMP personnel, the BCCC is a non profit organization. Traffic control, bylaw parking and specialized security services are some of the services the BCCC provides for private residences, business, and government organizations.
Canwest and the BCCC have supported community initiatives and played a key role during extreme circumstances at Abbotsford. Last fall the two organizations had representatives in the Tracker (water bomber) Pull, an event hosted by Conair Group with the proceeds going to the Kidney Foundation.
Air Canada guests stranded on the apron at Abbotsford in one of the Airline's Airbuses, diverted from Vancouver due to severe fog last December, were the recipients of the enthusiastic spirit of the two organizations. On their own initiative, Canwest and the BCCC ensured that the guests, their belongings, and the Airline's cargo were unloaded safely.