Conair of Abbotsford completes $50 Million Plant Expansion
By Jerry W. Bird..
CO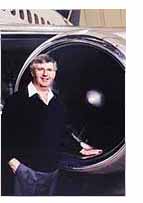 Profile: Barry Marsden
One of the founding principals of Conair Aviation 30 years ago, Barry Marsden is now its President and CEO. His aviation career began in 1954 with Skyway Air Services of Langley, BC. At Skyway and later at Conair, he was one of the key industry personnel contributing to the development of aerial fire control methods and procedures for British Columbia's Initial Attack Fire Control System. At Conair, to further develop the potential for aerial fire control, he assumed successive positions as Chief Pilot, Superintendent of Flight Operations and Director of Operations. During this period he flew over 3,500 hours on fire control and other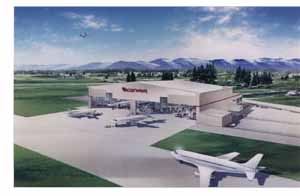 specialty operations. In 1980 he became Vice President and General Manager, and in 1991 he became President and Chief Executive Officer. Mr. Marsden attended the Banff School of Advanced Management and holds an Airline Transport Pilot License and an Aircraft Maintenance Engineer License. Committed to the development of the industry and community, Barry Marsden is involved with the following organizations:
• Past Chairman and currently Executive Board Member and Honourary Treasurer, Aerospace Industry Association of Canada
• Chairman, City of Abbotsford, Economic Development Commission
• Director, Aerospace North America
• Past President and Director, Aerospace Industry Association of British Columbia
• Past Director, British Columbia Aviation Council
• Past Member, National Research Council Associate Committee for Forestry Aviation. From our vantage point at the 2001 Abbotsford International Airshow, we enjoyed a close up view of Conair's impressive new plant facilities on the airport's east side, a move that provides a substantial job base, and will continue to spawn a variety of related businesses.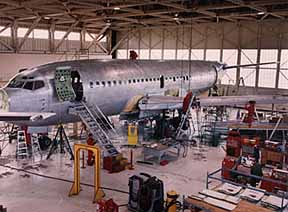 As big as a Football Stadium
Conair's new 250,000 square foot east hangar is capable of holding eight Boeing 737 commercial jets at any given time, and rivals a football stadium in size with its 430' roof span. Barry Marsden summed it up when he said, "The commercial aircraft maintenance market is a huge $20 billion US a year, and we have the right location, right timing, skilled people and the reputation to create the critical mass that's needed to attain a significant larger market share." While waiting to interview Mr. Marsden, we shared the coffee room in Hangar 2 with a group of some 20 new recruits, whose eager young faces and exuberance reflected what was happening at this moment, and would occur on a grander scale in the months ahead. While touring the tarmac area we passed a group of young pilot trainees earning their wings at Pacific Coastal Aviation. It was like my air force days all over again. Yes, at Abbotsford, there really is excitement in the air.
For those familiar with the Abbotsford Airport, it is located at the east end of the airport near Townline Road. More good news is the fact that the company plans to keep all of its original property, which includes four hangers with a combined total of 180,000 square feet.
Twofold market potential.
Conair seeks a healthy share of two mega markets that jointly represent over $35 billion in sales, and its new facility will be the largest in Canada to provide maintenance, repair and overhaul services for aircraft on a third party basis. North America's commercial aircraft maintenance market, which includes the Boeing 737 and Dash-8, is an immediate target, however there's much more on Conair's plate. With an eye on the Aerospace Industry, and Canada already ranking fifth in the world, Conair is gearing up for some serious, full time recruiting.
Wing Span refers to an item our editors ran for an Apec Summit edition, following the last Aerospace Show at Abbotsford. "Canada tops in Aerospace: Sales of Canadian aerospace products and services should top $13.5 billion by year end (now $15 billion). Canada produces 50 percent of the world's commercial turbine helicopters, 35 percent of all business jets, 33 per cent of all small turbine engines, 20 per cent of all regional turboprop aircraft, 66 percent of all aviation environmental systems, 60 percent of new large aircraft landing gear systems and 75 percent of the world's commercial flight simulators." The industry employs over 62,000 Canadians Conair's expansion program will further positions Abbotsford Airport as a magnet for other hi-tech and aircraft related companies.
How Conair earned its wings
Barry Marsden launched his aviation career in 1954 fighting forest fires, and with his guidance Conair (a spin-off from Skyway Air Services of Langley) became a world leader in aerial firefighting equipment in two areas; as an operator and a builder. The aircraft maintenance end of the business grew out of a need for maintenance of its own fleet of 53 aircraft and helicopters. The fixed-wing fleet is used primarily in the area of fire management services, while the rotary wing aircraft, which are operated under the name of Frontier Helicopters, are used for a range of services in Canada and beyond. The services provided by Conair's fixed wing and rotary wing aircraft operations are:
Fire Management Services: Aerial forest fire management, with a variety of aircraft types including land-based and water-scooping air tankers, heli-tankers, and bird-dog aircraft.
Fire crew and equipment transportation and support;
Fire management technology transfer - by working with other Canadian fire management expertise to transfer fire management, infrastructure development, and crew training technology to other countries;
Aircraft management: Operating and maintaining customer-owned aircraft, and fire management aircraft and systems acquisition and leasing.
Fire Management Products: Conair designs and builds retardant delivery systems and conducts aircraft conversions and modifications for fire control role. Our products include the LL-188 Electra, Firecat, and Turbo Firecat air tankers; heli-tank systems for Bell 205 or 212, and Aerospatiale Lama, Squirrel and Puma helicopters; and retardant delivery systems for any aircraft type.
Seismic, Mining, and Oil & Gas Exploration: Frontier Helicopters specializes in services that support seismic, mining, and oil and gas exploration activities.
Logging Support and Forest Fertilization: Frontier also provides people and equipment transportation services in support of other operators' helicopter logging activities. Frontier also specializes in, and has proven project management experience in providing complete forest fertilization services to the forest industry.

Currently employing over 400 skilled people, Conair offers a variety of aviation services. A transport Canada-approved design, maintenance, and manufacturing organization, as well as a highly experienced aircraft operator, Conair has two key areas of business: Technical Services and Aircraft Operations.
Conair provides full services for aircraft maintenance, repair and overhaul to operators of narrow body jets and regional aircraft. From short-term needs such as a mobile repair party, to custom repairs that include everything from design to certification and test flights, Conair provides solutions that are tailored to the needs of customers such as Bombardier, WestJet, Empire Airlines, Federal Express, and Horizon Airlines, Pelita Air of Indonesia; and Southern Winds of Argentina.
Conair Services Include: line and heavy maintenance; custom repairs and modifications; aircraft and component overhaul; avionics installations; new interiors and aircraft painting. component overhaul, composites, electrical, hydraulic, machining, sheet metal, CNC milling, non-destructive testing, aircraft parts procurement, inventory management, maintenance planning/scheduling, and project management are other in-house capabilities. Conair designs, builds, and certifies aircraft systems, modifications, and repairs to Canadian, American, and European standards. As a transport Canada Design Approval Authority, the company is licensed to provide services for aeronautical design, analysis, approval as well as test flight engineering.
For additional information:
Aircraft Operations Services
Rick Pedersen, VP, Aircraft Operations
John Brom, VP, Technical Services
Conair Aviation Ltd.
PO Box 220 Abbotsford, BC Canada V2S 4N9
Phone 604-855-1171 Fax 604- 855-1017
e-mail: www.conair.ca
Conair's Vision: Our goal is to profitably double in size within five years by providing innovative, faster, and affordable services and products to our customers. Through our focus on customer satisfaction, competitiveness, integrity and safety, we intend to win the confidence and admiration of our customers, employees, shareholders, and competitors as a leader in specialized flight operations and aircraft technical services. Our principles include:

Customer Satisfaction: We will provide timely, cost-effective, quality services and products that contribute to all our customer's success

Competitiveness: We will ensure a competitive edge providing value to all customers through innovative processes, communication and employee development

Respect And Integrity: We will respect the individual and apply fairness and honesty in all our interactions.

Safety: We will make safety our overriding responsibility We've enjoyed front row seats, as Abbotsford Airport's largest tenant, Conair Group's new $50 million aircraft maintenance facility takes shape, with the opening scheduled for October. The massive, 250,000 sq. ft. aircraft service and maintenance hangar nearing completion on Townline Road, compares to a football stadium in size, and will hold up to eight Boeing 737 commercial jets at any given time. Now that the building's exterior is virtually completed, most of what remains to be done as we go to press is the interior work by Wallace & Company of North Delta, BC.
Conair Group Inc. expects that this added capacity will allow it to triple employment in 4 years and double the current business volume. Over 800 technical and office staff are expected to be recruited and trained during that period. While targeting the Boeing 737 and Dash-8 market, Conair Group Inc. also aims to capture a sizable share of Canada's aerospace industry, which now ranks as the fifth largest in the world.
Since our last issue of Wing Span, Conair Group Inc. has been extremely active. Recent projects include a Turbo Firecat aircraft to France, Dash 8 maintenance for Horizon Air, and a new Air tanker for fire control.
As a result of this expansion, Conair Group Inc. will become Canada's leader in providing maintenance, repair and overhaul services for aircraft on a third party contracting out basis. Conair Group Inc. is a privately owned Canadian company that employs over 400 skilled people at its Abbotsford headquarters.