Hemlock Recreation Area
By Jerry E. Bird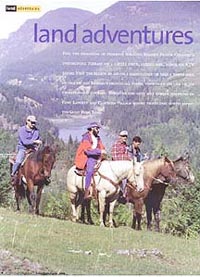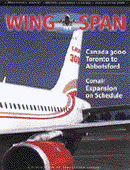 The photo of land adventures (right) is from our WingSpan Adventures edition. While Hemlock Valley is known for its many hiking and riding trails, the area has been gaining popularity for winter sports. Photos of ski facilities to come on this site and in our Snow Safaris Edition.
Hemlock Valley is 100 km east of Vancouver, 35 km beyond Mission on Highway 7 (Lougheed). Like us, you should really enjoy the drive along the river bank. Check your road map and look for the signs at Morris Valley Road, just before Harrison Hot Springs junction. If you're coming from Abbotsford Airport, just cross the river at Mission and you're there in minutes.
Hemlock Valley, in a natural bowl, is known as the Fraser Valley's family resort and offers three chairlifts plus one handle tow. In terms of your abilities on the slopes, 60% of the the Hemlock Valley area's terrain is classified as intermediate, 20% as beginner and 20% advanced. Activities for your unstructured enjoyment or Ski Safari group include snowshoing, back country skiing, cross country skiing, snowmobiling and tobogganing. Other options include dog sledding , cat skiing and heli skiing. The Fleetwood and Chehalis logging roads offer a popular playground access, and perhaps you may even see the legendary Sasquatch.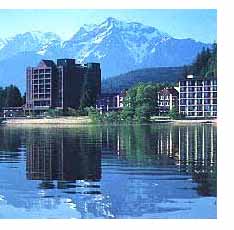 The closest town of any size to the Hemlock Valley resort area is Agassiz, which was once a place of main railway activity and is now a quiet, pleasant rural community with good facilities for shopping and dining. Last time there, we loaded the trunk of our car with the sweetest ears of corn this side of heaven.
Also conveniently close is the famous resort area of Harrison Hot Springs, where we've attending several historic events, hobnobbed with a past premier and soaked up the life enhancing waters. What a perfect apres ski opportunity . And speaking of great lodging nearby, check out Rowena's on the Harrison River, also just off of Highway 7. This beautiful historic lodge fronts on the beautifully groomed Sandpiper Golf Course.

Mountain : Top Elevation: 1,372m
Runs: 34
Vertical Drop: 366m
Number of Lifts: 4
Day Tickets Adults: $30.00
Day Tickets Adults Youth: $25.00
Day Tickets Adults Junior: $16.00
Day Tickets Adults Senior: FREE
Call (604) 797-4411.
Much more to come on this site and in our .."Snow Safaris" edition.