---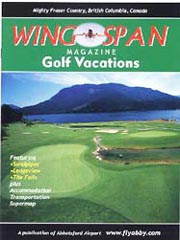 Golf Vacations Supermap of
BC's Mighty Fraser Country

Come each February, we guarantee that every golfer east of the Rockies, Albertans in particular, will be itching to get out on a lush, green golf course for a swinging good time. By March, the fever will have become acute. Those of us who've experienced long, golfless prairie winters know the feeling very well! Yet few realize that year-round golf is minutes away via WestJet Airlines and Abbotsford Airport. An hour's flight from Calgary or Edmonton is 'Mighty Fraser Country,' with over 30 superb courses. Combine off-season room rates at our hotels, resorts and b&bs, with WestJet's famous low airfares- and everyone wins! Wing Span Magazine presents the 'Mighty Fraser Golf Supermap,' a guide to 32 great courses.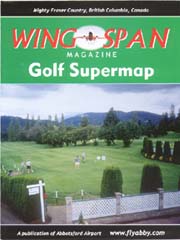 We launched in mid February 2000 to Travel Agents and Tour Operators at the Addison Travel Shows in Calgary and Edmonton. Full distribution followed at WestJet airports in Alberta, Saskatchewan and BC, including the spacious Abbotsford Terminal. And don't forget, we expect many Americans, including many aircraft owners and pilots, to enjoy our Mighty Fraser Golf Packages, made sweeter by the Canadian exchange rate. Get the details from Ross at Abbotsford Airport terminal. Call 1-604-855-1001, Fax 604-855-1066. In Vancouver, call Muguette at (604) 681-0718. Photo: Rowena's Lodge on the Harrison River, which fronts on the Sandpiper Golf Course.
In Mighty Fraser Country, you can ski, golf and fish all in the same day! We feature golf courses, from White Rock and Pitt Meadows to Hope and beyond. Also US border courses at Semiahmoo, Bellingham and Lynden area. Descriptions of courses, comments by well known celebrity golfers and a Supermap of locations. Flight information and packages including Hotel and Resort Accommodation, Bed and Breakfast options, Airfare, Auto Rental and more.
Now you can fly Abbotsford to Toronto via Canada 3000 Airlines, which is proving to be one of the most popular connections and has been running full since it started in June, 2000