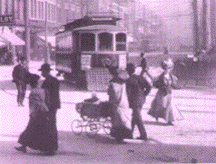 History on Rails:
Streetcars and Street Scenes
"Just then, the four o' clock interurban &emdash; brick red, bound for glory and the fertile fields of Chilliwack, rounded Venables, lurching onto Commercial Drive like a drunken sailor. Noisy, menacing and top heavy, the interurban trams were the ugly ducklings of BC Electric's vast fleet. They were also its workhorses, linking a network of towns and villages with Vancouver's central core. The squeal of metal on metal drowned out the doctor's reply . Continued

CHERRY BLOSSOM VIEWING:
ANCIENT JAPANESE TRADITION COMES TO VANCOUVER
VANCOUVER: The Vancouver Museum and the Dr. Sun Yat-Sen Chinese Garden are welcoming spring with a new Vancouver tradition, cherry blossom viewing.
Cherry blossom viewing or O-hanami is a Japanese tradition dating back to the 16th century when aristocrats would write songs and poetry under the flowering trees, moved by the fleeting beauty of the fluffy pink blossoms. Today in Japan, the tradition is as strong but at times a little less refined. O-hanami still inspires picnicking and quiet reflection but also controversy. The little pink flowers have also become synonymous in Japan with what some would say, over exuberant revelry.
Over 18 varieties of the cherry bloom each year on Vancouver's streets creating a beautiful but short-lived display of the fluffy pink blossom. Over the next four weeks, the Vancouver Museum will lead Sunday morning excursions into four different Vancouver neighbourhoods, delving into the heritage of each area while enjoying the blossoms. The tours will then visit the Dr. Sun Yat-Sen Classical Chinese Garden for tea, pastries and a tour of the garden.
Cherry blossom viewings begin March 24 continuing on March 31, April 7 and 14. Tours leave from the Vancouver Museum at 10 a.m. and return at 12:30 p.m. Tickets are $20 for members of the Vancouver Museum or the Dr. Sun Yat-Sen Classical Chinese Garden, $35 for non-members and include admission to the museum. To register, call the museum at 604-734-7368.
Please direct all media inquiries to Lee Drever 604-736-4431 ext. 396
Canadian Craft Museum at Vancouver's Cathedral Place
When the wrecking ball signaled the demise of the Georgia Medical Dental Building, few Vancouverites expected anything startling to arise from the dust and debris of a familiar landmark. After visiting Cathedral Place and The Canadian Craft Museum, I was totally impressed with the entire concept, linking a grand new tower, with a grass courtyard, the familiar Christ Church Cathedral, and Canada's only national museum west of the Rockies. A unique showcase for the province, the nation and the world, it is the only publicly supported museum in Canada devoted exclusively to craft in all media. Balance of item to come.

..Attention Musuem Operators and Members.
..Link your museum to our Travel Tourism site
Our editorial board is preparing its schedule for the next 12 month period. In our immediate plans is a series on Museums and Historic Sites that will be keyed to our new Supermap of transportation routes. This feature will have a strong visual content, using existing photos in addition to those we will take on site.
Send us information on your museum or historic site and a link.