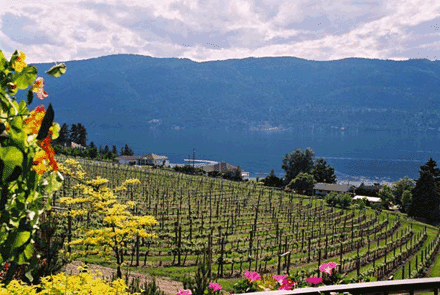 Take the Okanagan Valley Wine Train from Kelowna, British Columbia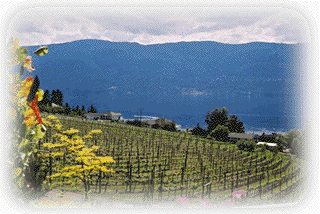 We've enjoyed our vacations in the beautiful Okanagan Valley and the city of Kelowna for many years. Now here's another way to add to the fun and enhance your stay, thanks to an enterprising company who saw the opportunity and made it happen, just as some folks in Napa Valley did years earlier. The following information is a brief overview on this exciting attraction that runs between Kelowna to Vernon, two of the area's major cities. There's much more to see on th web site.

What is The Okanagan Valley Wine Train?
It's a five-hour scenic family rail excursion that departs from Kelowna every Saturday at 5:00 p.m. starting July 27. You will enjoy a scenic, nostalgic, leisurely, romantic and entertaining journey on board an original Super Continental cross-country passenger train through Canada's scenic Okanagan Valley. The handsomely restored railcars make a round-trip north from Kelowna, traveling through two valleys, along three lakes, through the middle of a golf course, and past countless farms and orchards. To further enhance the trip, local wines are offered for sale on board, complemented with full bar service.
What are the seating options?
There are two. You can choose to sit in one of three different Theme Bar Cars: This train ride includes a delicious meal as well as quality entertainment on board.
HOLLYWOOD CAR: Big Band Sound of the 1930/40's
ROCK AND ROLL CAR: Hits from the 1950/60's
COUNTRY AND WESTERN: Mix of country legends and today's favorites
Day Coach Seating: Popular for families, groups and individuals wishing to take the ride only. Does not include meal or entertainment. Relax in a vintage CN Super Continental coach with comfortable reclining seats. When the locomotive is being turned in Vernon, you may choose to remain on board or use the time to briefly explore this delightful community.
Who operates the Okanagan Valley Wine Train?
The operators are FUNTRAIN CANADA INC., an affiliate of Edmonton-based NAGEL TOUR,S which has been serving Canadian motor coach travelers for over 25 years.
Need more information? Contact Okanagan Valley Wine Train
(250) 712-9888 or toll free at 1-888-674-TRAK (8725).
Website: www.okanaganvalleywinetrain.com
e-mail fun train@telusplanet.net
fax t (780) 482-7666.
---
Photo Credit: Muguette Goufrani, Editor. Typical Okanagan Valley scenes, taken during her last trip through the Okanagan Valley in Spring, 2002.