---
Alberta puts fun back on the rails
by Jerry W. Bird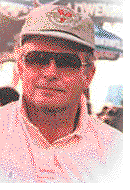 For six months prior to joining the Edmonton Journal Daily Newspaper, I toiled at the CNR (Canadian National Railway) freight yards, which also served Northern Alberta Railway's line to the fertile Peace River Country farther north. Many packages that we loaded were addressed to places with names that roused my curiosity and stirred my wanderlust --Spirit River, Rycroft, Grimshaw, Greenvale, High Prairie -- and points beyond. While I yearned to add the NAR to a growing list of rail travel experiences, time passed me by. Later, in weekly business trips between Alberta's two major cities I often rode CN's Dayliner, which was laid back, yet fast and convenient. We heard last year, that they're really serious about a super fast train between Edmonton and Calgary. We'll follow that story to its origin, and give you the details in this section. Above- Rocky Mountaineer Railtours route to Alberta from Vancouver, BC on the Pacific Coast via Kamloops in Central BC. Map courtesy of Rocky Mountain Railtours.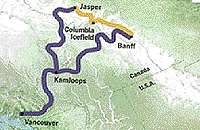 Biggest news of all is the Royal Canadian Pacific luxury excursion train, which our editors had a chance to visit last summer thanks to the good folks at the depot office adjoining Calgary's Palliser Hotel, one of the Great Canadian Railway Castles.
Journey into History: Small wonder my heart leapt on first hearing of the Alberta Prairie Line. In a province that once owed its existence to Canada's railways, this is the kind of entrepreneurial activity that deserves success. From its Stettler terminal, Alberta Prairie Railway's excursions run north to Donalda, Edberg and Camrose; south to Big Valley, Rowley and Drumheller; east to Castor, Coronation and Consort; and west to Lacombe and Ponoka. Just imagine - a 1918 Baldwin Steam Locomotive, pulling a 1919 Canadian Northern combination passenger-baggage car, a CPR deluxe sleeper, and four CN day coaches vintage 1923. In true showbiz fashion, Alberta's "fun train" totes its own Lone Star Saloon, and offers murder mystery tours, gun fights and staged robberies.
Other excursions such as a Canada Day Special, the Klondike Express, a Country Dinner Train, School Specials, an Old-time Family Picnic and a Royal Feast, round out the itinerary. Come autumn, guests are treated to Fall Colors Excursions, Harvest Specials and a Halloween Ball. Having driven through most of central Alberta, and sampled its special brand of hospitality. Contact Alberta Prairie Steam Tours, PO Bag 800, Stettler, Alberta, TOC 2L0, (403) 742-2811.
More Alberta Rail Talk.
Hardly a summer went by during my years in Calgary, that our family didn't make a beeline for Heritage Park, for a taste of railroad memorabilia , which always included a train ride through an early prairie setting, complete with bells, whistles, and authentic railway stations decked in CPR red. Information on Heritage Park, Fort Edmonton Park, plus display trains around the province is available from Alberta Tourism . 800-661-888
Saskatchewan by Rail - the long and the short
While a journey across Saskatchewan by Via Rail offers a unique perspective of the province, which I have enjoyed in four directions, remnants of of its earlier railway heritage remain at Moose Jaw's Western Development Museum. From the CPR station, restored to its former splendor, you can ride the narrow-gauge WDM Short Line Railway, with Saskatchewan's only operating steam locomotive. Contact Tourism Saskatchewan, 800-667-7191