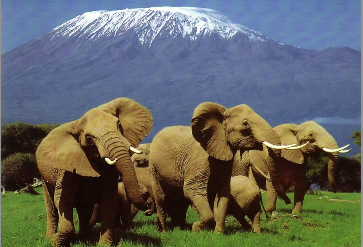 author: yes holidays
AFRICA TRAVEL MAGAZINE'S GLOBETROTTER INVITES TRAVEL AGENTS AND TOURISM SPECIALISTS ON KENYA TOUR
January 2015
Our Editor Muguette Goufrani is again excited about this Fall 2015 ATA World Congress in Kenya . She knows the country well. For details, email her at
airhwy@smartt.com
Money you invested to the market, you can lose overnight, but great experience you have in life can be taken by no one! said Muguette Goufrani. The Congress and Tours that ATA organize will inspire, thrill and surprise all who are willing to travel beyond the beaten paths on various countries. This Kenya trip can lead you to fascinating discoveries and unforgettable experiences.
Kenya is a paradise as far as tourism and wildlife is concerned. Very few countries can rival Kenya when it comes to the variety of flora and fauna. Those who have seen the movie "Out of Africa" will appreciate the beauty and the variety that we are talking about. Sample our variety, our hospitality and the first class accommodation that the country offers and, without doubt, you will come back for more. Here is something to wet your appetite. "
Karibu Kenya
" and, as they say: "
Kenya Hakuna Matata
", or:"
in Kenya you will have no worries"
.
Come to Kenya and be sure that you will enjoy the sunshine of the capital city, Nairobi, and a variety of wild animals a stones-throw away at the Nairobi National Park the very day you land at the Jomo Kenyatta International airport. Those who choose to fly directly to Mombasa, the gateway to East Africa and the second largest city, will discover that it has plenty of sea and beautiful beaches. Scuba diving or just swimming in the crystal clear waters of the Indian Ocean will entice the tourist to want to come back again. The cities of Nairobi and Mombasa enjoy wonderful weather throughout the year.
Kenya is a tourist paradise with plenty to offer to those wanting a variety of tour packages. Find out what we have to offer. A safari in Kenya can start with a journey through the lush Highlands, where Mount Kenya stands sentry over all. Coffee and tea plantations line the road, small grass-thatched villages dot the fields, colourfully garbed women trudge along your route and small boys tend herds of goats and sheep. On the wide-open rolling grasslands of the Maasai Mara, you see a wide variety of animals as well as the proud Maasai people. In Nairobi you experience a vibrant and growing city - a mosaic of many races and cultures. Shops of every kind sell almost anything you want, from safari clothing, gemstones and jewellery, to Akamba woodcarvings, beadwork, Kiondo baskets, printed fabrics and many other local handicrafts. The markets are fun to visit and bargains abound. In fact, bargaining is a way of life, so don't be shy!
The restaurants in Kenya are splendid, and you should taste our "nyama choma" (roasted meat), either at the Carnivore or at the Safari Park Hotel in Nairobi. The game meat is great and the variety is plenty. Try also crocodile meat at Mamba Village in Mombasa or at the Carnivore.
A safari in Kenya encompasses more than just game viewing. Kenya is a land not only of magnificent wildlife but also of amazing landscapes, beautiful lakes, a tropical coastline, strong ethnic traditions, hospitality and artistry. "Jambo Karibu", soft, warm voices greet you in Swahili like old friends everywhere in this friendly country. The distinct regions in Kenya vary in geographical configuration, habitats and unique species. Your Kenyan experience will definitely leave you with a lasting impression and desire to return. Welcome. Karibu!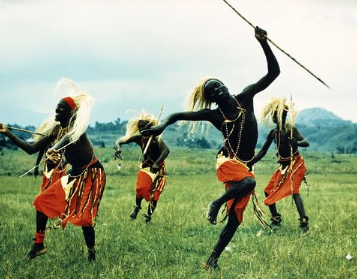 AFRICA TRAVEL MAGAZINE'S GLOBETROTTER INVITES TRAVEL AGENTS AND TOURISM SPECIALISTS ON UGANDA TOUR
June 24, 2014
Our Editor Muguette Goufrani is again excited about this November's ATA World Congress in Kampala Uganda. She knows the country well. For details, email her at
airhwy@smartt.com
Money you invested to the market, you can lose overnight, but great experience you have in life can be taken by no one! said Muguette Goufrani. The Congress and Tours that ATA organize will inspire, thrill and surprise all who are willing to travel beyond the beaten paths on various countries. This Uganda trip can lead you to fascinating discoveries and unforgettable experiences.
Uganda is a beautiful country with an impressive people. This is one of her favourite countries in all of Africa. Winston Churchill was so besotted by the country that he gave it the name that has endured: the "Pearl of Africa". His observations about Uganda remain true today: "The scenery is different, the vegetation is different, the climate is different, and, most of all, the people are different from anything elsewhere …in the whole range of Africa"
Travelers to Uganda are drawn by its stunning landscape – green rolling hills, snowcapped mountains, rainforests, majestic rivers and massive lakes. There are also a number of outstanding national parks for your safari encounter with the wildlife for which Africa is renowned. Unfortunately, I have to advise you to skip a few well-resourced parks such as Kidepo Valley in the north and Mgahinga in the west as they are not considered safe. The country's edge as a worthwhile destination is further enhanced by its endowments for white water rafting and sport fishing.
It is in Uganda that you find the highest number of primate species anywhere in the world. Opportunities for tracking rare mountain gorillas and chimpanzees are unrivalled elsewhere. The primate conservation efforts the country has followed are bearing fruit. A recent survey carried out by the Wildlife Conservation Society and the Jane Goodall Institute in collaboration with the Uganda government, revealed that there are now 4,950 chimpanzees in the country. Previously, scientists guess for this number was between 3000 and 4000, but nobody knew for sure. The chimp is our closet living relative, sharing 98% of our genes and much of our behaviour. Uganda is the best country in the world to view chimpanzees in their natural habitat.
The best place to see the rare mountain gorilla is at the 331 sq. km Bwindi National Park. This park was formerly known as the Impenetrable Forest with good reason. The trees are thick and the forest thicker with dense undergrowth, creepers, bamboos and parasitic plants such as mistletoe and orchids. This environment is the habitat for mountain gorilla's, chimpanzee, and 8 other species of primate. Not less than half the world's population of an estimated 600 mountain gorillas have sanctuary here, making Bwindi the base for an important scientific conservation program.
In addition to its star gorillas, Bwindi is host to elephant, bush pig, giant forest hog and over 300 species of birds including rare forest birds. Others who have found a home in this ecosystem include many types of bats and rodents, 14 species of snakes, 27 species of frogs and toads, 6 chameleon types, 14 lizards, skinks and geckos and 200 species of butterfly. Bwindi is to the west of the country and is 560 km from Kampala.
Though not as famous for safari as neighboring Kenya and Tanzania, Uganda still has some pretty good game sanctuaries. The 3,840 sq. km Murchison Falls National Park is the largest and most spectacular of them. Aside from game, this park is renowned for its scenic beauty. Rolling savannah, tall grasslands and thick bush woodlands make the park. But you are advised not to miss out the magnificent waterfalls after which the park is named. The waterfall is formed where the Nile tapers from 50 metres to rush through a 7 metre gorge, falling 45 metres in a breath taking leap. This phenomena is said to be the most powerful natural flow of water anywhere on Earth.
If you are patient, you can catch some really huge Nile Perch at the foot of the falls. What kind of fish can withstand such a force that exists at the foot of the falls? Charles Norman describes his fishing day out with a companion who on seeing the massive fish "…let out a strangled squawk and I found myself staring at the hog-sized back of a huge fish protruding above the water at the rock's edge – a 100kg fish with scales the size of tennis balls. Swimming next to it was a smaller one, a 'midget' of a mere 40kg or so". This adventure is described by the prodigiously experienced Charles Norman as "…the most exciting morning's fishing that I have ever known." Other game fish found in the Nile include Barbel, electric Catfish and Tiger fish.
The game you come across in the park includes elephant, hartebeest, leopard, lion, giraffe, buffalo, hippo, crocodiles and many species of antelopes. Upstream of the Murchison Falls are the Karuma Falls, where the Nile cascades over 23 kilometres of rapids. Here you have some of the most exciting white water in Africa. Murchison Falls is located 330 km from Kampala.
The Queen Elizabeth National Park is another outstanding treasure. It is a UNESCO designated a Biosphere Reserve for Humanity. The recognition arises from the tropical forest, green meadows, savannah and swamps that constitute the park. In terms of wildlife, you find elephant, buffalo, hippos, baboons, chimpanzees and over 600 species of birds. The park occupies 2000 sq km and is situated 440 km from Kampala. At the northern end of the Queen Elizabeth, you find Kibale. This park has a unique forest habitat and has an excellent diversity of animal and plant life. It is at Kibale that you find the highest number of primate species in Uganda, and one of the highest primate densities and diversities in the world.
Traveling from Kampala to the Queen Elizabeth or Bwindi, most visitors break at Lake Mburo National Park. The park is 230 km west of Kampala along the Mbarara road and is the most accessible in the country. It is a very attractive park of rolling hills, open grassy valleys, interspersed with thickets, woodlands and rich wetlands. In addition to viewing game including zebra, cape buffalo and eland, you can relax by taking a boat trip on Lake Mburo.
The fairly flat terrain of the country is interrupted to the west by the Rwenzori mountains and to the east by Mount Elgon. Rwenzori , otherwise known as "Mountains of the Moon" has the third highest peak in Africa after mount Kenya and Kilimanjaro. The Rwenzori is part of the national park of the same name and contains 6 snow-capped peaks. You can hike the trails of this mountain without any special climbing equipment unless you want to go for the peaks. The mist covered mountain range stretches for about 100 km.
Mount Elgon sits by the Kenyan border and is the shell of an ancient volcano. The main attractions here are the waterfalls, caves that were once used by indigenous people, hot springs, the mountains vegetation, the various peaks, the Suam Gorge and the cladera itself. After millions of years of erosion, the oval shaped caldera now measures roughly 7 by 8 kms, one of the largest in the world.
The traveler with a sense of history will want to visit the source of the Nile at Jinja. Jinja is 60 km to the north east of Kampala and is easily accessible by road. This is where the White Nile begins, as it exits Lake Victoria on its 5,600 km journey to the Mediterranean. The source of the Nile was a thousand year old mystery that was decisively settled by the explorer John Speke in 1862.
If you are keen about culture, go for the The Kabaka's Trail. This is a unique journey through a part of Uganda's rich heritage that has been shaped by the region's kings over the years. The Kabaka is the ceremonial king of the Baganda and his lineage goes way back to the 14th century. The Trail combines a series of cultural sites, all within easy reach of Kampala. You can easily combine the Kabaka Trail with your Search of the Nile excursion to Jinja. The Trail offers much more than sightseeing and you will learn about the hidden and forgotten history of Uganda. You will also experience an authentic tribal culture – with traditional dance, music, craft making, spiritual healing and storytelling.
Africa Travel Magazine's Globetrotter invites travel agents and tourism specialists on Morocco tour
December 3-8, 2002

Associate Editor Muguette Goufrani is excited about this December's ATA Cultural and Ecotourism Symposium in Fez Morocco. She knows the country well. For details, fax her at 604-681-6595 or e-mail africa@dowco.com. Muguette's background as an airline agent, tour guide and travel agency professional has been the key to her media success, resulting in an ATA Travel Industry Founders Award in Cape Town, South Africa. As a "career globetrotter," Muguette's articles for Air Highways and Africa Travel Magazine have an authentic, multicultural flavor, thanks to painstaking research and the confidence of having lived the experience (walked the walk).
Her career positions have included Royal Air Maroc, AOL Airlines, Air Afrique, Matson Lines, Palm Springs Resorts, Club Med, Tahiti Tours and Noumea Tours. Upon graduating from College du Paris, she launched her career in Casablanca, Morocco, where the Goufrani family has operated a tour company for generations.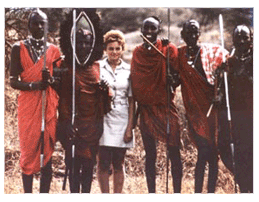 Award in Africa: A dual citizen (France - Canada) and member of Vancouver, BC, Canada's Francophone Community, Muguette prompted the decision to make our travel magazines bilingual, extending their worldwide reach and influence Aside from our own publications and web sites, Muguette has been featured extensively on African television, radio and print media, both English and French. Her first assignment was the 1996 ATA Ecotourism Symposium in Marrakech, Morocco. This was followed by a National Geographic - American Airlines sponsored project in Haiti, plus ATA Congresses in Benin, Tanzania, Ghana, Ethiopia and South Africa. Her most recent extended trips to Africa, were Congresses and overland land tours of Cameroon (December 2001) and Guinea (May 2002). Muguette returns to Africa in December 2002, for an ATA event in Fez, Morocco, following a Cross Canada Road Show Tour and a Conferencein Atlantic City, New Jersey. Next year's African agenda includes events in Zambia and Tanzania. Travel Agents wishing to join her are invited to e-mail Africa@dowco.com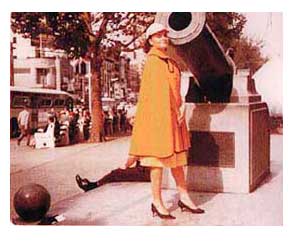 The World Scene: Muguette's travels have included Europe, the Americas, Vietnam, Laos, Cambodia, China, Japan, Russia, Australia the Caribbean, and most of Europe. Active with the Africa Travel Association and PATA, she focuses her efforts on tourism to and from the world's Francophone community. Muguette has lived and worked in seven African countries - Morocco, Algeria, Gabon, Cote d'Ivoire, Senegal, Madagascar and Seychelles. She has also worked in Guadeloupe, Tahiti, New Caledonia, Cambodia, India, France, Canada, Alaska, California, New York and Nevada. Other travels have included Western Europe, South America, Vietnam, Laos, Cambodia, Japan, Russia, Greece and Australia
Association Involvement: Active with (ATA) Africa Travel Association and (PATA) Pacific Asia Tourist Association, Muguette provides translations for all media. A keen observer of current affairs, she is anxious to receive and pass on news of trade and tourism developments and events in any part of the world. E-mail airhwy@dowco.com
---
Photos: (a) Muguette in typical Beninese hat (b) Muguette with Masai tribesmen in Kenya, East Africa (c) Muguette at historic site in France.