---
A special 'Summertime on the River' holiday featuring passage on the Upper Mississippi River aboard the grandest Steamboat ever built, our own special private train the 'Steamboat Express', great hotels, and FREE travel to the start of the trip in Chicago from any US city !
One departure only-July 2-13, 2013
12 days from $2,895.00
OAKLAND, January 22, 2013---Train Holidays is proud to announce a special once only 'AMERICAN LEGENDS' program for July 2013 that offers a scenic and nostalgic voyage from St. Louis to St Paul aboard the largest, grandest and most opulent steamboat ever built, the 'American Queen' combined with a vintage private train trip aboard our very own 'Steamboat Express', fine hotels, sightseeing and much more for the ultimate American vacation! For pure Americana and style, there is simply no more authentic nor unique holiday in 2013. Better still, we are offering FREE train travel from any US city to the start of our program in Chicago as an early booking bonus, making a great trip even better. Best of all, we offer our passengers an added bonus no other company can, travel between Chicago and St. Louis aboard our own classic Streamliner Train, the 'Steamboat Express', a nostalgic journey back to the halcyon days of train travel complete with a beautiful art deco 'club car' with elegant dining and open bar with all wines & spirits included.
Our program begins in Chicago on July 2nd with a two-night stay at the fabled Palmer House Hilton Hotel with plenty of time to enjoy the Windy City. Chicago's most legendary hotel, the Palmer House has ideal location, in the heart of the Loop and just a short walk from Grant Park and Lake Michigan and we have included an elegant welcome reception at this grand hotel. On July 4th we depart Union Station for St. Louis aboard our classic Streamliner train, the 'Steamboat Express', a stylish private train that evokes the golden age of train travel and an ideal nostalgic way to travel to the Steamboat. Upon arrival in St Louis the afternoon of July 4th, we check into the Hilton at the Ballpark and later tonight, our guests enjoy the biggest Fireworks display in the nation. On July 5th, an extensive sightseeing tour by the most acclaimed historian in St. Louis, Nini Harris featuring Forest Park, the Cathedral of St. Louis and the Euclid District is included before we board the magnificent 'American Queen', in the shadow of the famed Arch, and set sail for Minneapolis/St Paul. During our eight-night voyage to St Paul, our guests enjoy special parties and events aboard this spectacular Steamboat, the largest ever built as well as quaint ports of call that read like a Mark Twain novel such as Hannibal, Dubuque, La Crosse, Winona and Red Wing. Upon arrival in St Paul on July 13th, guests may extend their stay, taking advantage of our special hotel rates or make easy train or air connections home. This comfortable program allows guests to enjoy a leisurely trip on a famous American institution, a real Steamboat without airports, driving or hassle, along with plenty of time to enjoy visits to Chicago and St Louis for the Classic American Summer vacation, at prices that are most attractive.
Complete fares for the entire program including the two-night stay in Chicago at the Palmer House and the overnight stay in St Louis, the eight-night Steamboat cruise aboard the American Queen,, travel aboard the 'Steamboat Express' private streamliner train, special parties and events aboard the Steamboat and ashore and much more, start at only $2,895.00. Guests reserving by February 15th also qualify for FREE train travel to the start of the trip in Chicago from ANY US city! For information & reservations call Train Holidays at 800.543.2846 or on the web www.uncommonjourneys.com
More of America's Adventure Railways
by Jerry W. Bird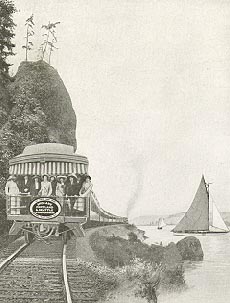 Fly-Rail Vacations are an ideal choice for holidayers and business travelers who share our viewpoint - that getting there is often more than half the fun. That's what has made the cruise industry such a booming success and has ushered in the era of land cruises by rail. One of the first railways I had the pleasure of featuring in my Railways of the World media series in 1989 is the historic Grand Canyon Railway of Arizona. That's why our magazine is proud to announce that in honor of its 100 year anniversary, Travel Agents are being offered a way to learn more about this great little railway, and will stay at the company's luxurious resort. For reservations call 1-800 -376-6629, or for online information its: www.thetrain.com
Scenic excursion trains once connected the cities along the Pacific Coast, including Vancouver via Seattle and Bellingham. Photo on right is the Spokane Pacific Railway excursion train. Now at last the Amtrak train is back with regular runs from Seattle to Vancouver, and it's doing very well according to our Travel Agent friends. One of Amtrak's Northern stops, Bellingham, Washington, is also southern terminus of the Alaska Marine Highway fleet.
Historic photo courtesy of Mrs. L. Zurkowski, Delta, BC, Canada.
Western Washington Wine and Spirit
Another leaf from Bird's book of great Seattle memories is the "Spirit of Washington", a superb dinner train that rattles and rolls from suburban Renton, across a large trestle bridge, then along Lake Washington to the winery at Woodinville. Every dining coach is a classic, conversation piece and no two are even the least bit identical. Ask the Seattle CVB folks for more details at 206-431-4444. I honed my writing skills in Seattle, working with Neil Strother on his newspaper Seattle Northwest Prime Times, which has since been sold. Neil is now a top editor in the Internet Media field; we will link you to some of his articles first chance we get.
American Orient Express
This company's choice seven itineraries feature the history and scenery of 5 Western National Parks including Yellowstone and Grand Teton, 12 different States, and the Trans-Canada Rail Journey through 6 Provinces. You can tour the coastline and wine country of California on the Pacific Coast Explorer; or visit Dixie through 8 states on the Antebellum South rail journey. For connections: http://www.americanorientexpress.com/

Coming Soon
Watch for a feature on the Durango & Silverton Narrow Gauge Railroad. One of the first in our series, this railroad dates back to 1881. Historic steam locomotives power the train on its spectacular 45 miles run that links the two former mining towns of the Old West.