Whistler Northwind: Behold the spectacular! (Not in service. Let's hope it returns)
by Jerry W. Bird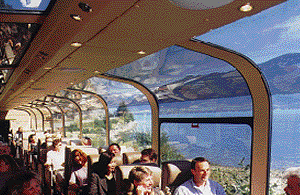 When we attended the official launch of BC Rail's Whistler Northwind Summit Service. and what a happy occasion it was, as this North Vancouver based railway joined the big leauges of passenger travel, ranking amongst such world class train trips as offered in Switzerland or aboard the Venice-Simplon- Orient Express. The scenery en route was always tops in the world, now there's equipment and service to match.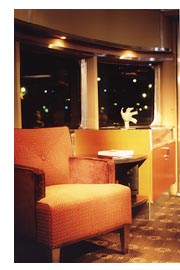 As the band played Duke Ellington and other great tunes from the 40s, we watched as the fleet of beautifully restored two tone vintage passenger coaches and dining cars rolled in along the landing. Later we had the opportunity of meeting the railways new President and management team (profiles to come), and all were impressed by the high quality of service that marked the company's history making entrance into the major leagues.
(See Rail Map ) BC Rail currently provides daily passenger transportation from its southern terminal, near my home (during high schol years) on Pemberton Avenue in North Vancouver, British Columbia to the Northern city of Prince George via the popular Cariboo Prospector train. The company operates a fleet of self-propelled, air-conditioned Budd cars.