Manning Park Receational Area
By Jerry W. Bird, Editor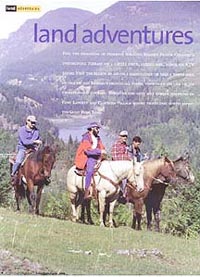 The photo of land adventures (right) is from WingSpan Adventures. While Manning Park is known for its many hiking and riding trails, the area has been gaining popularity for winter sports.
Heading for the Okanagan this summer, we took the Hope Princeton Highway and once again were treated to the splendor of Manning Park. The area is now one of Fraser Country's most popular sites for year round recreation, including skiing and snow sports. The park had its origin in 1931 as the Three Brothers Game Reserve, the intent being to protect an original 15,900 acres of land from overgrazing by sheep. It was named in memory of Ernest Manning, British Columbia's Chief Forester (1936-1941) who was killed in a plane crash. Today the park area has grown to 71,400 hectares (176,000 acres). In 1951, North Star Ski Hill was opened at the base of Blackwall Mountain, with a single rope tow made from spare parts.
The first onsite buildings were the Pinewoods Lodge (1955), the Last Resort and several Alpine type chalets, followed shortly by a 24-unit motel. In 1959 a poma lift was installed, and in 1965 the downhill ski area was relocated to the Gibson Valley. In the next decade two chair lifts were installed. Thanks to the popularity of 'Ski Safaris' Nordic style, groomed cross country skiing was introduced into Manning Park in the 1970s. In 1984, the Manning Park Lodge, restaurant and ski area facilities became privatized, operating as Gibson Pass Resort Inc. under a Provincial government land lease.

Trails at Manning Park (continued)
Legend of the Sasquatch
You won't travel very far in Mighty Fraser Country without hearing about the legendary - some say mythical Sasquatch, BC's version of the Abominable Snowman - an elusive, hairy creature that walks like a man.
TRAIL MAPS: The Outdoor Recreation Council of BC publishes a series of maps of recreational areas, including Mighty Fraser Country. These maps show many of the back roads and trails, and contain information on a variety of recreational pursuits in BC They may be purchased at many sporting goods stores and bookstores, or by contacting: Outdoor Recreation Council of BC

Ste. 334 - 1367 West Broadway
Vancouver, BC V6H 4A9
Ph.: 604 -737-3058, Fax: 604- 737-3666
E-mail: orc@intergate.bc.ca
Web Site: www.orcbc.bc.ca