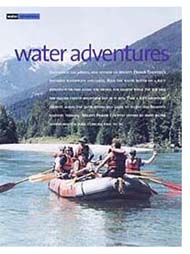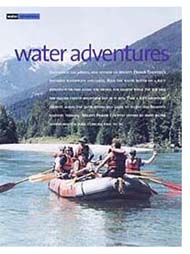 Water Wonderland of Adventures
in Mighty Fraser Country
by Jerry W. Bird

Having heard songs and ballads about the Mighty Fraser since I was old enough to turn on a radio, or strum a guitar, I never tire of visiting familiar and newly discovered places along its winding path. "My Home by the Fraser" by Kerry Reagan, was a hit song for generations around these parts.
One time during my High School days, we piled into the back of an army truck in Vancouver, and tumbled out on a pitch-black night at Abbotsford Airport. The Fraser River flood scene was chaotic - sandbags everywhere and loud voices barking orders in the night. That's when I learned how 'connected' the Fraser River System is to BC's life-line.
Today, the Fraser's waters are more serene and placid, from its muddy mouth in the Delta, past Fort Langley and Hope, to Yale, once the head of navigation for riverboats carrying hordes of fur traders and gold seekers. Having worked two summers on a paddlewheeler, I know the lure of the river, which is recaptured by Fraser River Connection, berthed at the New Westminster Quay.
The Route Map will help you locate the various cities, towns, villages, whistle-stops and hamlets, each a springboard to adventure in Mighty Fraser country. Examples of Water Wonderland hot spots and cool locations are as follows:
Cultus and Chilliwack Lakes have been on our agenda since the days when BC Electric Railway's brick red trams (a super-streetcar) carried picnickers and vacationers from Vancouver. They tell me the fishing around here is as good as ever, year after year; in fact the city of Chilliwack itself has become a magnet for fishing and boating in BC's Lower Mainland.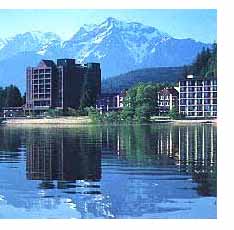 Not far from Chilliwack is beautiful Bridal Falls - a place where you can cool off in the misty spray by the side of the road, or take the gang for a fast tumble down the popular Trans Canada Water Slides. A refreshing thought! And, as they say, "along life's path, don't forget to stop and smell the flowers." Brain Minter would love that idea- his family has operated the world-famous Minter Gardens for decades. Perfume of the Gods.Harrison Lake and Hot Springs: Speaking of voyages into history, Harrison became popular thanks to the CNR Railroad, whose main line runs south of the current resort. The lodge's gallery of photos shows a Horse and Buggy 'limo' that met every train and carried visitors to the lodge all year round. Many of these visitors were Hollywood stars and other celebrities. I first discovered Harrison as a passenger in my grandparents Buick , and rediscovered it later as a young parent. My boys were fascinated by the Legend of the Sasquatch as was illustrated on an entrance sign. These days, one of the softer adventures is building 'sandcastles' on the lakeshore during a worldwide competition. Try it. If you're flying in from Calgary, Edmonton, Victoria or Toronto on business -- this is a great place to combine work and pleasure. Fire up the creative juices and recharge the batteries- right? In addition to the thermal springs at the Harrison Hot Springs Resort Hotel, there is a community spa for the public. Other natural hot springs in the area include a popular spot you can bathe for free near the Pitt River Canyon.
More about Water Adventures
Experience the sights, and sounds of Mighty Fraser Country's untamed waterways and lakes. Ride the white water on a raft expedition or fish along the shores for salmon while the sun dies the glacier coated mountains red as it sets. Take a soft adventure journey along the quiet rivers and lakes to digest the region's majestic terrain. Mighty Fraser country offers so many water adventures, it is hard to decide what to do. Mighty Fraser Country abounds with wild rivers and serene lakes. Mighty Fraser Country will set you in awe. Captivating the landscape is the Coast Mountains surrounding the lush Fraser Valley, rich with raspberry fields and other flavourful harvests. Cutting through the Region's mountains is the raging Fraser River, which drains the Region's lakes and rivers. Comparable to only a few regions in the world, Mighty Fraser Country offers some of the best outdoor water adventures.
Fishing the Lower Fraser : As one of the worlds last remaining great salmon runs, the mighty Fraser is famous for its sport fishing. Along its banks, try your luck at catching king salmon and chinook after April, or five species of salmon (coho, chum, pink, sokeye , chinook) during the fall spawning migration. The Valley's Vedder River in Abbotsford and Chilliwack, which feeds the Fraser, has runs of 100,000 Chinook and 50,000 coho annually. On the Vedder you can fish for Steelhead on a fly-only restriction in May. While visiting the Valley, don't neglect to visit Harrison River, which drains Harrison Lake into the Fraser. You'll find this river bountiful with Salmon, Trout, and Surgeon. Surgeon are pleintiful in the valley, living sometimes more than 100 years and growing to 450 kilograms, so have your camera ready!
Witnessing the salmon turn bright red in the rivers as they travel to the spawning grounds in the fall is amazing. There are many locations in Mighty Fraser Country to view this spectacle including Maple Ridge, Mission, Harrison Hot Springs, Chilliwack, Agassiz, and Hope. Weaver Creek near Harrison Bay is the Region's best viewing area for sockeye from Mid-October to late November.
Pitt Lake and Canyon: Pitt Lake is one of Mighty Fraser Country's most stunning water bodies; it covers 5,380 hectares. The lake is fed from Garibaldi Park's ice fields 40-km north through the majestic Pitt river, which flows through a deep valley that it has carved out of the Earth. Enjoy your day fishing on the lake for Trout or Dolly Varden. For those who like exploring, you can captain a cruise up the Pitt River Canyon. You'll probably want to visit Widgeon Valley National Wildlife Reserve, an area home to a variety of marsh bird species, at the lake's north end, if you're a bird lover. To cool off on those sun drenching afternoons, you may want to test your water sport skills, perhaps a lap or two around the lake on a wake board would be in order.
Cultus Lake, Harrison Lake and Hot Springs:Don't forget to allow time in your itinerary for Cultus Lake. There are more than a dozen public beaches at this popular Lake for you to enjoy, with a vast menu of water activities available Visitors will find may entertainment options on and off the lake at Cultus Principal Park. Rent your own personal watercraft to discover the lakes hidden secrets, or stay ashore and test your miniature golf skills. If you like being pampered, you may want to visit Harrison Lake - the largest in south western British Columbia. Check into the world class Harrison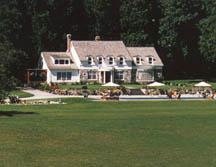 Hot Springs Resort (above) or nearby Rowena's Inn (right) on the River for the ultimate in luxury accommodations. If you enjoy boating, you may want to charter your own or take a guided tour. Thermal wind gusts up to 30 knots and waves more than a metre high makes Harrison Lake great for windsurfing and sailing. Harrison is recognized for its Hot Springs, originally used by the Coast Salish people a "healing place'
Surf the Fraser's white water on a raft expedition to experience one of the region's greatest water adventures. Enjoy a day or overnight adventure as you make your way along one of the many untamed rivers that supply the Fraser. Mighty Fraser Country is your source for adventure!
REO RAFTING ADVENTURE RESORT
Experience Mighty Fraser Country's best at REO Rafting Adventure Resort. Secluded in the Fraser canyon overlooking the jade green Nahatlatch River near Boston Bar, REO's experienced and hightly trained professional guides can escort you through some of the region's best outdoor activities.
Ride the wild rapids on a expedition along the Nahatlatch or Thompson rivers that feed the Fraser and experience the ultimate rafting adventure! At REO's 11 acre resort, visitors include activities like rock rappelling, leisurely float trips, kayaking, and volleyball or just relax on as private beach in the area's warm, dry and sunny climate. Guests appreciate REO's modern amenities in a wilderness setting and special services including aromatherapy massage, trading post, and espresso bar. Concluding a full day, REO's Chef will prepare one of their legendary barbecue creations for you on the riverside dining deck. Soothe your muscles in the resort's hot tub or sauna en enjoy live entertainment on summer weekends around a warm campfire. A selection of accommodation options are available including your own tent, cabin tent or log cabin.
Call REO Rafting Adventures to book you next vacation. In greater Vancouver call (6040 461-7238 (RAFT) or in North America call toll free 1-800-736-7238 (REO RAFT) www.reorafting.com, e-mai: info@reorafting.com