Come out O Little Mocassins and frolic on the snow
Come out O tiny beaded feet and twinkle in the light
I'll play the old Red River reel, you used to love it so,
Awake, O Little Mocassins and dance for me tonight.
Robert W. Service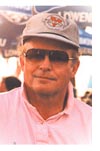 I am the Yellowhead

Great cities have grown up along my treasured path. Rudyard Kipling, world famous poet and adventurer was enthralled by the west's endless horizons and forecast its great promise when he wrote, "The prairie is high veldt, plus hope, activity and reward. Winnipeg is the door to it ... a great city in a great plain." Call it Chicago North, Canada's Crossroads, or simply "The Peg," Manitoba's capital is home to over 50 ethnic groups, all of which take part in Folklorama, Manitoba's Mardis Gras. Winnipeg is also the largest center of French culture outside Quebec. Check your map; see how Winnipeg's streets converge like the spokes of a giant bicycle wheel. Three historic rivers, the Red, Assiniboine and Seine, merge here at a place called The Forks. Not long ago, trains shunted back and forth, and river craft dumped their cargo at this downtown site. Today it's the "in place" -- an oasis of greenery, scenery and people watching, with shops, sidewalk cafes, and a delightful river front promenade. To many first nations people, The Forks is where their ancestors hunted, fished and camped for centuries. The Forks National Historic Site preserves that 6,000 year legacy with interpretive programs, displays, sculptures, festivals and special events.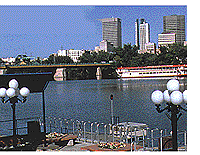 Children of all ages the world over relate to Winnipeg thanks to A.A. Milne's Winnie the Pooh, immortalized on screen by Walt Disney Studios. Cultural gems such as the Royal Winnipeg Ballet have also made Winnipeg world famous, as Agnes De Mille commented in 1963. "The citizens of Winnipeg support the company because it is fine and because the citizens are neither surfeited or corrupted. They take joy in beautiful things..."
Lower Fort Garry National Historic Site: North America's oldest stone fur trading post stands as a lone sentinel on the Red River. Launch-point for York Boat brigades, off to Hudson's Bay, Mackenzie or Athabaska Country, and Red River carts bound for Minnesota, it was a bastion of Empire. Plan to stay awhile; fresh bread's baking in the stone oven at Governor Simpson's Big House. Dinner's on, and a magic lantern show is about to tell the fort's unique story.
Portage La Prairie
It's a short, pleasant drive to Portage La Prairie from Winnipeg. Here, muscles of steel were needed to tote one's canoe overland. Today, Portage is a major food processing center, amidst some of the world's richest farmland. Lake Manitoba's beaches bring fond memories to those who spent their days in service here and at two royal Canadian Air force bases, one of which is alive and thriving as a training and technical center. Located within the heart of the richest agricultural belt in the Province, the economy is driven by a vibrant and progressive agricultural community. In addition, we look to ongoing diversification of the economy.
The City of Portage la Prairie, in 1999-2000 launched a brand new holiday event. The Manitoba Hydro Power Smart Island of Lights presented by A - Channel is an impressive drive-through light show that has attracted attention not only in the City, but throughout the entire region. The goal of the light show was to create excitement, attract tourists, and bring the Christmas season alive like never before! It is a Manitoba First. What a success story...
On February 9, 2002, the Manitoba Hydro Power Smart Island of Lights once again gained National Recognition by winning the Communities In Bloom Winter Lights Award! "Year 3 of Island of Lights Records Best Year Ever!"
The Yellowhead Trans Canada Highway (16) is a short distance from Lake Manitoba and the Big Grass Marshlands to the north and the Sprucewoods Provincial Park and Forest to the south, when it reaches the centres of Gladstone and Neepawa.
Gladstone
Close to the geographic centre of North America, Gladstone, is a key agricultural centre and with expansion of McCain's and Maple Leaf Foods, it has great promise as a food processing centre. First settled in 1872, the area was originally known as Palestine. It was named after British Prime Minister. Gladstone is one of the oldest towns in Manitoba and is located at the third crossing of the Whitemud River. The Town is named after the Right Honorable W.E., Gladstone, Prime Minister of Great Britain. At the entrance to the town is a cairn which reads: "This cairn marks third crossing of the Whitemud river on the pioneer trail Ft. Garry to Edmonton. first settlement July 1871 known as Palestine. Incorporated as town of Gladstone in 1882. Fording of river 400 yards North North West". Gladstone has now become a prime retirement community and has a beautiful park, golf course, campground and museum. They also boast "Manitoba's Largest gift shop" Clarke's of Gladstone. This shop is incredible and has unique gifts, porcelain dolls, candles, and fine china. They have a varied customer list from all over the world. the golf course The rolling green of the course dotted with trees was a beautiful setting for dinner.
Neepawa
Neepawa, which means "plenty" or "abundance" in Cree is a delightful community that owes its origin the the railway. Stepping into the past, its many heritage buildings can be viewed by taking an organized walking tour. It was a major airfare base and NATO training centre during the second world war. Best selling author Margaret Lawrence, who wrote "The Stone Angels," grew up in Neepawa and the town became the setting for several of her works. Each summer, the Lily Festival draws many visitors to the area.
Minnedosa
Voted Manitoba's most beautiful town, Minnedosa is the gateway to Riding Mountain National Park, an "island of the prairies", where buffalo roam and 500 species of wildlife thrive. Remember when we were kids, wolves used to whistle -- right? Well you can take wolf howling lessons here, but the Plains Indians' relationship with the buffalo is the top item on the agenda. Bathers can enjoy Clear Lake's sandy beach; those afoot and on horseback, can rove the meadows, aspen groves and evergreen forests on a network of trails. Minnedosa was a stopping place for the Red River carts on the trail to Edmonton (the Carlton Trail) and was originally called Tanner's Crossing after John Tanner, a Metis with one arm, who first settled in the area and opened a store and post office. In 1880 the name was changed to the Sioux Indian words minne (water) and duza (rapid water) and is a tributary of the Assiniboine. Minnedosa is known as Manitoba's Valley Paradise. Tucked into the rolling green hillside with a beautiful lake to the east, it truly is a little bit of paradise. There are a number of heritage type homes in town and I was surprised to see a number of stone block houses, which I have only seen in Ontario previously. There is something for everyone here from fishing to historical sites and for kids of all ages who just want to have fun! They even have a Bison Park.
Shoal Lake
In 1878 Shoal Lake was on the western boundary of Manitoba and the newly formed North West Mounted Police realized that the narrows here provided a very strategic location for a post to check traffic coming and going from the territories. In 1877 a barracks was built as the headquarters and shortly thereafter a settlement sprang up. However, in 1885 the settlers moved north 5 miles to the current townsite. So that is why there are two NWMP sites located here. The one in the photo that looks across the water was the original site and the log cabin is the second location.
Shoal Lake and the RM of Shoal Lake have some great plans for an historic museum that will be similar to the Ukrainian Cultural Heritage Village near Edmonton, Alberta or the Heritage Village Museum in Vanderhoof, British Columbia. It will have a number of heritage buildings, including the Elliott House which is over 100 years old, and a school house from 1907. It will also house an extensive collection of wagons and horse drawn equipment dating back from around 1850 - 1940. The foundations are being laid. As Don and Ken talk about what is to be their enthusiasm and excitement are contagious and I will look forward to seeing this dream become a reality by spring of 2003.
Russell
Russell was earlier known as Shell River and it is thought that the town was named for General Lord Alexander George Russell, commander of the forces in Canada from 1883-1888. Boulton Manor which was the home of Major Charles Boulton, founder of the Town of Russell. He brought troops to Batoche during the Northwest Rebellion of 1885. The Boulton Manor is now a bed and breakfast and with a days notice you can have tea and a tour.

Continued: Saskatchewan