Air Highways 10th Anniversary: SKY VIEWS and SKY LINES: Writer, photographer Ed Anderson presents a stunning review of the Abbotsford International Airshow.Global issue, August 2005 has sections on USA, Canada, Europe and Asia-Pacific. Africa Travel Magazine and Air Highways team up to produce an exciting first edition on Africa Transportation.

$31 Million Expansion of Hilton Washington Dulles Airport

Bellingham Airport Update. Northwest Washington State gateway.
.
Homeland Security at FOSE 2005, Washington DC Convention Center, April 5-7
Greening the World's Airports
"Today's airport must be a true part of the community... a people place... an agora. Many are the exact opposite; unfriendly, claustrophobic, intimidating, expensive, noisy, wasteful and inconvenient," said Dr. Rashni Mayur.

Flying Machines Soar n' Roar at Reno: Winning photos by Ed Anderson
International Astronautical Congress

Canadian Aeronautic and Space Institute
55th Congress, Vancouver
Airlines, Aircraft, Airports and Airshows: 10th Anniversary Issue coves it all.

Mideast: Al Ain Aerobatics Show:Impressive participation by world-class regional

Frontier Airlines 'Countdown to Cancun'
Warmth Is Just Seven Days and $89 Away

Flint, Michigan.: Bishop International Airport Expands
Canada Day at Langley Airport
We are again working with the Canada Day Society to attract sponsors to this huge event, June 30 and July 1. Sponsors can showcase their business to over 50,000 people over a 2 day period. Contact us if you know a business that would like to participate.. Sharon & Wally at Traveller's Hotel - Langley BC, Phone 604 533 5569 http://www.murrayvillehall.com or e mail: travellershotel@shaw.ca\
Port Hardy, BC: Gateway to Adventure Islands and Alaska Coast

Air Highways'1st Air -Marine Tourism Conference
Over 20 Powerful Speakers: Aviation Day was chaired by Jerry Lloyd, BC Aviation Council President; Marine Day chair was James Delgado, Vancouver Marine Museum Director. Presenters included Rick Antonson, Tourism Vancouver President, Rod Harris, Tourism BC President, top execs from YVR, Vancouver Ports, BC Ferries and Transport Canada and many more. More->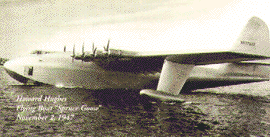 Have you seen a Spruce Goose lately? Howard Hughes' great bird .

Flight Ops :The Flight Operation System is a complex IT solution for flight schools, flying clubs, private and corporate aircraft operators and air taxi businesses.