JET AIRWAYS TO PARTNER WITH EMIRATES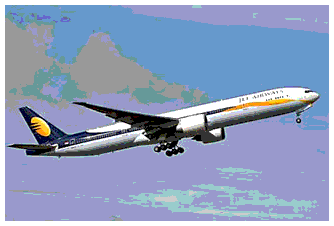 New York - December 17, 2008: Jet Airways, India's leading international airline, and Emirates Airline, the award-winning international carrier with extensive services from India, have announced a partnership.
This week, the two airlines are launching a reciprocal frequent-flyer arrangement whereby members of Jet Airways' Jet Privilege, India's largest frequent-flyer program, may earn and redeem miles across Emirates' rapidly expanding international network, with the exception of flights between India and Dubai. Members of Emirates' Skywards program may also earn and redeem miles on all Jet Airways flights operating within India.
Emirates will also commence a unilateral code share on Jet Airways' daily flights from Mumbai and New Delhi to and from Dubai - offering passengers enhanced connectivity and a range of services between India and Dubai. Jet Airways operates daily services on the Mumbai/New Delhi - Dubai sectors aboard its state-of-the-art Airbus A330-200 and B737-800 aircraft respectively, with a two-class configuration: Premiere (Business) and Economy. Jet Airways' flights on these sectors will be identified with its "9W" code as well as with the Emirates "EK" code.
According to Wolfgang Prock-Schauer, CEO of Jet Airways: "Dubai is an important market for Jet Airways and there is significant demand from our customers to travel to and beyond Dubai. We are delighted to be able to get this exciting new agreement up and running quickly for the benefit of our customers."
Currently, Jet Airways also has code-share agreements with Air Canada , American Airlines, ANA, Brussels Airlines, Etihad, Qantas and JetLite.
ABOUT JET AIRWAYS:
Jet Airways currently operates a fleet of 85 aircraft, which includes 10 Boeing 777-300 ER aircraft, 11 Airbus A330-200 aircraft, 52 classic and next generation Boeing 737-400/700/800/900 aircraft and 12 modern ATR 72-500 turboprop aircraft. With an average fleet age of 4.38 years, the airline has one of the youngest aircraft fleet in the world.
Flights to 68 destinations span the length and breadth of India and beyond, including New York (both JFK and Newark), San Francisco, Toronto, Brussels, London, Hong Kong, Singapore, Shanghai, Kuala Lumpur, Colombo, Bangkok, Kathmandu, Dhaka, Kuwait, Bahrain, Muscat, Doha, Abu Dhabi and Dubai. The airline will continue to connect existing international destinations with additional gateway points across its network in the future.
Jet Airways currently operates over 370 flights daily.
To know more about Jet Airways, visit www.jetairways.com.