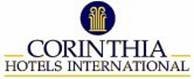 CORINTHIA HOTELS INTERNATIONAL APPOINTS NEW SALES & MARKETING TEAM
Malta - Six months into his role as the new CEO of Corinthia Hotels International (CHI), Tony Potter has announced a new Sales and Marketing structure for the Malta-based management company that operates the Corinthia, Wyndham® and Ramada® Plaza brands across Europe, Africa and the Middle East.
Based at the Company's headquarters in Floriana, Malta, the key Sales and Marketing Team &endash; all internal promotions &endash; is composed of:
Director of Marketing &endash; CHI &endash; Vanessa Coleiro
Director of Sales & Key Accounts &endash; CHI &endash; Vivienne Willison
Director of Public Relations &endash; CHI &endash; Manuel Briffa
Director of Outbound Sales & Events@Corinthia &endash; CHI &endash; Shawn Pisani
Director of Revenue &endash; CHI &endash; Chris Scicluna
Commenting from Floriana, Tony Potter said "We have a great Sales and Marketing Team at Corinthia Hotels International and I am delighted that we have been able to establish our new and highly focused senior Team primarily from internal appointments. There is a wealth of talent in our Company which we look forward to developing in order to grow the Corinthia, Wyndham and Ramada Plaza hotel brands "
Another internal appointment was that of Joseph Cilia as Director of Management Information Systems - CHI. In addition to managing that Department, Joe will be working hand-in-hand with the Sales and Marketing Team in order to develop the various brands' information systems.
About Corinthia Hotels International (CHI)
CHI is a hotel operating company that is a joint venture between Malta based International Hotel Investments plc (70%) and Wyndham Hotel Group of the US (30%). It undertakes hotel management operations for Corinthia Group and IHI owned or affiliated hotels as also for third party owners. CHI is also the exclusive hotel management company for Wyndham Hotel Group managed hotels in the EMEA region operating under the Corinthia, Ramada Plaza and Wyndham brands. CHI has accumulated over 40 years of experience in delivering a high quality service to hotel guests and an optimum rate of return for owners and investors in diverse business environments. Its expertise extends to management of luxury and upscale properties in city and resort locations, and products ranging from boutique to large conference and meeting hotels. Corinthia this year features among the top 50 hotel groups in Europe, as reviewed by Hotel Management International, an official publication of the European Hotel Managers Association.
Corinthia Hotels International&endash; Experience the Warmth, Colour, and Vitality.
Issued by the Communications department of Corinthia Hotels International on Wednesday 11th July 2007.
CONTACT: MANUEL BRIFFA
Phone: +356 2551 1146
Fax: +356 21 239732
Mobile:+356 9943 2252
e-mail: mbriffa@corinthia.com
U.S:CONTACT:KAREN HOFFMAN
Phone: 212 447-0027
Fax: 212 725 8253
Email: bradfordmktg@aol.com

CLICK ON ANY LOGO FOR A DIRECT LINK......