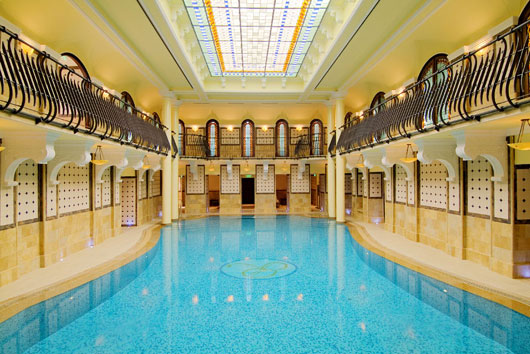 BUDAPEST'S CORINTHIA GRAND HOTEL ROYAL OFFERS LUXURIOUS "ROYAL REVIVAL" WINTER SPA PACKAGE AT ITS NEWLY RENOVATED WORLD CLASS 'ROYAL SPA'
(Budapest, Hungary,: The award-winning five-star Corinthia Grand Hotel Royal in Budapest, Hungary, has inaugurated its unique 'Royal Spa', following an extensive 4 million Euro renovation of an original 19th century Spa. Now, once again, the "Royal Spa" has regained its rightful place as Budapest's most luxurious and imposing Spa Facility. Its illustrious history and state of the art amenities rank it among the best in its class worldwide.
Celebrating this restoration, the Royal Spa is introducing a "Royal Revival" Winter Spa Package program special for the American market. It includes four nights accommodation in the elegant Grand Hotel Royal, with an Executive Floor Upgrade and Executive Lounge access; and daily breakfast. Transfers from and to the airport are included. In the stunning Royal Spa, clients can enjoy a facial, body scrub and massage unique to the Royal Spa. The cost is $1, 215 per person in a double room. A single supplement is $472. Extra nights are $213 in a double room; $188 in a single room. This special package is available now through March, 2007.
Spa guests will find that within the luxurious framework of its classical interiors, the Royal Spa has been meticulously redesigned to provide over 1,000 sq. Meters of space spread over two stories. The Spa is dedicated to vitality, tranquillity and well-being of body and mind. Its wide range of facilities include a 15-meter-long swimming pool, several relaxation areas, saunas, steam bath, Jacuzzis, a fitness room, tropical rain showers, Niagara bathtubs and mud baths and seaweed baths, as well as a variety of therapeutic and massage treatments. The Royal Spa is accessible directly through the hotel as well as from a separate entrance on Erzsébet Boulevard.
The Royal Spa features a wide range of products by Algotherm, the renowned French spa specialists. Respectful of the environment, Algotherm has selected seaweed and other active marine ingredients designed for pure quality and vitality. Algotherm's marine resources are meticulously harvested and combined to provide special treatments having the full strength of the oceans. Trained Algotherm aestheticians provide some of the best massage techniques from around the world in a selection of treatments to enhance well-being and heighten the senses.
The History of the Royal Spa
The spa was planned and built by famous Hungarian architect Vilmos Freund in 1886-88. At that time it contained steam baths, wave and shower baths, electric baths, pneumatic chamber and a medical room with cold water. Contemporary journalists were fascinated by the spa's appearance. In 1903 direct access was created for hotel guests. After the First World War, Freund was declared bankrupt and his heirs sold the spa in 1923 to the Royal Nagyszálló Rt. The spa operated until 1944 and has been closed ever since. The abandoned and obsolete spa was rediscovered in 1983 and was earmarked for conversion into a car parking facility. Thankfully, János Dianóczki, who was in charge of planning the proposed multi-story car park, turned down the proposal with the full backing of the media and the public. The Malta based International Hotel Investments, owners of the Corinthia Grand Hotel Royal acquired the property and immediately set about drawing up plans for its rehabilitation.
About Corinthia Hotels
Corinthia Hotels is a luxury brand of five-star hotels in Lisbon, Portugal, Budapest, Hungary, Prague, Czech Republic, St. Petersburg, Russia, Malta, and Tripoli, Libya. Founded by the Pisani family of Malta in the 1960's, the Corinthia brand stands in that proud tradition of European hospitality and its signature services communicate the 'warmth, color and vitality' of its Maltese heritage. All Corinthia hotels feature state-of-the art conference areas and extensive business traveler facilities. Corinthia Hotels' portfolio includes the award-winning Corinthia Grand Hotel Royal in Budapest, which received Europe's 'Best Hotel Architecture Award' and was recently selected to join the privileged list of 'The Most Famous Hotels in the World'. Corinthia Hotels is associated with Wyndham Grand Collection.
For more information on Corinthia Hotels visit www.corinthiahotels.com; US Sales Office: Ann J. Tillman, Vice President, Sales & Marketing, North America, Corinthia Hotels: Tel (212) 808 6502, e-mail atillman@corinthia.com.
PHOTO ATTACHED: ROYAL SPA
Editorial Contact:
Karen Hoffman,
The Bradford Group
Tel: (212) 447-0027
E-mail: bradfordmktg@aol.com
Corinthia Hotels
Experience the Warmth, Colour, and Vitality