---
Chino, California: A 'magical place' for Warbird fans
by Ed Anderson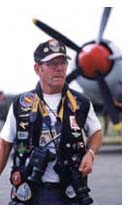 The name Chino, for many, especially Warbird enthusiasts belongs to a rather magical place. A world where the discarded, bruised, bent and broken aircraft, primarily ex-military types, "Warbirds," are lovingly fixed and made whole again. Restored to pristine or better condition and preserved for all to admire - a reflection of history if you will - in the recognition and a forever debt of gratitude to these beautiful air machines, their brethren and all those of Allied Air Forces who flew and kept them flying. Yes, Chino is such a place, where time and yesteryear are abundant.
Chino Airport, Chino California, 50 miles or so east of Los Angeles, the once historical Cal Aero Field, that served as a Flight Academy during World War Two, is today a busy working airport. Furthermore, it is also recognized world wide as a major center of restoration and rebuild facilities of aircraft in general, but particularly Warbirds. In fact, it goes without saying that Chino is not only a sanctuary but 'Warbird Heaven.' Moreover, the Air Museum 'Planes of Fame' - founded 44 years go and now holding an inventory in excess of 140 aircraft of which more than 30 are flyable - the Fighter Jets Museum, the National Air Race Museum, and numerous other private collections of "Big Iron" and Jet Warbirds likewise call Chino home base.
April 24th and 25th, 1999 marked the return of Chino to a full scale air event, apparently the first since the 1980's when the Air Museum used to host large flying displays of Warbirds each year. Word is that a number of complicating factors put a stop to that annual affair. However, encouraged by a fresh airport administration the Directors of the Air Museum 'Planes of Fame' decided to take another swing at hosting an air event, but this time as a full blown airshow.
Cold cloudy weather, however, threatened to dampen the revival show. Nevertheless, thousands of eager and excited folks still paid their way in for the prospect of seeing and hearing up close World War II "Big Iron" Warbirds and the thrills of an airshow. Fill the ramps, put 'em in the air and the people will come. The weather did improve and the show didn't disappoint. All told, by best estimates, there were over 100 aircraft on site, static and hotside plus several drop-ins. The tremendous mix included Trainers, L-Birds, Transports/Utility types, plus a beautifully restored HU-16 Grumman Albatross of Jerry Janes down from Vancouver, British Columbia, the CAF's B-17G, "Sentimental Journey" and their rare Heinkel He 111, a handful of other Bomber types and scores of Fighters. Retired NASA Astronaut Frank Borman flying his Bell P-63A King-Cobra and General William Anders at the controls of his P-51D Mustang were icing on the cake. Several antiques, classics and oddities (Planes of Fame N9MB Flying Wing) along with a few privately owned jet warbirds also went airborne - a Lockheed T-Bird, a Mig-15, and an F-86F Sabre. Awestruck spectators applauded approval. The Military provided an F-117A Nighthawk for close of the day fly-bys and an F-15C Eagle for the Heritage Flight formations and solo demo routine. A partner F-15 remained parked on static display.
Airshow performers included Rob Harrison (Tumbling Bear Airshows), John Collver and his SNJ "Wardog," Silver Wings Flight Team with Wingwalker Margaret Stivers. Noon to 4 flying, continuous. Airshow aerobatics and magical sounds of famous inline Merlins and big radial engines warm the heart and stir the imagination. For young, old, and in between, simply great entertainment.
Initially a year 2000 airshow was planned for about the same time in April but Disney Studios interrupted with a call to duty and business. The filming of "Pearl Harbor" had been given the green light. The 'Chino Bunch' and several of their period airplanes embarked for Hawaii where they, and many others, played important roles in the blockbuster epic depicting the attack on Pearl Harbor, Hawaii, December 7, 1941 and other related events of the time. This certainly was important stuff, but hey, the airshow had not been overlooked and eventually was marked into the dates of 7 and 8, October. But wouldn't you know it, the weather gods again played their games.
A stalled low pressure system and heavy haze hampered arrivals of some and deterred others of the expected fly-in traffic. Not a good situation to say the least. Regardless warbird and airshow people are a determined lot. The fans too, dedicated and hardy, came in droves with chairs, coolers, and gear looking for a show. Dubbed a 'Salute to Veterans,' the hot side ramp was crowded with Warbirds of all types, ready for action. The local Planes of Fame Museum made sure they were out in full strength and even put on display their P-26A "Peashooter."
Cinema Air Inc. of Carlsbad, CA and Robert Pond of Palm Springs, CA arrived with their groups earlier when the weather was better. A handful of other airport residents were not to be excluded. Up went the hanger doors and out came the 'Birds' big and small. Regardless of conditions it was an airshow and everybody likes to pitch in. The weekend cloud cover did thin and lift enough to put 'em up, and even though the crowds were smaller than '99 the enthusiasm more than made up for the reduced numbers. The flying schedule liftoff was a little delayed but when released, the trail and close formation fly-bys were well worth the wait, as were the low show aerobatic routines put on again this year by Wingwalker Margaret Stivers with the Silver Wings Flight Team, and Rob Harrison in his agile little yellow Zlin 50XL. Brian Sanders turned loose his big Hawker Sea Fury in performing a variety of impressive low level maneuvers. The staccato growl and the arresting beauty of the Grumman Iron Works "Cats" - F4F Wildcat, F6F Hellcat, and an F8F Bearcat, was in itself a living picture.
Then joined by a pair of Grumman F3F-2's, a Douglas SBD Dauntless, a couple of Corsairs, including "Marines Dream," (a freshly restored Goodyear FG-1D) owned by Ray Dieckman (Oshkosh and Reno Awards winner) of Cincinnati, OH, and an eyecatcher AD-4 Skyraider, all driven with the big Pratt & Whitney or Wright radials certainly was enough to give me goose bumps and, no doubt, raised all sorts of memories for those retired Navy folk and Marines in attendance. The Army Air Corps and the Air Force were no less well represented. A flight of four P-40 Warhawks, two still in "Pearl Harbor" paint, a trio P-51D Mustangs, a pair of P-47 Thunderbolts (Jugs) and a P-38 Lightning, all passed in parade to the smooth rhythm of throaty Allisons and Merlins punctuated with a bit of Pratt & Whitney. T-28 Trojans and a host of other trainer examples, likewise, filled the air with their own unique sounds as did an authentic 1944 Mitsubishi A6M5 "Zero-Sen" and it's Sakae radial engine, paired with a Hollywood Val replica both dressed in Japanese colours and markings.
Chino is an experience not to be soon forgotten. As it now looks, the host, Air Museum 'Planes of Fame' just might be staying with the fall season of the year for what appears will be an annual airshow event at "Chino." The dates for "Airshow 2001" are the 6th and 7th of October. Chino Airport overall, is an exciting, living, breathing place of aviation history and an amazing spot to visit at any time. If you can't make it, try Web site - http://www.planesoffame.org
Story by
Ed Anderson